Final bow: Bobbi Wilsyn, 'heart' of the Music Department, exits the Columbia stage
March 2, 2020
Pointing to an array of framed photos along the walls of her office capturing faces of various Columbia faculty, Bobbi Wilsyn recalled the first time she had a hand in one of the college's performances nearly 40 years ago, a Christmas ensemble with choir students.
Glowing with positive feedback after the show, Wilsyn was told if she could get 20 students to sign up for a vocal performance class, she would be able to co-teach it. She got 90.
Wilsyn began her Columbia career in 1981 and has taken on a number of roles, including as an adjunct faculty member, artist-in-residence, senior lecturer and, her current position, the voice and choral ensemble coordinator and professor of instruction.
Wilsyn will be retiring—or, in her own words, "redesigning my career"—from her position in May to continue what she has always done in her free time—perform, sing and pursue motivational speaking.
"
[Without her] in the voice department … heart will be lost.
— Brianna Blake
During her time at the college, Wilsyn has worked under four presidents and has had to get comfortable with change, she said, adding that as a jazz singer she is familiar with improvising.
She has taken each wave of change at the college with ease, welcoming new faculty such as Derek Fawcett, an adjunct faculty member in the Music Department, with open arms.
In 2006, before Fawcett joined the college, Wilsyn attended a concert for his previous band Down the Line. When Columbia later recruited him to become an instructor, Wilsyn was one of the people who interviewed him for the job.
Fawcett came to the college during a time when the Music Department was changing, including the introduction of contemporary music. Because this area of music was not Wilsyn's specialty, Fawcett said she did not hesitate to ask for help with modernizing the department.
"[She went] out of her own musical comfort zone. … I appreciate the seriousness … she took," he said.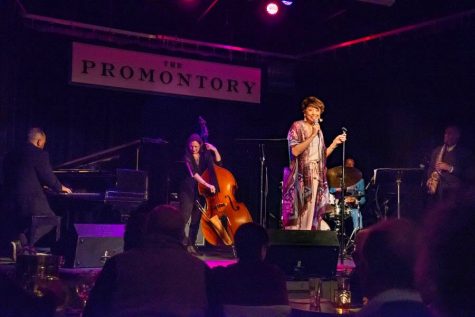 Since then, Fawcett said Wilsyn has been the person he goes to when facing any challenges or doubts in his musical work.
As she is leaving the college during the introduction of a new Master Plan, Wilsyn said she wants to see the administration accommodate students by providing larger practice spaces and places for students to collaborate. In the college, she said the Music Department has been at the forefront in delivering a diverse mix of faculty and students.
Brianna Blake, a senior music major, said Wilsyn is one of the reasons she transferred to Columbia and the only reason she has stayed. Blake said Wilsyn's push to work hard was exactly what she needed in order to challenge herself.
"She has done and continues to do what I want to do," Blake said. "[Without her] in the voice department … heart will be lost."
Sydney Harden, a senior music and American Sign Language-English interpretation double major, said Wilsyn helped her come out of her comfort zone, and that it is important to have a close connection to instructors whether it is in the classroom or during private lessons.
"She did more than her job," Harden said. "It is going to be really sad to see her go."
Wilsyn said a fond memory is singing on the back porch of her family's home in Los Angeles. She was also influenced by the music she heard while growing up—gospel music in church, doo-wop in the garage with her friends and her older cousin playing jazz.
"I always sang every opportunity I had," Wilsyn said. "I tell my students when I open the refrigerator and the light comes on, I do a 10-minute show."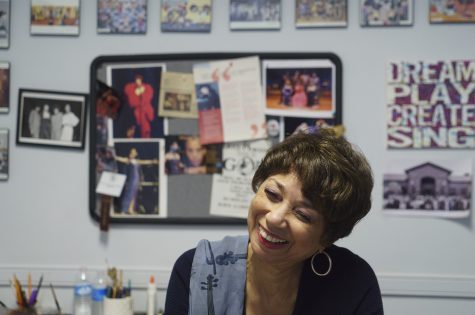 But it was not until her mid-20s when she realized she could make a career out of her passion. Wilsyn was in Las Vegas at a Lena Horne and Tony Bennett show with her mother when the performance made her cry. "I want to do this," she told herself.
In her teaching, Wilsyn tries to recreate that same feeling for her students. For her, teaching goes beyond the music, and she hopes to see the day when students are not "so angst," impacting the growth of their work.
"Sometimes it just takes a pat on the back," she said. "[I want to] help students know they have been given a gift. … If they could simply experience the joy of sharing that gift, then it might help them."
While Wilsyn has had many accomplishments throughout her career, she said she is most proud of receiving the Black Excellence Award for Outstanding Achievement in Jazz, a recognition from the South Side Jazz Coalition for being a jazz educator and performing with the Chicago Jazz Ensemble, which she always dreamed of doing.
Wilsyn has no plans of slowing down, though, and will continue performing and releasing projects already in the works. Along with her own performances, the college has three celebrations planned in her honor, plus a master class performance Friday, March 20 with nearly 20 music department alumni.
"Music is the great harmonizer," Wilsyn said. "It brings people together and they speak one common language."