Alumna reshapes Englewood perception through photography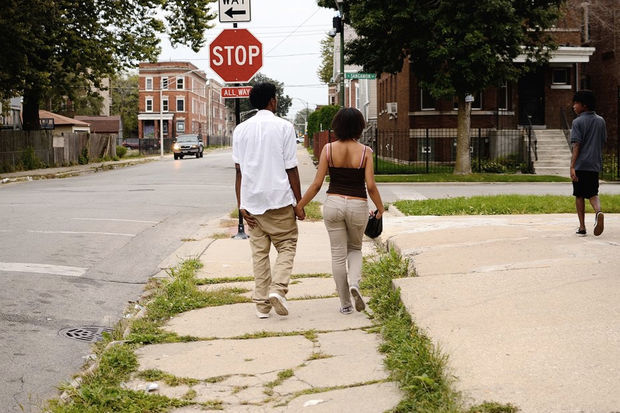 Young Englewood artist  Tonika Johnson is working to change the perception of her neighborhood, which has a national reputation for being plagued with crime and violence.
The 2003 journalism alumna and street photographer documents the positive aspects of Englewood that are often overlooked because of the neighborhood's portrayal in mainstream media. Johnson said those negative stereotypes can damage community resources, including economic investments and arts programming.
"It's really important for communities to be able to have some valid perception since that truly determines the economic impact of a neighborhood, whether it has visitors or whether it has certain stores coming through the neighborhood, all of those things are ultimately decided by the perception of a neighborhood," Johnson said.
Johnson's first major exhibit, "From the INside," provided an insider's view of Englewood and featured photos of a couple holding hands and a young woman picking flowers. The exhibit was first shown in Englewood's Hamilton Park Cultural Center in October 2016. Johnson said the subjects in her photos attended the gallery showing and were pleased to see themselves depicted in such positive ways.
Members of the Englewood community also told Johnson that her photographs reminded them of cherished moments they experienced growing up in the neighborhood, she added.
The exhibit is now being displayed in the Harold Washington Library on the eighth floor until June 4.
"I'm really glad I was able to offer that moment for them as well as let the larger public know that these moments do exist in a community they would think is rampant with violence and crime," Johnson said.
"Everyday Rituals," Johnson's most recent exhibit, was shown Feb. 10–March 19 alongside Chicago-based painter Adrienne Powers in the Rootwork Gallery, 645 W. 18th St. Tracie Hall, the founding curator of Rootwork, said their work allowed people to see the beauty of these everyday experiences in a rich community.
"She captures the human condition and the human experience, especially in urban space, from a point of view that no outsider could or would," Hall said. "She's bringing the experience of growing up in Englewood and all of that understanding, empathy and resonance, to the work."
Johnson's efforts to help her community extend beyond her photography. She also works for a nonprofit social enterprise group called Growing Home, which provides job training for low-income individuals.
Rebekah Silverman, Growing Home chief operating officer, said one of the most notable qualities about Johnson's work for the organization is she never treats people like victims, but rather as individuals who are in control of their lives.
Silverman added that people who enter social service programs feel as if the process can be demeaning, but Johnson has an ability to show them that when they partner with the group they will be treated as more than just a number or a case file.
"It feels really great to be able to do work that sustains us and also makes a really big difference for people in Englewood, and I know that is important to her," Silverman said. "The work she is doing with us is directly related to the work that she does in her art."
Johnson said her next project will focus on what segregation in Chicago looks like. The goal will be to show the differences among neighborhoods in Chicago and make people question the evolution of different regions, she added. Unlike her previous projects, her future one will also incorporate historical and written elements.
Johnson encourages aspiring photographers to shoot what they are passionate about because the passion will lead to new projects, the same way her passion as a street photographer led to her newest project in a style that closely resembles social justice focused photojournalism.
"Misconceptions and negative narratives about a neighborhood are ultimately really damaging because it creates a stigma, and stigmas are the determining factor for people wanting to visit and invest in a community," Johnson said. "That's why it's really important to be able to have spaces to challenge those negative narratives, because stereotypes have impact."