African Heritage Columbia's Way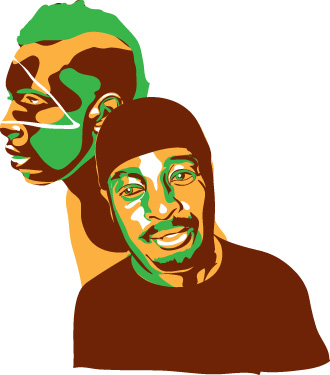 For decades, Americans have celebrated Black History Month every February to recognize and appreciate the contributions of African-Americans in culture and society. This month at Columbia, the African Heritage Month Celebration will follow in that tradition while focusing on the arts.
The Office of Multicultural Affairs is the driving force behind African Heritage Month and has put together more than 20 events open to the public, including lectures, panels and performances.
"We try to bring in people who are inspirational and motivational, from our industries that pertain to Columbia College," said Kimberly Weatherly, director of African American Cultural Affairs.
Columbia has been hosting events dedicated to black history for about 20 years, Weatherly said, since the formation of the Black Student Union.
One of the most anticipated events is a lecture from Chuck D, a founding member of the influential rap group Public Enemy, on Feb. 17 at the Film Row Cinema in the 1104 Center, 1104 S. Wabash Ave.
Other anticipated events include a lecture by actor and author Hill Harper on Feb. 7 and Big Mouth Extended: Featuring Saul Williams, a respected poet, on Feb. 19.
All events are free and do not require reservations.
Jermaine Pearson, a junior public relations major on the African Heritage Month Planning Committee, suggested that Hill Harper participate in an event. Pearson, who also works in the Office of Multicultural Affairs, said the diversity in the arts that were represented was a central focus to the planning committee.
"That was our goal," Pearson said. "We wanted a writer, we wanted an actor. We wanted a singer, a rapper. I think we've accomplished that goal. Now is a great time to celebrate the accomplishments of different and various African Americans and their contributions to society."
Weatherly said the celebration at Columbia isn't known as "African American History Month."
"Our history is from Africa. That encompasses a whole lot of people. There are a lot of different diasporas that come from Africa that are people of color, but aren't necessarily American. These groups have different cultures, different languages."
The inclusive nature of the name is reflected in the diversity of events and guests that will be featured throughout the month.
Weatherly said Columbia has aimed to focus the events on the arts.
"We bring in a lot of artists," she said. "A lot of African Heritage Month celebrations bring in academes, which is great, but we definitely bring in artists."
She said Williams alone could talk about five different arts that are a part of the curriculum at Columbia.
In one of the only student-driven events of the month-long celebration, the student organization CUMA (Columbia's Urban Music Association) will host a screening and discussion of The Confederate States of America, executively produced by Spike Lee, on Feb. 27. The movie poses the question "What would America be like if the South had won the Civil War?"
"It's an interesting film to say the least," said Damon Smith, faculty adviser of CUMA.
Smith said the events at Columbia are an opportunity during African American History Month, especially with Barack Obama winning the presidency, to celebrate the richness, the depth and, sometimes, the strangeness and uniqueness of Africans and African Americans and what they've contributed to American culture and society."
Obama's victory and recent inauguration may give this year's February celebrations an added intensity.
"I think he is going to make a lot of people reassess their preconceived notions and actually do something about them," Smith said. "I know those of us in Chicago are exceptionally prideful."
Though termed "African Heritage Month," the focus of it is larger than the past.
"We have events, of course, that celebrate the past and the history, but we also want our students to deal with the present and the future. It's not just about a bunch of lecturers. My thing is about the knowledge," Weatherly said.
For more information about African Heritage Month, visit Colum.edu/Student_Life/Multicultural_Affairs.