Columbia announces new dean of students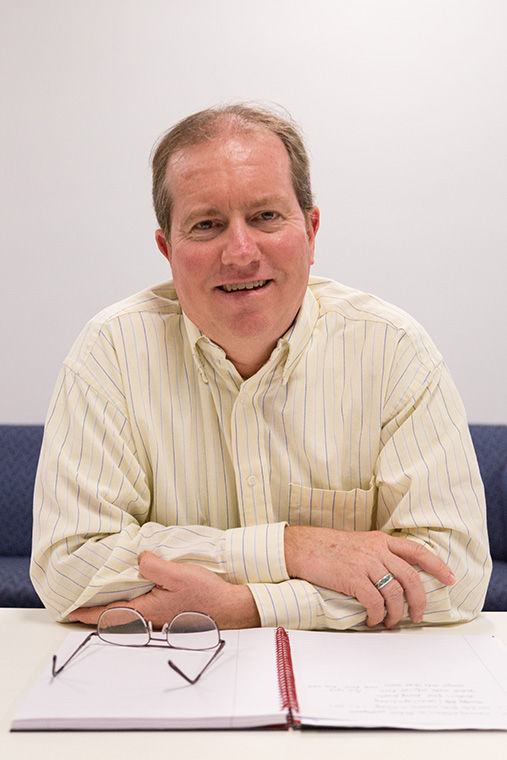 John Pelrine was recently appointed as the new dean of students, according to a Jan. 6 email sent to faculty and staff from Vice President of Student Affairs Sharon Wilson-Taylor.
At Columbia, Pelrine will oversee student- related areas— including Student Relations, Services for Students with Disabilities, Equity Issues and Title IX, Residence Life, counseling services, and the health center— Wilson-Taylor said.
Pelrine, whose appointment was later announced to students in a Jan. 13 email, worked at Saint Xavier University for 15years before coming to Columbia, serving as the university's dean of students for five years, according to the email.
Pelrine said he was ecstatic to be joining Columbia and be able to advocate for students' success.
"As much as we love you, we want to get you out of here," Pelrine said. "So the things that would get in the way of you finishing your degree—our job is to get those things out of the way."
Wilson-Taylor, who previously held the role of dean of students for more than 15 years, said Pelrine will be a good fit for the role because they share similar views on how to resolve issues regarding student success.
"It's about, 'How do we resolve student issues? How do we educate students?' [and] 'How do we support our students?'" Wilson- Taylor said. "Sometimes college is a place where students test boundaries, and our job is to know how to address when we believe something does not fit with the community standards."
As reported Sept. 12, 2016, by The Chronicle, Wilson-Taylor, who was promoted to her current position following former Vice President of Student Success Mark Kelly's departure from the college, was tasked with deciding whether the role of dean of students should be kept at the college.
After finding it challenging during the Fall 2016 Semester to serve as both the vice president of Student Affairs and as the dean of students, Wilson-Taylor said she decided to keep the positions separate.
"We're pretty hands-on with our students, so I've tried it for a semester, [and] it was challenging," Wilson-Taylor said. "It is truly two jobs. The dean of students and the vice president of Student Affairs work together but do different things at different times."
The decision to keep the position and bring in the new dean was a good one, said Kaela Ritter, Student Government Association President and senior business & entrepreneurship major.
"[Wilson-Taylor] would have to do both roles, and that would take away from her time being able to be active with the students and active around the Chicago community, so I'm glad she kept that role open," Ritter said.
According to Ritter, the role was not visible enough to the student community when occupied by Wilson-Taylor, and she hopes Pelrine will work to establish a relationship with students and be more involved with student organizations.
"Organizations are the backbone of Columbia because that's how a lot of students get involved and get to show their work," Ritter said. "[His] being able to get closer and get involved with the students is really important."
Although college students are similar in many ways, Pelrine said he has already noticed Columbia's student body is unique.
"I loved the fact when I was doing my research on Columbia before I interviewed that they use the word 'creative' more than they use the word 'student,'" he said. "They said the students at Columbia are creatives. That was a huge signal to think about [Columbia students] a little bit differently."
One goal Wilson-Taylor said she hopes Pelrine will achieve is creating a summer program to prepare at-risk students for the academic year as well as establishing his own place at Columbia.
Pelrine said he decided to leave Saint Xavier because he wanted to try something different and have more interaction with students. Though not initially sure he even wanted to stay in higher education and after interviewing for different jobs, he said he ultimately decided it was what he knew best.
"Higher ed just brings in an incredible amount of variety," Pelrine said. "If your personality likes variety, you can't do much better than working in a place like this."