Students design condom dispensers for CPS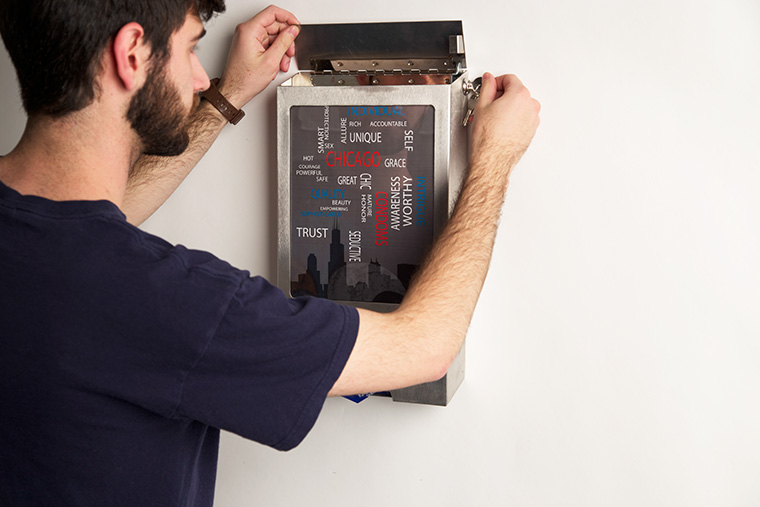 To promote safe sex among adolescents, a group of Columbia students are using their design skills to create free condom dispensers for high school students.
Chicago Public Schools and the Chicago Department of Public Health received a federal grant of $19.7 million in 2010 for the Condom Availability Program, an initiative to promote safe sex among CPS students. According to Tao Huang, associate chair of the Art + Design Department and one of four Columbia faculty members involved in the project, the student-made dispensers have so far been installed at Foreman High School on the Northwest Side and Collins Academy on the West Side.
The project is set to be fully implemented throughout Chicago high schools that request the dispensers by the end of summer 2014, Huang said.
"It definitely will have a very positive impact in the community," she said. "The best part of it is that these [Columbia] students just came out of high school not long ago, so it's students designing for students. It provides a very good insight into the problem."
Huang said the project began in the "Product Design IV" class during the spring 2013 semester. Approximately 50 students collaborated on the project, including students from two sections of the "Information Design" class.
Because the project was not completed by the end of the semester, Huang said she coordinated with Susan Stirling, a part-time faculty member in the Art + Design Department and instructor of "Information Design," to complete the project. In addition to Stirling, Kevin Henry and Kay Hartmann, associate professors in the Art + Design Department, began contributing last summer by overseeing the designs and contacting potential manufacturers to produce them.
Samuel Shapiro and Korey Brisendine, senior art + design majors, continued to work on the project during the summer because Suzanne Elder, program director in the Office of Adolescent and School Health at the Chicago Department of Public Health, selected Shapiro's design out of other student designs in the "Product Design IV" class.
"[Elder] asked me to make some modifications to the design and continue with product development and integration," Shapiro said. "We continued developing the wall condom dispenser, and in order to move forward, we had to take a step back and reevaluate [certain concepts]."
Elder could not be reached for comment as of press time.
There are currently two designs for the dispensers in each high school, Shapiro said. The first is the "Bucket-Face Condom Dispenser," which is stainless steel and that dispenses FC2 female condoms and resembles a mask or a warrior's helmet, which inspired its name. He said the other design is called the "Double-Window Condom Dispenser," which features two windows that inform users of the male condoms inside.
Shapiro said his inspiration for the project came from understanding the need for access to contraception by high school students. He said conceptualizing an economical way to distribute the condoms while making them accessible to students was challenging but that by creating a design for condom dispensers in high schools, he hopes to change the outlook on condoms and create a more accepting culture of safe sex.
"It's going to normalize appropriate behaviors," Shapiro said. "It's going to make undertone statements saying it's good to use condoms. The practice of using condoms is a behavior I think not only students but adults should be mindful of."
Brisendine said finalizing the design was a long process that involved many rounds of critiques from the CDPH, CPS and students.
"We just kept going through iterations of designs to balance functionality with something that would be interesting and draw people in and start a conversation," Brisendine said.
Huang said each high school principal decides whether to place the dispensers in his or her school. She said the CDPH can't force school officials to install the dispensers, but she thinks they are an effective way to get students access to condoms.