Open Labs close, students left without jobs for fall semester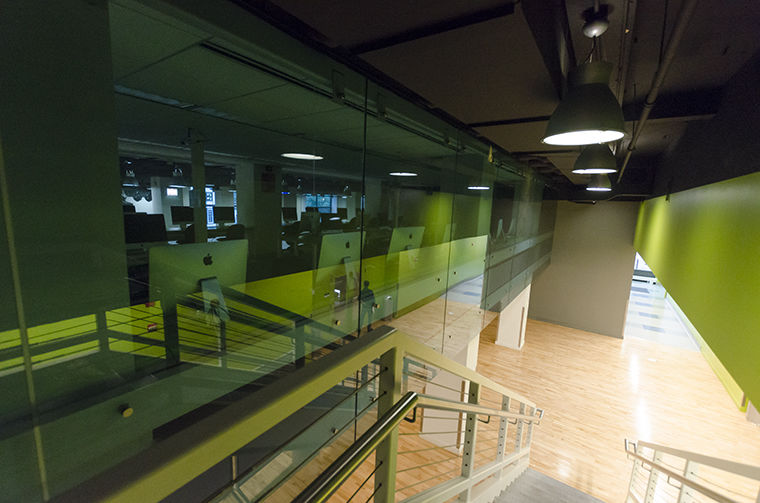 Three on-campus Open Labs were closed to eventually provide a single site within the Library and offer students increased access to improved technology—a change that left lab employees unexpectedly without jobs for the fall semester.
The labs, located at 1104 S. Wabash Ave., 618 S. Michigan Ave. and 33 E. Congress Parkway, were officially closed Sept. 5, and students were directed to the Library, 624 S. Michigan Ave. The college's goal is to expand student resources with new computers, collaborative workspaces, printing and extended hours, according to a collegewide Sept. 5 email sent by Chief Information Officer Byron Nash and Dean of the Library Jan Chindlund.
Chindlund said the Library had discussed Open Lab closures with Information Technology members over the summer but is unsure exactly why the labs were closed. Chindlund added that she is unsure what will happen to the computers and other equipment from the Open Labs but knows they will not be moved to the Library.
"We have a lot of duplication of what the Open Labs had," Chindlund said. "We've always had scanners, we've always had PCs and Macs, and we've always had seating and places to collaborate. So there isn't a lot of newness for the library except that we will be welcoming those students who may have used Open Labs in the past."
Chindlund said old computers in the Library will be replaced with new ones and outfitted with the same programs that were available in the Open Labs.
All computers in the Library will be upgraded with up-to-date Apple, Adobe and Microsoft Office applications. The Library will also offer student training sessions for both Moodle and Canvas as the college transitions to Canvas throughout the academic year, according to the email.
Nash declined to comment.
While the move to the library enhanced resources for students, lab employees were unexpectedly laid off from their fall positions at the labs a few days before they were closed and the semester officially began.
Kat Hassler, a senior photography major, said she worked at the lab in the 33 E. Congress Building over the summer and spoke with Daniel Wood, emerging technology specialist who oversees the Student Labs, in July about continuing her position in the fall.
Hassler said she had already gotten her work schedule for the semester when a meeting with Tim Bodzioney, computer labs coordinator, and Eric Wordlow, assistant director of Student Employment,was scheduled to speak about changes happening at the labs.
"Immediately, Eric is like, 'Yeah so officially this Thursday, the Open Labs are going to be closed.' And then he went into, 'We'll help you find other jobs [and] we'll make you guys first priority,' but they let us know two days before the labs were closed for good," Hassler said.
Bodzioney did not respond to requests for comment as of press time.
Hassler said she was glad Wordlow offered to help her find another job on campus.
"It was helpful in the meeting—I have to admit—because usually in my past experience, Columbia has really dropped the ball with helping you find other things," Hassler said.
Wordlow said he met students hired for the labs and recommended they apply for other on-campus jobs with Handshake, the student employment portal. After students applied, he reached out to those departments' hiring managers and asked that their resumes receive top priority, he added.
Wordlow said 19 students were employed in the Open Labs when they closed. Eight of those students have been hired for other positions, five have sent applications with Wordlow's assistance, and the remaining six have not been in contact with him.
"I would say it has been reasonably well received, in terms of those other employers who I have reached out to, and it has definitely been a priority for our office to get this group of students placed," Wordlow said. "In the grand scheme of things, out of essentially 13 students who have contacted me, eight have been placed so far. That's pretty good."
Wordlow said he does not know why the Open Labs were closed or who made the decision to do so.
No new student workers will be hired to work in the Library's lab because it's budget has been locked in since spring 2017 and current student workers in the library are already familiar with the lab's functions, Chindlund said.
Annie Collick, a senior cinema and television arts major, said she worked at all three labs during the Spring 2017 Semester and was hired to work at the labs this fall.
"They gave students their hopes of 'Oh, I don't have to work over the summer,'" Collick said. "I didn't have to worry about it. I could take the rest of the summer off and then I can start getting money, I have a job waiting for me—and that wasn't the case."
Collick said it is upsetting that the college makes major decisions without prior student input.
"Columbia has done that for a while now, like with the merging of the cinema and [television departments]," Collick said. "We had student input, but I don't think they take us seriously enough."
Daphne Bichler, a junior theatre major, is an international student who said the on-campus position at the labs was important because her visa only allows her to work on campus.
"I got hired last fall, and I generally always felt very appreciated and respected, but that is why that decision they made hit so hard," Bichler said. "Nobody on our staff knew. I hadn't seen my boss for a week and then suddenly it's like, 'Yeah, the labs are closing and you guys don't have a job anymore.' It was poorly handled and unfair, which is not how I was used to the labs operating."
Wordlow said he had no control over the timing in which student workers were notified about the lab closings but took action to find students other positions only a few days after he himself was informed.
Evan Gulock, a junior cinema and television arts major, said while he was hired for a fall position at the end of the Spring 2017 Semester, he has yet to be officially told by anyone from the college about the lab closings and only found out about not having the job from a Twitter post by Collick.
"I never received a call. I had no idea," Gulock said.
Gulock said having an on-campus job was important to him because it allowed him to stay in the South Loop and focus on schoolwork. He also said because he was not contacted about the lab closings, he was not offered any help to find another job by the college.
"We're paying so much for school, and I do like this school and I think it's worth it, but it costs money and it's more than just a shiny penny, so any opportunity that you can get to be able to make some of that money back that you're losing to get an education, that's a good thing," Gulock said.
Although consolidating labs into the Library may offer additional resources for students, Gulock said it also limits students' options and is farther away from some campus buildings.
"It's not the first time that changes have been sprung on students or staff and I do wonder what the reasoning behind it is because it really narrows down students' opportunities to work and available places for students to go on campus," Gulock said. "Is it for money reasons, is it for resource reasons? None of that seems very likely because Columbia seems to buy all these buildings in the area but they don't do anything with them and they're just these empty buildings so why drain other spaces of those resources in the first place?"
Chindlund said she thinks having an Open Lab in the Library instead of in various locations around campus will allow students to become more familiar with library-specific resources such as printing options and high resolution scanners.
"All around, I think this is going to be a good thing for everybody," Chindlund said.