Student film depicts dark side of 'farming'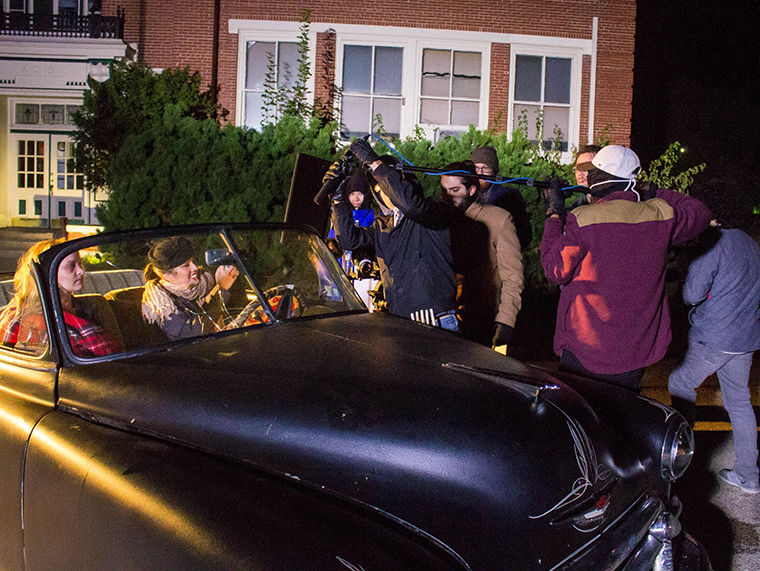 Several student filmmakers came together to show the horrors of baby farming in their new psychological thriller.
"The Baby Farmer" focuses on a woman trying to find a baby farmer: someone from the 19th century who would take in children for a fee but would often pocket the money and kill them instead of caring for them. One character is based on an actual serial killer from that time named Amelia Dyer, who is believed to have murdered more than 400 children when she was alive, said Jaime Herrera, the film's director and junior cinema and television arts major.
Herrera worked on the short film for his "Directing II" course, and although the assignment was to shoot a scene on location, Herrera said he knew he wanted to create a short film. "The Baby Farmer" runs about 18 minutes and is available to watch on YouTube.
"I'm not going to spend time making something I'm not happy with, and I'm not going to be happy with a five–seven-page-long little script. I want to make a movie," Herrera said. "'The Baby Farmer' is what came from all of that."
The film was shot over the weekend of Oct. 13 in Hebron, Illinois. The 60-mile commute made it challenging to transport actors, crew members and film equipment for an entire day, Herrera said.
Junior cinema and television arts major and cinematographer Luis Treviño said he encountered problems renting equipment from the department because only certain film classes are allowed to do that. He ended up using what little equipment he owned and borrowed the rest from friends, but the additional obstacles, Treviño said, made him prouder of the finished product.
"[I'm proud of] what we were able to do with the team and the restrictions that we had," Treviño said. "We knocked it out of the park when it comes to the lighting and camera work."
Other challenges included finding a 1950s automobile to rent for a scene and handling a horse-drawn carriage, said Patrick Jennings, junior cinema and television arts major and the film's first assistant director.
Jennings said previous film experiences helped the three of them prepare in order to create "The Baby Farmer."
Jennings said he is disappointed that Columbia is not screening "Directing II" films and only holding premieres for films from "Directing III" classes.
"They deserve it; we don't feel as supported by our school to put it simply," Herrera said. "I'm proud of our sets, and I don't think they're appreciated or acknowledged."
Herrera said he and his crew worked extremely hard to create sets that are a comfortable environment for everyone involved, adding that he hopes the audience will see how hard the ensemble worked when people go watch "The Baby Farmer."
"Not only am I proud of the work we produce, but the sets themselves, they're very safe [and] supportive," Jennings said. "I truly do love our crew and everyone wants to be there, everyone respects one another in every way and I wish there was more of that, I really do."