New Student Diversity and Inclusion Office in search of new staff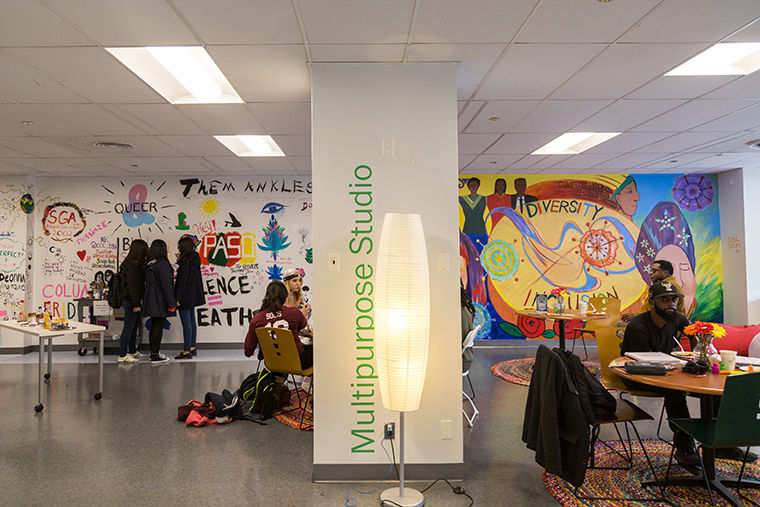 The search for a director and coordinator is underway in the new Student Inclusion and Diversity Office as a short-handed staff continues to provide programming.
Formerly known as the Multicultural Affairs Office, the SDI Office changed its name and unveiled its new location on 618 S. Michigan Ave. Building's fourth floor Sept. 7, as reported Sept. 11 by The Chronicle.
Although the new office offers amenities, such as a meditation room, a computer lab with printing capabilities and a student lounge, only two staff members work there: Rogelio Becerra-Ramirez, Student Engagement Diversity and Support coordinator, and Kari Sommers, SDI's interim director, associate dean of Student Life and adjunct professor in the Business and Entrepreneurship Department.
Becerra-Ramirez said the college is interviewing to fill the director position but is unsure when the new director will start or how many of the three empty coordinator positions will be filled.
 "We will develop more initiatives as the new director comes into place," Becerra-Ramirez said. "Even though we've had a lot of help from the interim director, Kari Sommers, it's honestly me running these events."
Vice President of Student Affairs Sharon Wilson-Taylor said in an Oct. 26 emailed statement to The Chronicle that the SDI Office will continue to provide student support services, cultural celebrations and workshops relating to diversity and inclusion while working toward its goal of increasing faculty, staff and student involvement.
Sommers did not respond to multiple requests for an interview but provided an email statement to The Chronicle through the college's news office.
"A search is currently underway to fill the director and coordinator positions," Sommers said in an Oct. 27 email statement. "It is our hope that a new director will be hired sometime in November. Until the time the director position is filled, Kari Sommers will serve as the interim director."
Sommers said in the statement that the office is being modeled differently than the Multicultural Affairs Office and will include three positions. New positions include a Director of Student diversity and Inclusion, a Student Diversity and Inclusion coordinator of Programs and Services, and a Student Diversity and Inclusion coordinator of Events and Engagement.
"Positions at SDI are not being eliminated," Sommers said in the statement. "They are being reorganized by function rather than by constituency, with an emphasis on intersectionality. This is so that all students—including differently abled, veterans, Native American, and others—feel included, and have access to the support they need."
The search for a new permanent director started when former Director Kimberly Weatherly announced she would be leaving the college August 2016, according to Becerra-Ramirez.
When Becerra-Ramirez first started at Columbia in June 2016 as the Latino Cultural Affairs coordinator, he said only three other people worked in the office. The other coordinator positions included LGBTQ Culture and Community coordinator, Asian-American Cultural Affairs coordinator, and African-American Cultural Affairs coordinator.
Becerra-Ramirez said shortly after he was hired as Latino Affairs coordinator, former LGBTQ Coordinator Lex Lawson stepped down, followed by the resignation of Weatherly, who was also the African-American Cultural Affairs coordinator, who left the college in August along with former Asian-American Cultural Affairs Coordinator Ramona Gupta.
Gupta, who currently works as associate director of Diversity and Inclusion at the University of Illinois at Chicago's College of Pharmacy, said managing workloads was a challenge even before she left the college because the LGBTQ Culture and Community coordinator position was empty throughout the 2016–2017 school year.
A Change.org petition was started during the Spring 2017 Semester pushing for the college to fill the LGBTQ coordinator position following Lawson's September 2016 departure and a lack of response from college administrators, which put a halt to supportive initiatives, as reported Feb. 3 by The Chronicle.
"Right now, with one full-time person and one person who is filing in on interim basis, but also has so many other duties, I can only imagine in terms of their workload—how they are managing and their ability to serve the needs of all the students who come to SDI Office for student organizations or not," Gupta said. "I'm sure it is really challenging right now."
Senior business and entrepreneurship major and Chinese Students and Scholars Association President Ran Yan said although she and her organization still receive the same services from the office, the atmosphere is different since the former coordinators left. Yan added that many responsibilities fell onto Becerra-Ramirez after the coordinators' departure and that she preferred when there was one coordinator for each office.
"He has such a big heart and chooses to help everyone, but now it just seems like he is too overwhelmed with so much work on him," Yan said. "The Student Diversity [and] Inclusion sounds so nice, they merged everything, but you cannot merge everything on one person's shoulder. That is more like a burden that is too much."
Becerra-Ramierez said it is important to have a diverse staff because, as a Latino man, he is not entirely familiar with other cultures and their struggles, such as Asian-American or African-American individuals. Sommers has voiced concern about stepping into the interim position as a Caucasian woman, Becerra-Ramierez noted.
"I appreciate [Sommers] taking the time to express her own concerns that as a white woman leading this office, she told her higher ups that it simply wasn't right," Becerra-Ramirez. "She was even hesitant of taking up the office here because she didn't want students to get the idea that she was here to stay and that she was comfortable in her position. She has done a really good job at making sure that the office stays afloat, knowing it is just me doing the day to day thing."
Update 10/31/2017 12:15 a.m.: A previous version of this article incorrectly attributed an Oct. 27 email statement to Sharon Wilson-Taylor when the statement came from Kari Sommers. The Chronicle regrets this error.