Fashion studies student empowered, validated by path to prestigious National Retail Federation award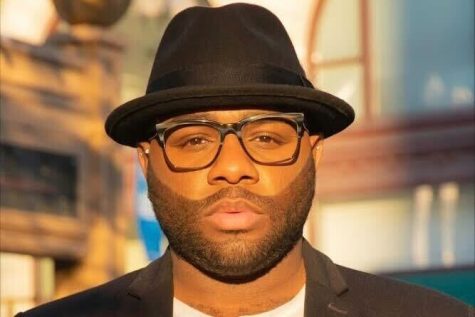 When Robert Davison-Long first came to Columbia, the fashion studies major had no idea what he wanted to leave the school with.
"I knew I wanted to get a degree in something that was fashion-oriented," Davison-Long said. "As I matriculated through Columbia, what I realized is, fashion is a lot more than clothes on the rack."
Davison-Long, now a senior, said he has always been intrigued by merchandise assortment planning and data analytics, yet his true fascination for fashion fostered his interest in further exploring the layers and steps that go into creating garments before they arrive at their destination in stores.
Davison-Long is one of the five finalists for the 2022 National Retail Federation Foundation Next Generation Scholarship, which is the highest honor the foundation awards to undergraduate students.
The NRF Foundation Next Generation Scholarship is a competition held by the National Retail Federation, a retail trade association with a nonprofit foundation that offers student scholarships of up to $25,000 that allow students to further deepen their education in retail and offer them real-world experiences in the field.
For Davison-Long, the process included writing up his proposal case, followed by multiple interviews with some of the foundation's leading industry professionals. Semifinalists get an email from the foundation, and finalists then later get a personal phone call notifying them of their status. 
While the competition is not over yet, Davison-Long said he already feels like a winner. Pushing through the pandemic's postponing of the rounds and events, he added that he was committed to finishing the full stretch — and finishing it brightly.
"To see it come full-circle has been so empowering and so validating and so crucial to me continuing my career in retail, and it's something that that I enjoy doing," Davison-Long said. "We had to do a case study to conceptualize a product, and then to see the product on paper and to have the chance to describe your product to all these higher-ups and these retail professionals, and for them to receive it as well as they did was something that was absolutely amazing."
The winner, who will receive a $25,000 tuition scholarship, is expected to be announced in April. The other finalists will each receive a $10,000 scholarship, according to the National Retail Federation press release which named the finalists.
Dana Connell, associate professor in the Fashion Studies Department and director of external scholarships, recalls Davison-Long as energetic and someone who always persevered after having him in her merchandising and assortment planning and L'Oréal Brandstorm competition classes. Connell also encouraged him to apply for this scholarship.
"In my merchandising and assortment planning classes, there's a business financial component — and that's pretty scary for most students," Connell said. "They just look at all the numbers, and their eyes roll back into their head, and it's intimidating. [Robert] never gave up on it; if he didn't understand something, he wanted to understand. He wanted to understand it so that he could make sense of it."
Some of the benefits for students applying to competitions such as the Next Generation Scholarship, Connell said, include being recognized and getting a taste of what the industry is like.
"These things lead to internships and jobs. When you can put this on your resume, you stand ahead and above everybody else. When you look at how competitive all these industries are, and to know that you've been recognized with these scholarships by a leader in the industry, it says a lot," Connell said. "It also prepares you for the hard work of the industry — these things are not for the faint of heart. These are for students who are the go-getters; these are the students who really want to go out there and make a difference in the world. … You have to work hard to get them, but once you do, it can really, really, really pay off for you."
For students interested in opportunities like the Next Generation Scholarship, contact Connell at dconnell@colum.edu. Eligible majors include fashion, advertising, design, marketing, communications and social media.