Fashion students get a lesson in the fabric of activism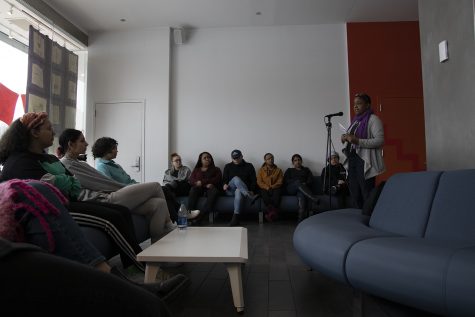 Melissa Blount began making quilts in 2017 after her husband, Ben Blount, began his art project "275 Holidays" to memorialize black men who lost their lives to violence in Chicago during 2016. Her first quilt was made to honor black women who lost their lives to violence and to start a conversation about domestic violence.
"I am making the attempt to humanize black lives and to enlarge the narrative around violence," said Blount, a local clinical psychologist and quilter. "People tend to want to stigmatize and reduce violence to just happening on the South and West Sides, but I want to enlarge the conversation."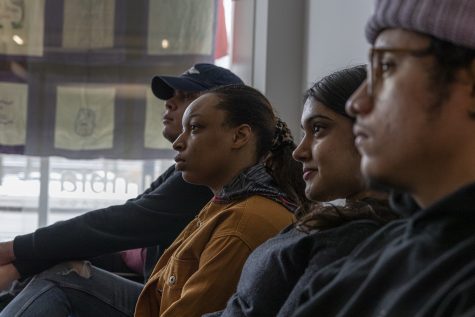 Zachary Clingenpeel
Students from assistant professor Lauren Downing Peter's "Fabric of Cultures" class listen to Melissa Blount describing her current quilt project. Blount's quilt, which students helped to embroider, memorializes the murders of transgender women of color killed in 2019. "I loved her presentation," said Natalie Dykema, a fashion design major. "It was really thorough and the artwork that she is doing is really important."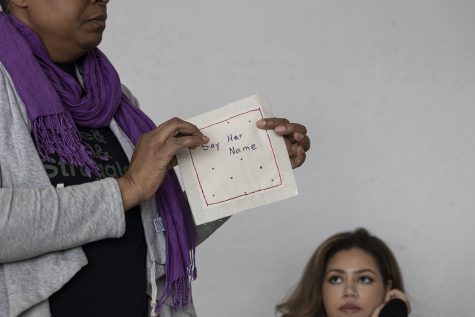 Blount's latest project, which she explained during a Black Lives Matter Sewing Circle she led in the lobby of 618 S. Michigan Ave. Thursday, Feb. 6, is to raise awareness of violence against black transgender women.
Members of the circle, including students and faculty, embroidered patches with the names and ages of transgender women of color who lost their lives in 2019.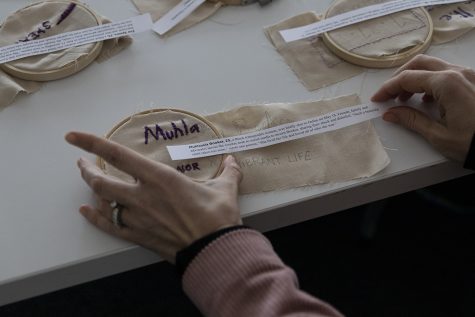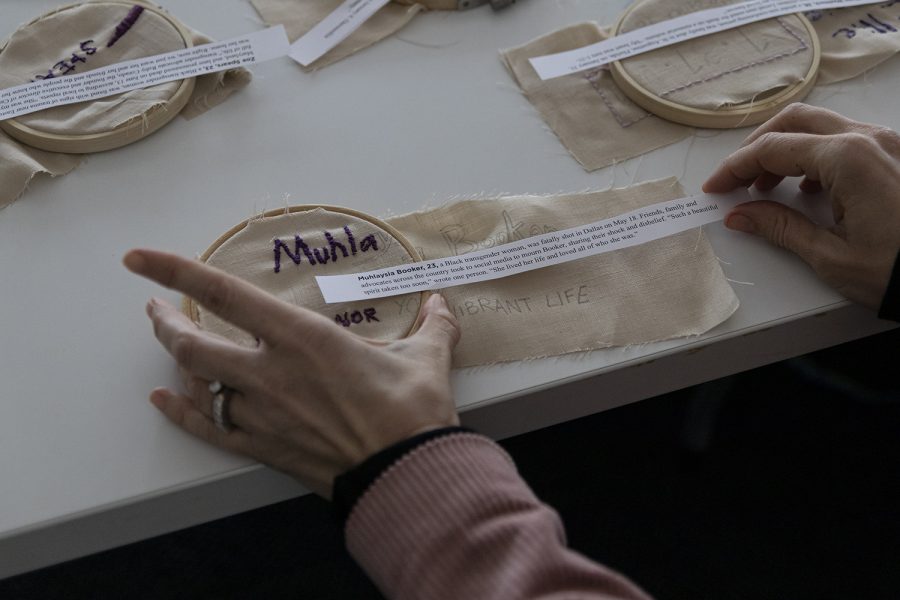 Zachary Clingenpeel
Colbey Reid, chair of the Fashion Studies Department, and other attendees are given the name and age of a transgender woman of color by quilter Melissa Blount to learn more about the circumstances in which they were killed, and to embroider their names and ages into the fabric for Blount's quilt.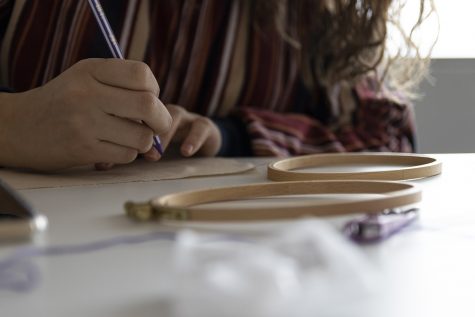 "I want to raise awareness and consciousness around the level of violence and who it's happening to," Blount said. "While it's happening to all transgender persons, most of the violence is directed toward transgender, black women."
Many of the sewing circle attendees included students of Lauren Downing Peters, an assistant professor in the Fashion Studies Department, who is teaching a "Fabric of Cultures" class, which focuses on how fashion is used and made in non-western societies.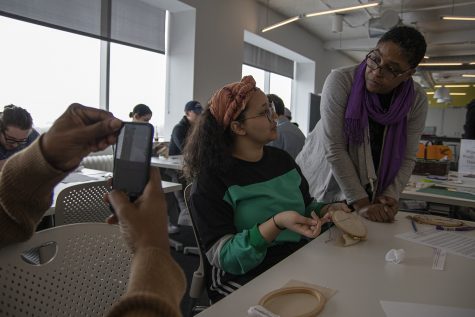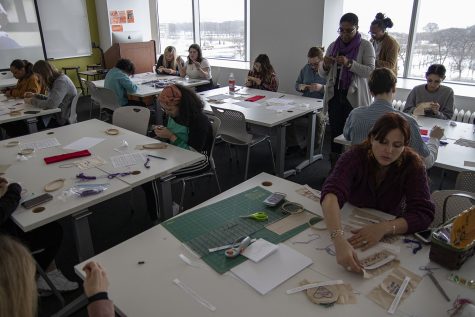 "I was hoping … they could think about how they could mobilize some of the political issues that we're discussing in this class through their practice as designers and product developers," Peters said.
The event and Blount's display were arranged by Colbey Reid, chair of the Fashion Studies Department, in an effort to engage more with people in the South Loop.
"That's our small way of, instead of having closed doors and walls to the community, opening them up," Reid said. "[We're] trying to actively engage with the streets that we're on."