FAN EXPO Chicago creates judgment-free space for cosplayers to be themselves
Loud music, chatter and cosplayers complimenting each other's outfits filled the giant space of this year's exhibition. Upstairs, panels with various voice actors and celebrity meet-ups created a warm and welcoming community.
FAN EXPO Chicago, previously known as Chicago Comic Con and then Wizarding World, celebrated its 50th anniversary this past weekend from July 7-10 at the Donald E. Stephens Convention Center in Rosemont.
FAN EXPO is a convention that celebrates pop culture and the art of cosplay. It featured celebrity panels including Elijah Wood from "Lord of the Rings" and Carl Weathers from "The Mandalorian;" Artist Alley, where independent local artists can sell their prints and crafts; vendors selling all things pop culture; gaming booths; and an area where patrons could get tattoos.
Cosplay, a blend of the words costume and play, is the art of dressing up as a fictional character Conventions like FAN EXPO Chicago provide a safe space for cosplayers to express their interests and dress as any character they choose.
Avi Sodamoskii, a guest of FAN EXPO, was invited to make an appearance and create social media posts for the organization. Sodamoskii said she has been cosplaying since she was 12 years old and has more than 10,000 followers on Instagram and more than 227,000 on TikTok. Her social media feed is filled with different cosplays including Raven from "Teen Titans" and Jinx from "League of Legends," both of which she attended as at FAN EXPO.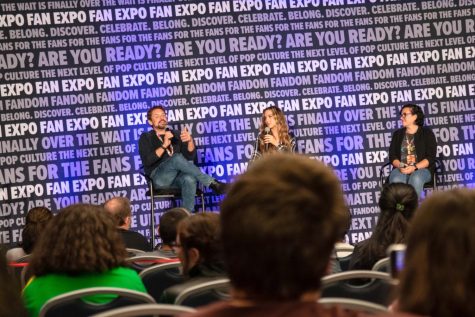 "I have felt so much love from the cosplay community ever since I was a kid, and … I have gotten to know so many amazing people and gotten involved in so many amazing programs," Sodamoskii said. "I've always felt like I am 3D in a world that's 2D."
Sodamoskii said FAN EXPO not only gives her a place to cosplay but also provides her opportunities in the animation and television industry as a current college student.
April Rarang, another cosplayer who was at FAN EXPO to exhibit her cosplays and make more friends within the cosplay community, said cosplay is her art. 
"Cosplay is significant for me because it's a form of my art. I consider myself an artist, not in the type of like, you know drawing or painting, but this is my art," Rarang said.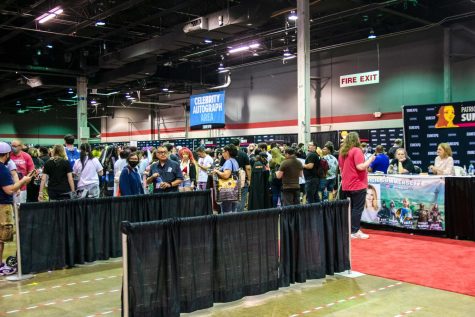 Rarang works as a seamstress in her day job and makes all of her cosplays by hand as her form of self-expression. She attended FAN EXPO for multiple days as Alexandra Trese from "Trese," Hibana from "Fire Force" and Princess Leia from "Star Wars."
Rarang encouraged those who are interested in cosplay to try it out without fear.
"Don't let anything hold you back no matter what, be it skill or body image or just confidence. Just fake your confidence, and and you will grow into it," Rarang said.
FAN EXPO created an environment for both fans of pop culture and cosplayers to express their interests freely.
"FAN EXPO is a really great way to see [different interests] if you're someone like me who isn't involved in one niche," Sodamoskii said. "[Cosplaying] is an experience that I would never take back for anything."