Faculty, staff expect new provost to put emphasis on communication and trust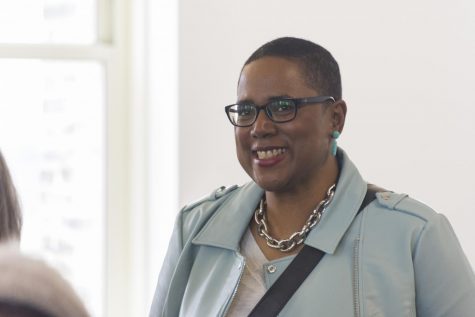 With a cape gifted from students at Manifest, incoming Senior Vice President and Provost Marcella David enters the college in the midst of some of its biggest challenges, including years of declining enrollment, widespread discontent over recent layoffs, months of tense negotiations over a union contract just recently settled and numerous program closures and tightening pursestrings.
Yet faculty and staff's biggest expectation of David involves improving relations between part-time faculty, full-time faculty, staff and administrators during her first academic year in her new position, which officially begins Monday.
As provost, David's main responsibilities will include overseeing curricular affairs and academic personnel. She will also be a member of the teaching faculty in the Business and Entrepreneurship Department.
David was formerly the provost and vice president for academic affairs at Florida Agricultural and Mechanical University.
"The concerns about communication and trust that I heard about during my campus visit are issues that need to be looked at and addressed, but they are not surprising," David said in a May 31 email interview with The Chronicle. "Columbia College is in the midst of the transition mapped out by the strategic plan, combined with the continuing fiscal challenges presented by the decline in enrollment. Transitions are often unsettling, and often hallmarked by regrettable gaps in communication. As an administrator, my professional goal is always to be an open and honest communicator." 

President and CEO Kwang-Wu Kim said David's first challenge will be to get acclimated to Columbia and find some potential areas for growth.
With the February closure of the Early Childhood Education and Dance Movement Therapy programs—and the ensuing backlash from faculty and students over the college's lack of communication surrounding the closures—Kim said he does not "necessarily foresee closing anything" but he does expect David to look into how to improve programs.
"I'm hoping the provost will come up with a way [to look at program content] that is not threatening, that really engages a lot more external experts with us as we're thinking about what … students really need to learn," Kim said. "So that we're setting up our students to be even more successful."
As student enrollment has been on the decline since 2013, Kim also expects David to be part of the dialogue on retention, which has been an ongoing challenge to the college, one that is yet to be resolved, Kim said.
"Our [retention] numbers are on the lower side for the kind of institution that we are," Kim said. "That's something with the new provost coming in [she has] a lot of experience in. I'm looking to see what are the levers we can move that can lead to some progress."
According to an Institutional Effectiveness report released in Fall 2018, student retention—which refers to the number of freshman who return to the college for their sophomore year—is going down. In Fall 2013, 71% of freshman returned, but by Fall 2017 only 67.8% of freshman returned. Columbia has also struggled with graduation rates; among the Fall 2012 cohort, only 48.1% graduated within six years.
Faculty Senate President Sean Johnson Andrews said the college needs to implement seven to eight new programs in the next eight years to boost enrollment—a feat that requires support, encouragement and "enthusiasm for that kind of interdisciplinary work."
"Just having the programs exist isn't really enough for the enrollment to work," said Andrews, who is also an associate professor in the Humanities, History and Social Sciences Department. "We need those programs to be up and running within … the next two to three years … in order for the enrollment projection [to work]. Some of it may require changing the structure of the college or addressing some of the issues … that plague higher education as a whole right now."
However, Andrews said all that is missing from the college right now is trust between faculty and administrators. Renewed trust and attention to accountability is what may get the ball rolling on other issues Columbia is facing, he said.
Flor Carabez—Columbia central counselor in the Student Financial Services office and the United Staff of Columbia College negotiations chair—echoed calls for improved relations between staff, faculty, administrators and students.
Considering the sudden "reorganization" of the Global Education office, announced and reported by The Chronicle May 22—which included four staff layoffs—Carabez expects David, a known globetrotter, to recognize any unmet needs from the changes and to offer solutions to make sure the needs of international students are met.
Having studied abroad during her time in college, David credits the experience to changing her worldview and opening her mind. As such, David said she is committed to growing international enrollment and working with a new global education structure.
Above all, Carabez hopes David stays true to her word about open communication with staff and faculty as well as advocating for student needs.
"[Trust] has been wanted for a long time, but it's coming to a point—especially this week [as things are] very sensitive for the college because of all the layoffs that just happened," Carabez said in a May 29 interview. "I hope that she comes down from the ladder every once in a while to talk … to students primarily. It takes a very special kind of person to meet our students' needs."