Faculty Senate shrinks going into next academic year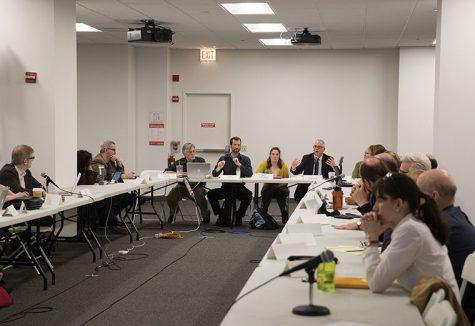 Columbia's Faculty Senate will have fewer members and leaders next school year, with five departments not represented at all on the primary elected body that represents faculty interests.
By the Numbers: According to outgoing Faculty Senate Secretary Stephanie Frank, 34 senators were on the senate during the 2022-23 school year. As of May 12, Frank said only 26 senators were confirmed for the 2023-24 school year because not enough faculty volunteered to run.
Of the 16 departments at the school, five do not have any departmental faculty representatives. They are Dance, Communication, English and Creative Writing, Cinema and Television Arts and Music.
The English and Creative Writing, Cinema and Television Arts and Music Departments have faculty on the Senate who are either in leadership roles or are at-large, while Dance and Communication have no faculty representatives within the senate.
What's behind the numbers: Frank said the numbers could be explained by an overall decline in the number of full-time faculty at the school, but said it was "not a great indication of faculty buy-in and engagement with administration."
Frank, who is an associate professor of instruction in the Humanities, History and Social Studies department, said that faculty may be hesitant to participate in Faculty Senate because they are "disillusioned" with the effectiveness of the Senate, "overstretched" with the demands of home life and teaching, or "some combination of both."
"Faculty are incredibly overtaxed and have been for a long time," said Frank.
At the top: The Senate will be led by President Madhurima Chakraborty, an associate professor in the English and Creative Writing department. The rest of the Executive Committee leadership team are: Associate Professor in the Humanities, History and Social Sciences Department Rojhat Avsar, Associate Professor in the Theatre Department Michael Brown and Associate Professor in the Cinema and Television Arts Department Ted Hardin.