Faculty member's new gender-neutral clothing brand focuses on sustainability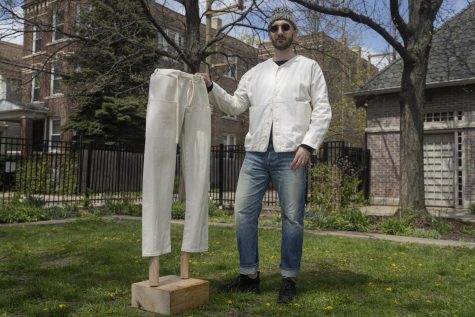 Jacob Victorine met three of his closest friends and soon-to-be business partners while working at a retail store in Logan Square. Five years later, the four would create their own gender-neutral clothing brand.
Victorine, a part-time faculty member in the English and Creative Writing Department, Rob Johnson, Noah Zagor and Alex Van Dorp tried a variety of different ideas, such as T-shirts featuring poetry on the front, before landing on gender-neutral clothing.
At Meyvn, the Logan Square retail store where the four met, Zagor was the owner, Victorine managed the store and Van Dorp, who at the time studied graphic design and photography at Columbia, was a sales employee. Johnson was a regular customer at the store and said while he initially went to buy clothes, he started visiting the shop just to talk with the others.
"It became clear that we were all very different in a lot of ways but we shared a lot in common," Johnson said.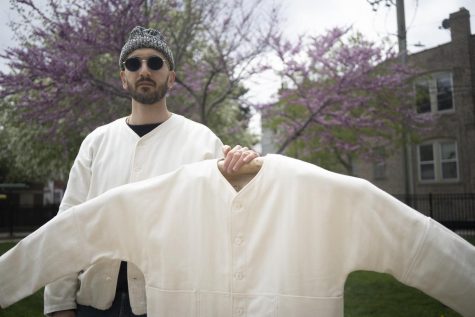 All We Remember began as an idea Victorine and Zagor had to create graphic T-shirts, but as it grew and gained other members from the Meyvn team, the brand evolved.
The group knew the main goal of their clothing brand was to create clothes that fit well and look good on as many people as possible, and they realized that meant the clothes would have to be gender-neutral.
The official launch on April 22 included a line of gender-neutral clothing fit for a variety of body shapes and sizes. The brand currently offers sizes 0-5, or U.S. sizes XS-XXL, and they want to create more sizes in the future.
Gender-neutral clothing does not have a distinct gendered design, which allows it to work for many people regardless of gender, Van Dorp said.
The group of four remained friends after Meyvn closed in 2017—due to the market shifting away from high-end boutiques —and in the summer of 2020, Victorine, Van Dorp and Zagor reached out to Johnson to see if he would be interested in working on the All We Remember clothing line.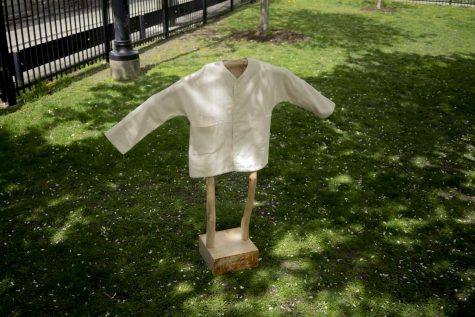 The brand initially launched with three products: a knit T-shirt, a drawstring jacket and a pair of drawstring pants. All of the items are made with organic cotton and are produced by Blue Tin Production, a Chicago-based apparel manufacturing company.
Each of the three items is a neutral cream color and designed to be accessible and comfortable. The shirt is a knit-jersey material, and the pants have six pockets, along with a drawstring that allows people to adjust the fit. The jacket includes four large pockets to hold a variety of items and is also secured by a drawstring.
"A big part of the brand is responsibility," Victorine said. "I don't think any of us really feel that sustainability is possible right now because of all the various systems that we're entrenched in, [such as] white supremacy, capitalism [and] patriarchy, and so I think for us … it's more about nuance and about doing things as ethically as possible."
All We Remember clothing is produced by Blue Tin Production, a worker cooperative that focuses on sustainability and exclusively hires "women of color, trans, gender non-conforming, intergenerational, queer, working-class, and/or immigrants and refugees," according to its website.
Zagor said it is important to the brand that every material used is sustainable and able to go back to the earth.
"If we're going to create something in this world that's already cluttered and filled with disposable design, then there has to be thought that goes into every detail, and we want to create as little impact in a negative way as we can," Zagor said.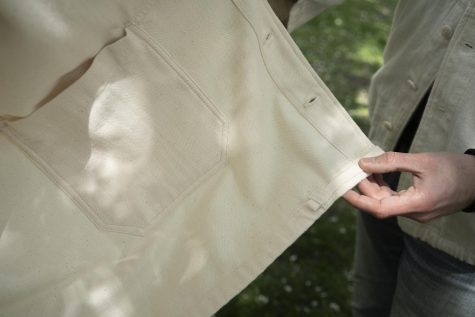 The three available clothing items range from $150 to $395 due to the cost of sustainable production, and the group understands not everyone can afford to purchase an item at that price.
The group also wants potential buyers to keep in mind that the clothes look good, and quality is not sacrificed to produce the clothes in a sustainable way.
While the four hope to continue to design clothes and expand their brand, Victorine said they do not want to sacrifice their message in order to achieve their goals. They will continue to design and release new clothes, but not at the same rate as many fast fashion brands do.
"It's more about making beautiful, thoughtful, meaningful things and connecting to people through those things," Victorine said.