Faculty and staff forums provide clarity, but are 'just the start' for reopening campus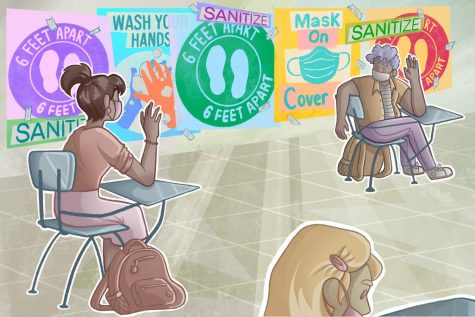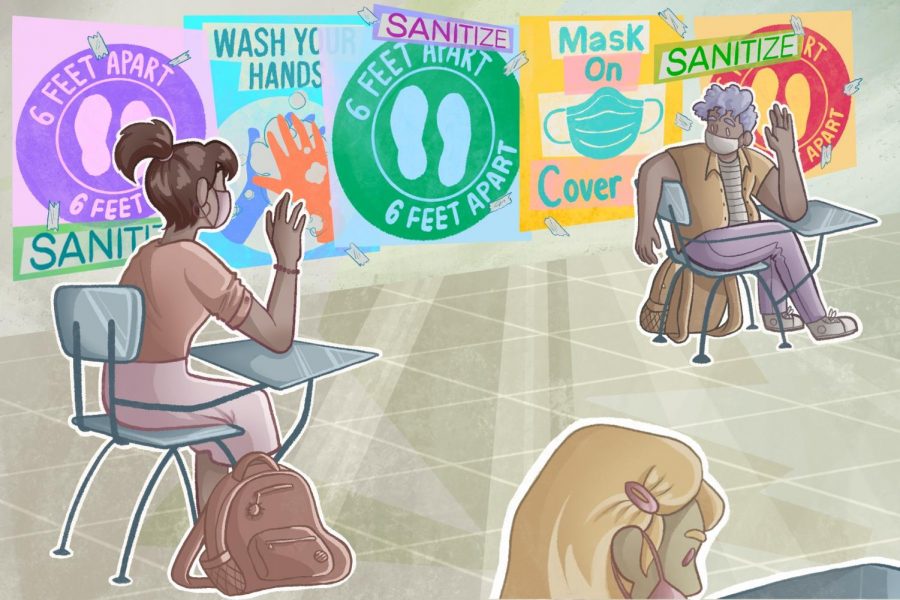 College administrators are openly answering questions and addressing concerns from faculty and staff members during online forums—where steps toward reopening campus through social distancing, reduced class sizes and the availability of personal protective equipment are being explained.
Associate Professor in the Communication Department Sharon Bloyd-Peshkin said although there can be no solid answers in the midst of the coronavirus pandemic, the college did its best to maintain transparency and candor while explaining how it is making decisions.
"It left me feeling a higher degree of confidence that we're going to handle this well," she said.
Faculty and staff were given the option to sign-up for one of three online forums held in late May with spots for only 50 participants. Due to high demand, three additional forums were added for Tuesday, June 2, Wednesday, June 3 and Thursday, June 4, allowing 75 participants in each session.
During the initial forums, President and CEO Kwang-Wu Kim and Senior Vice President and Provost Marcella David, alongside other members of the president's cabinet, guided the discussion and fielded questions.
The Chronicle was not given access to the forums so faculty and staff members could "feel comfortable and speak freely without the media present," according to Lambrini Lukidis, associate vice president of Strategic Communications and External Relations.
Matthew Rillie, membership co-chair and contract action chair for the United Staff of Columbia College, or USofCC, attended the Wednesday, May 27 online forum, and said it mainly focused on how the campus will operate once it reopens.
For example, Ferguson Hall, 600 S. Michigan Ave., which usually holds around 100 people, will only allow one-tenth of its normal capacity—10 people, Rillie said.
Rillie said while the forum offered more clarity, there should be ongoing meetings throughout the summer.
"We have to see these as just the start," they said.
Tim Cozzens, an associate professor in the Design Department, said he appreciated the college's "even-toned" and thoughtful conversation at the forum as an alternative to emails.
"Written communication lacks nuance and the more information we have about the plans for returning, the more we as faculty are able to make plans for the delivery of the courses that we've been assigned," Cozzens said.
In addition to offering clarity, during the Tuesday, May 26 forum, Kim said the college is modeling projections for the possibility of a 20% decline in tuition revenue as reported by the Chronicle. But when when all factors come into play it could result in a 33% overall revenue decline, said Senior Vice President for Business Affairs and CFO Jerry Tarrer.
Diana Vallera, an adjunct faculty member in the Photography Department and president of CFAC, the part-time faculty union, said Kim mentioned at the Wednesday, May 27 forum that enrollment is looking "very good" for fall but the college is preparing for a decline.
Kathie Koch, associate vice president and chief information officer, was asked to sit in on each forum to answer specific questions pertaining to Information Technology, or IT, but during the forums, she said there were few questions asked.
Koch said participants' questions and concerns veered toward how they are individually impacted by the reopening of campus and how social distancing and PPE requirements will be handled.
Cozzens said although the forum was an effective starting point, he hopes the technological needs of faculty and staff are met and there are more department-level conversations about the specifics of continuing remote learning.
"We personally don't need to know what's happening in other buildings," Cozzens said. "We need to know what's happening in our buildings."
In a Friday, May 22 email to faculty and staff, Kim said the college's committee will provide more updates after the online forums conclude.
In a Tuesday, May 26 email to the Chronicle, Craig Sigele, president of USofCC, the staff union, said while he is glad the committee exploring campus reopening is reaching out to stakeholders like faculty and staff, the union feels the group "should be more representative and include faculty and staff on its committee.
"Staff are the college's front line workers; we have knowledge and unique perspective that can be valuable to the committee beyond a one hour zoom meeting," said Sigele, who is also a part-time faculty member and academic manager for the Communication Department.
Rillie spoke with college administrators including Special Counsel of Labor Relations Terence Smith, Chief of Staff Laurent Pernot and David on behalf of the union before the online forums were held.
The college has provided immense transparency through discussions, but "it is still on the union of the college and on students [to] ask the right questions," Rillie said.
Vallera has been meeting with college administrators as part of CFAC, in addition to meeting with labor relations to "bargain additional [Memorandums of Understanding] for summer and return to normal operation or a version thereof for fall."
She said the meetings have been productive in discussing issues of safety, delivering quality education and how to properly prepare for the possibility of remote learning, among other issues. Vallera said she expects several memorandums of understanding, which are meant to negotiate terms quickly for situations caused by unforeseen circumstances, closer to the Fall 2020 semester.
Bloyd-Peshkin, said the lines of communication should be kept open between administrators, faculty and staff throughout the summer.
"We all want the same thing," she said. "We want to figure out how we can keep people safe, how classes can be as effective as possible and how are we as a community going to be grappling with the situation we find ourselves in."