Alicia Keys' 'HERE' most genuine work yet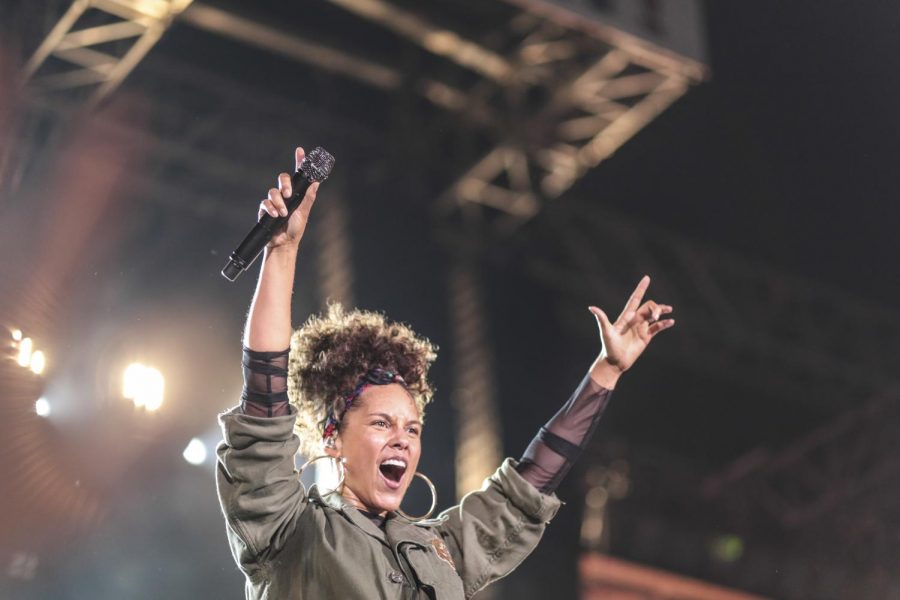 By ARTS & CULTURE EDITOR
November 7, 2016
The new Alicia Keys is HERE. The R&B singer is standing tall with her sixth studio album release, HERE, which dropped Nov. 4 on RCA Records. During a four-year music hiatus and a spot as a judge on NBC's "The Voice," Keys put her music in a dark corner, but that corner has become illuminated with a blinding light as she unlocks a fresh, personal and powerful, yet simply written story.
HERE combines introspective lyrics and poetic genius with leads to transitional, gritty interludes through Keys' ever-chilling vibrato. It breaks walls into a rubble of raw, minimally-produced material that takes the New Yorker back to her R&B roots as she rebuilds her strong, unapologetic self .
In the socially conscious musical journey, the "Girl on Fire" singer holds tightly to her black culture with pride and explores what it means to be a woman amid the chaos of societal norms and self-love. She even cries out to save Mother Earth in "Kill Your Mama," an acoustic ballad.
The album's two singles, "Blended Family (What You Do For Love)" featuring A$AP Rocky and "Holy War," knock on a damaged door of society that is not as easy to open as it should be. Accepting people's faults, spreading genuine love and letting go of hate are messages that scream across the empowering range of Keys' vocals.
Keys is embracing her new self through 16 songs that reflect her latest statement: showing off her fresh-faced, no makeup look and dissecting her layers as a mother, wife and role model through her fierce and clear wordplay — "Work on It" and "She Don't Really Care_1 Luv" break it down with perfect, unedited and honest precision. 
In a public letter Keys wrote published May 31 on Lenny Letter, a weekly online feminist newsletter, she described her writing process and why she chose to go all natural.
"I needed these songs because I was really feeling those insecurities. I was finally uncovering just how much I censored myself. Did I even know HOW to be brutally honest anymore?" she wrote.
As evident in one of the album's songs "When a Girl Can't Be Herself," Keys struggled with self-esteem and the pressures she felt, especially being in the entertainment industry. She sings, "In the morning from the minute that I wake up / What if I don't want to put on all that makeup / Who says I must conceal what I'm made of / Maybe all this Maybelline is covering my self-esteem."
It is comforting to know celebrities like Keys feel like other woman under the glass ceiling.
We do not need a pretty woman like Keys to tell us that being fresh-faced is beautiful, but her activist role in HERE propels the issue to a wider awareness, and her capability to do so through music is a gift — unwrapped, this time.