Stop, drop and roller derby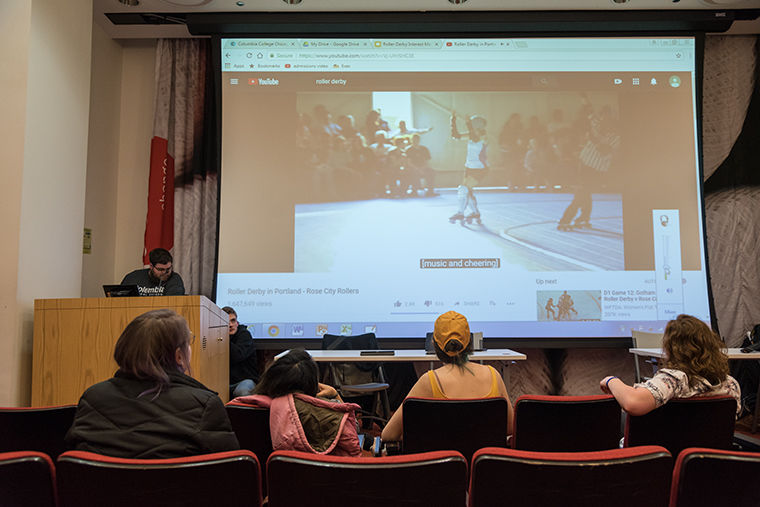 Columbia's first roller derby team will be gliding onto campus this semester.
Roller derby is a contact sport in which two teams race around a track and attempt to block a skater, called a jammer, on the opposing side from passing and scoring points.
The Student Athletic Association tried to start a roller derby team last fall, but the idea fell through, said Matt Coyle, president of SAA and senior audio arts and acoustics major. Then  Myranda Risley, a junior theatre major, approached the organization this semester about starting a team and taking the steps to gauge interest, he said.
The first meeting for prospective team players was held on March 30 at the 916 S. Wabash Ave. Building.
Risley said after watching roller derby games she was instantly intrigued and wanted to bring it to Columbia because it is primarily a women's sport. However, Renegades is gender-inclusive, so any student can join the team, according to Coyle.
"It's a contact sport where you're on skates, so it makes it a little more dangerous," Risley said. "I always thought it was cool how they can take each other down," she added, referring to the sport's competitive nature.
Jacob Schmidt, community representative for SAA and sophomore audio arts and acoustics major, said he is interested in joining the team. He said he is excited to see a team practice indoors because cold weather can sometimes cause problems in other sports. Being involved in athletics is a great outlet for students, he said, because it allows them to meet new people and enhance their physical being as well as mental health for everyone involved in sports.
"That's something students may not know until they get involved with it," Schmidt said. "They'll find some people to network with and fitness to make themselves feel better physically and mentally, and it would be helpful for all students."
The goal is to build a team with strong student players and possibly start practices by the end of the semester so the roller derby team can start playing games next fall, Risley said.
"I'm pretty sure not a lot of people at Columbia have played roller derby before, me included, so [the goal is] to be able to understand and get the rules, get a good team going and maybe play somebody," Risley said.
Coyle said he is very excited to see what the team does and their progress over the next couple of weeks.
"It's not a conventional sport and we're not a conventional school, and it's something everyone can get behind," Coyle said.