Featured Artist: Student filmmaker represents US at Cannes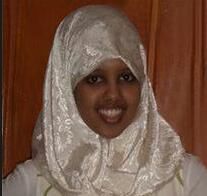 Selected for her script "Amina's Choice," the story of a young girl who must choose between a traditional marriage and a college education, cinema art + science MFA candidate Fahima Mohamood is the only U.S. filmmaker participating in the Maison Des Scénaristes Author-Producer meetings at the 2016 Cannes Film Festival.
The Maison Des Scénaristes, an association of scriptwriters dedicated to recognizing the value of screenwriting, has hosted the International Scriptwriters' Pavilion at Cannes annually since forming in 2014. 
Mohamood was 6 years old when she moved to the U.S. from Somalia. She enjoyed writing from an early age and was inspired to pursue film by the lack of Muslim protagonists on television.
The Chronicle spoke with Mohamood about her work as a filmmaker, her selection by Maison Des Scénaristes to participate in Cannes 2016 and the importance of her cultural heritage.
THE CHRONICLE: What was it like being selected for the Author-Producer meeting at Cannes? 
FAHIMA MOHAMOOD: I was very surprised I was the only U.S. [filmmaker]. I didn't even know the significance of applying.  It was a really hefty process because there [are] so many loops and turns. Their website is in French, so it has to be translated. I applied for it thinking I didn't know if I would get in or not, so it's been really surprising. 
It's a lot more pressure now that I've found out I'm the only U.S. participant. I'm excited. Hopefully, I can shape up my French before then.
What topics and themes do you address as a filmmaker?
I usually like to focus on comedy, and I do usually focus on Muslim women. My protagonists and topics usually relate to Muslim women. I focus on Muslim women living their lives, whether [the story is] a coming-of-age tale, about a relationship or [something else] of that nature.
Does being a Muslim woman impact your work?
Yes, it definitely does. Growing up, I didn't really have any Muslim characters to follow on TV—or any minority characters [at all]. I would write my own stories, and when I became an adult, I went to film school because I wanted to see myself and other people of Muslim or other minority cultures [represented]. We do exist, but in Hollywood, we're rarely seen.
What initially inspired you to become a filmmaker?
I really liked writing stories when I was younger, and I really liked screenwriting because I felt like I could make up a whole world with a background and my own characters and decide how it played out. I really enjoyed that process. What drew me to Columbia was that I could learn to direct [in addition to] writing my own material. I get to graduate with a few films under my belt. 
Who are your biggest influences?
I really enjoy Spike Lee. He also focuses on what he knows, and speaks from his own background, which I really enjoy. Another one is [Mira Nair], who did the film "Mississippi Masala." I like that she focuses on her culture. She's from Uganda, and she focuses on marriage and the cultural influences [surrounding that].
Do you think the film industry has begun to recognize more diverse voices in the last several years?
In the last couple of years, we've seen a lot more independent filmmakers get distribution. They've been able to do their own work outside of Hollywood, which is really nice. I think the internet has also helped because [it provides] more [accessibility] for reaching a [unique] audience. Now, filmmakers don't need to wait for Hollywood to give them the green light. They can create their own green light by putting it up on their own website, and that definitely helps speed the process along. Hollywood might even come over and say, "We see you have a following, and we would like to help."