Multimedia campus festival celebrates black artists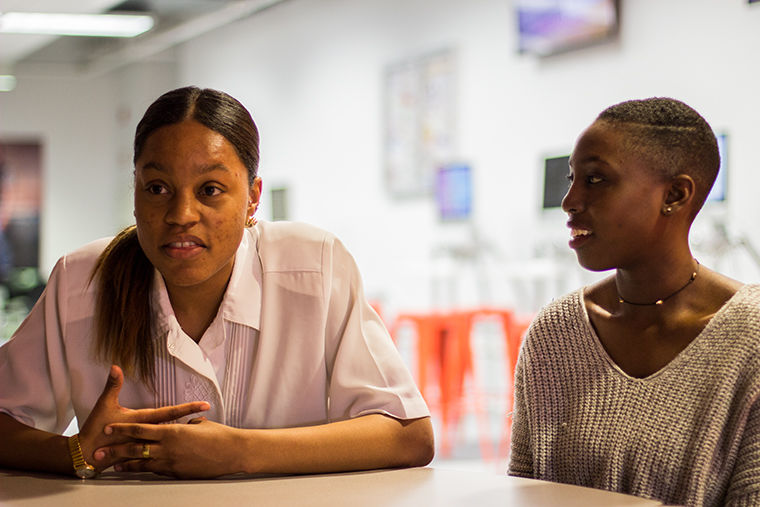 Students can enjoy Columbia's first Black Arts Festival presented by numerous student organizations and committees to provide an interactive platform for black artists to share their work.
The festival will take place Feb. 8–10 at 1104 S. Wabash Ave. and feature dance performances, music, films, fashion and academic presentations by more than 50 black Columbia student artists and alumni.
Alivia Blade, a 2017 design alumna and the festival's co-director, said she and 2017 dance and cultural studies alumna Bri Heath were brainstorming ideas during spring 2017 to build a community for black students on campus.
After creating Safe Space Chicago, an organization intended to offer space for black students, Blade and Heath wanted to create an even larger space that became the Black Arts Festival.
"That space is all about creating that community for black students to be affirmed, to have community so we were thinking what does that look like on a larger scale?" Blade said. "That's what made us want to do the Black Arts Festival."
Heath said it was challenging putting together such a large cultural event, while expressing the importance of the Festival being held at the college.
"There's always the push back of people saying, 'Oh, this is the first segregated art show Columbia's ever had,'" Heath said. "The challenge [is] making sure everyone's needs are met  but also try to make the case for why this is important on Columbia's campus, and people not always seeing why that's important."
Heath said the majority of the support has come from the Office of Academic Diversity, Equity and Inclusion and professors, including Academic DEI Dean Matthew Shenoda and Robert Hanserd, an associate professor in the Humanities, History and Social Sciences Department.
Shenoda said he was able to fund keynote speakers such as Ayanah Moor, a professor of printmaking at SAIC and prominent black visual artist in Chicago. Shenoda added that he is proud the students took charge  to create this festival on their own.
"I'm hoping it will create a sense of community between black students and black faculty and staff as well as community members and [then] create a space where people feel like they can gain insight," Shenoda said.
Hanserd said Blade and Heath had initiative in creating the event and was happy to work with them.
"[The festival is] about letting students start to articulate their voices through their art, words, or their exhibition," Hanserd said. "To express something critical, that has involved a process of thinking about blackness and then using those kinds of reflections to create art and culture."
Erica Siliezar, freshman undecided major in cinema and television arts, said she is excited to have her work displayed in the festival.
Siliezar said a music video she created as a final for her foundations course, featuring artist Oliv Blu, will be shown on Feb. 8 from 7 p.m.–10 p.m. It will be followed by a Q&A about her work, she added.
"I want people to see that, even though I am a freshman, I am coming with a lot of talent," Siliezar said. "To really look and appreciate what people do even when they're just starting at Columbia."
Blade said those attending can expect to see paintings, prints, drawings and installation work. There will also be live models for fashion students and a speaker series at which students can then share their academic papers.
Blade and Heath said one goal they share is to have the festival continue after this year.
"It is a humbling position for me. It's the first gathering of black artists at Columbia since 1968," Heath said. "Whatever is going to happen next week is going to be an amazing event, but also something I hope will continue for a long time. This is the beginning of something amazing."