College budget discussed during Faculty Senate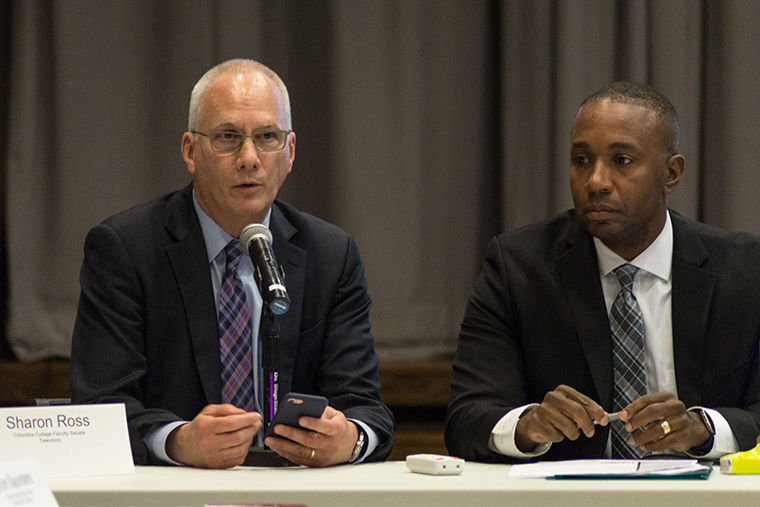 Columbia's faculty senate discussed what the college's shrinking enrollment means to its overall revenue and student experience at its Oct. 13 meeting.
During the meeting, held at Stage Two, 618 S. Michigan Ave., Jerry Tarrer, senior vice president of Business Affairs and CFO and Stan Wearden, senior vice president and provost, presented details of the college's 2017–2018 budget and how the administration plans to improve finances.
Tarrer said based on a performance formula used by colleges and the Higher Learning Commission accrediting agency, Columbia still has a strong financial standing despite the drop in student enrollment. Fiscal Year '17 showed about $196 million in revenue, which is down to $188 million for FY18, resulting from $6 million less in revenue last year. However, according to the presentation, the budget will be balanced by the end of this fiscal year after expenses of that amount were cut.
"Columbia, like most private institutions, relies on tuition revenue so any enrollment is going to create a ripple effect throughout the college, and that's just the reality," Tarrer said. "In my perspective, we're still relatively strong."
Despite Columbia's good standing, the financial analysis suggests it still needs to consider transforming certain aspects to prevent it from losing its competitive edge, according to Tarrer.
"We know the cuts we've experienced recently are not sustainable, we have to do things differently," Tarrer said. "Today, yes, we're still strong and viable. We want to remain that way."
Tarrer said the administration have not decided what will do with the proceeds from the sale of certain Columbia buildings like the University Center and Plymouth Court. However, he said he wants most of the proceeds to go toward bettering the student experience, including the construction of the new student center. This is slated to be completed in late 2018, as reported May 8 by The Chronicle.
"We haven't fully fleshed out exactly what to do with all the proceeds, but one of the things that I'm committed to is to putting those proceeds back into the student experience," Tarrer said. "Whether it's something like the student center or more fixed classroom space."
Several faculty members questioned how the student center construction will improve the college and its enrollment.
Wearden said a survey was given to people who chose not to attend Columbia about why they picked an alternative. Students chose not to attend because they wanted a more centralized location for social interaction and other reasons, he said.
Wearden said the college will be working harder than ever to push the name and image of Columbia out into the world in order to improve student enrollment and engagement. Columbia's social media platforms will be used more often in order to share success stories, he added.
"We are keenly aware we are not getting our message out and Dr. Kim has ordered an intense focus on getting the story of Columbia out there," Wearden said, "which means getting the story of faculty out, means telling the story of successful alumni."
Update 10/24/17 at 3:15 p.m.: A previous version of this story incorrectly identified the budget from Fiscal Year '17 as the budget from Fall 2017 and incorrectly identified a $6 million loss in revenue as a $6 million budget shortfall. According to the Faculty Senate presentation, the $6 million gap will be bridged by the end of the fiscal year through cutting expenses of that amount. The Chronicle regrets these errors.