Muggles dance the night away at annual Yule Ball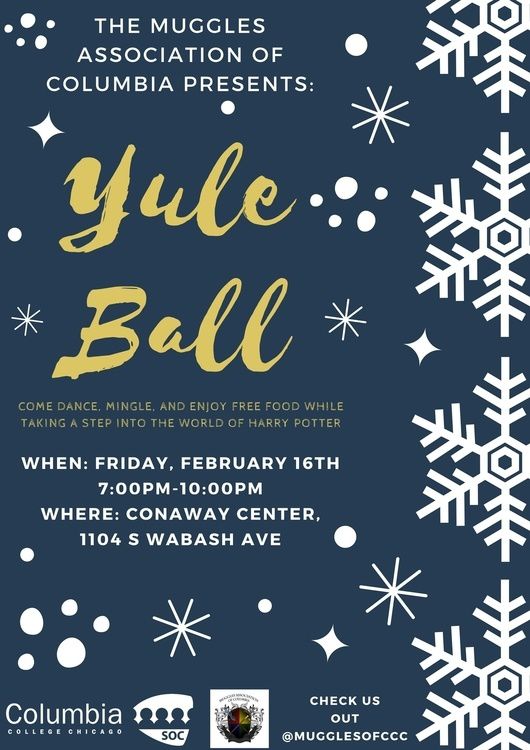 Amid twinkling lights, magical melodies and savory scents, masses of muggles flocked to the annual Yule Ball for a night of music and celebration Feb. 16.
Hosted by the Muggles Association of Columbia at the Conaway Center, 1104 S. Wabash Ave., the ball evoked the iconic gala evening in "Harry Potter and the Goblet of Fire."
"[The ball is] a time for everyone to mingle, have fun and be with each other," said the organization's president and senior fashion studiesmajor Ava Thommen.
A playlist, created by one of the members, served as the soundtrack for the evening, featuring movie soundtracks, today's hits and '80s classics.
Freshman theatre and design double major Nat Mason said her favorite part of the night was being able to spend time with her friends on the Quidditch team, of which she is a member.
"I came to the dance because it's run by the Muggles Association, and as a part of the Quidditch team, it was a group event we decided we were going to come to," Mason said.
The food and decor were funded by club-sponsored fundraisers such as bake sales, and a portion of the money came directly from Columbia, according to sophomore theatre major Mariah Suarez, events coordinator for the Muggles Association.
This year's Yule Ball theme was "19 Years Later" and it was important to the Muggles Association of Columbia, Thommen said.
"At the end of the Harry Potter books when [J.K. Rowling wrote] the epilogue, it's 19 years later. That's actually this school year," Thommen said. "[We]wanted to do the classic Yule Ball, with all the twinkly pretty lights, snowflakes and color scheme. We are trying really hard to make sure we capture that."
Traditionally, the ball is held in early December, but scheduling conflicts at the Conaway Center meant it was pushed back to February, said Suarez.
Despite the scheduling problems, event planning went smoothly, Suarez said, noting that the board was still able to enjoy the night.
"It's a very chill, come-hang-out-with-us vibe," Suarez said.