Creating music with new IAM chair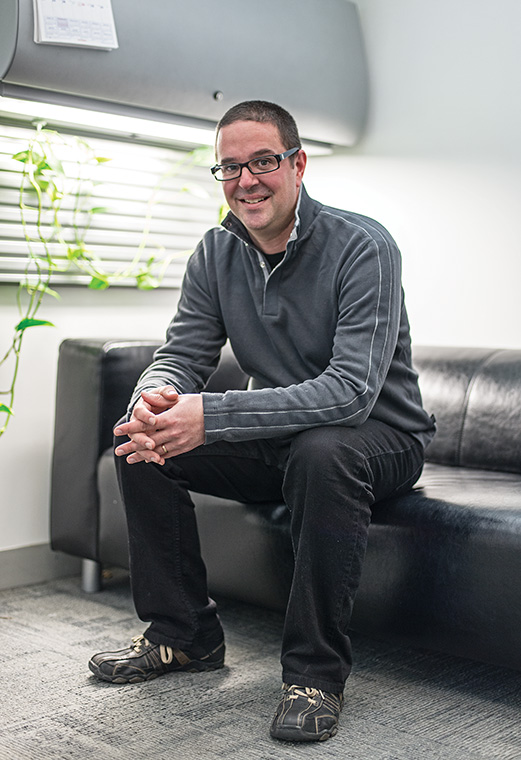 When Joseph Cancellaro began teaching at Columbia, he never expected to rise to the top, but on Feb. 4, he was officially named chair of the Interactive Arts & Media Department.
Cancellaro was named acting chair of the IAM Department in 2012 when previous chair Annette Barbier went on sabbatical. After Barbier announced she would not return, Robin Bargar, dean of the School of Media Arts, kept Cancellaro on as interim chair.
"[Cancellaro] has a lot of understanding of computer graphics," Bargar said. "He really is a good fit for the job and [has] knowledge of where the direction is going with the program."
Since he first became acting chair, Cancellaro has worked on three new bachelor's degree programs,  to expand the department.
While working at Columbia, Cancellaro has taught courses such as Sound and Music for Interactivity, 3D Composition for Interactive Media and Game Sound in the Music Department.
Cancellaro has been working with music, audio and computers for most of his life. He graduated from the New England Conservatory of Music in Boston with a master's degree in composition. He then pursued his doctorate in music composition at The University of Edinburgh in Scotland.
Cancellaro worked in Poland for a number of years, first of supercomputing and networking center, then at I.M. Paderewski Poznan Academy of Music and Electro-acoustic Music Studio in Warsaw, before he met his wife and moved to Chicago.
"Cancellaro is basically an ambassador between the IAM and music departments," Bargar said. "He has done a lot to create pathways for composers and musicians that want to work in games."
Cancellaro is most respected and known for his composition, Bargar said. He has composed for local films such as "Lowlands," a documentary by Peter Thompson, a former professor in the Photography Department. But he says he has no desire to compose for major film studios.
"I've been asked to do big time films, but I would never want to move to L.A.," Cancellaro said. "I don't like it and my wife and kids are [in Chicago]."
Janell Baxter, assistant professor in the IAM Department, worked with Cancellaro when she was the associate chair, a position she recently stepped down from.
Baxter said she was impressed with Cancellaro's leadership skills but that his biggest strength is his transparency.
"He has the ability to look at the big picture and prioritize as well as look at details and make sure the department is moving in a positive direction," Baxter said. "He also invites faculty to the problem-solving process when it is appropriate."
Cancellaro said he keeps his door open, making him available for students and faculty to ask him anything. He said it's important to have students feel they can come to him at any time.
"My door is rarely closed," Cancellaro said. "Faculty and staff are always welcome."