Stop and smell the pie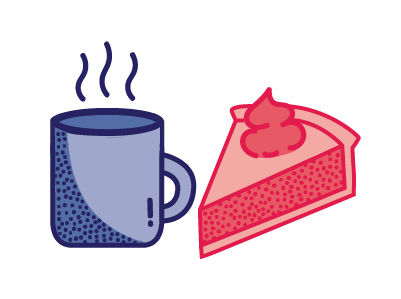 The comforting aroma of freshly baked pies and brewed coffee will soon fill up the Chop Shop, a Wicker Park restaurant and food emporium. Awake and Bake: Chicago's First Free Pie and Coffee Festival will debut at the Chop Shop, 2033 W. North Ave., May 6. With pie, pie-inspired goodies and freshly brewed coffee the festival and refreshments are entirely free and open to all ages to enjoy. 
The festival is expecting between 500 and 600 guests. Although it is free, guests must have tickets to attend the event. Tickets are available on the Awake and Bake Festival Eventbrite page, according to Alex Shebar, festival founder and organizer. 
Shebar said he was inspired by different roasters and unique coffee shops popping up across the city. When planning the event, Shebar said he could not think of a better complement to coffee than pie. 
"Coffee and pie seemed like a winning response, and every time I have mentioned coffee and pie to people, their eyes light up," Shebar said. "That is the response I want from the amazing festival." 
The festival plans to host 11 vendors as of press time. Vendors include Abacus Coffee, Colectivo Coffee, The Fix Pies, Imani's Original Bean Pies and Elmhurst Dairy, a vegan beverage company, according to Shebar. 
XO Marshmallow, 6977 N. Sheridan Road, a gourmet marshmallow confectioner, will be one of the few vendors doing a variation on a traditional pie, according to co-owner Kat Connor. 
Connor said when Shebar first approached her about the festival, she was hesitant because XO Marshmallows did not fall under either the pie or coffee category. Although her store has not finalized a menu for the festival yet, Connor said her team will be working down to the wire to incorporate marshmallows into a pie or pie-inspired treat. 
Shebar noted he invited vendors from traditional and non-traditional pie companies to offer variety for attendees.
"It is not your typical pie, but it has the feeling of pie, which is fascinating as well," Shebar said. "What really is pie? And the answer is: It's interpretive." 
Linda Lerner and her daughter Abby Lerner decided to re-open Linda's Magic Brownies, 3109 N. Broadway, in November 2015 after closing in the late 1980s. Linda Lerner created a fudge brownie recipe at a Lincoln Park Garage Sale in 1980 and has been selling her treats online for local pick up. 
Linda Lerner said she only uses locally sourced ingredients for her brownies, including chocolate from Blommer Chocolate Company. Linda and Abby Lerner will spread their brownie magic to the festival, Abby Lerner said. 
"We are not coffee or pie, but brownies go great with coffee and we like getting in front of these millennial crowds of people who are really into the food scene," Abby Lerner said. 
Shebar said the best part about Chicago food festivals is experiencing the city's hidden gems and treasures. 
"We get to showcase great local things throughout Chicago and do it in a way that isn't being done," he said. "We have done a bunch of these throughout the city to encourage people to check out things they haven't tried before."