'The artist they called him' Chicago celebrates Burroughs centenary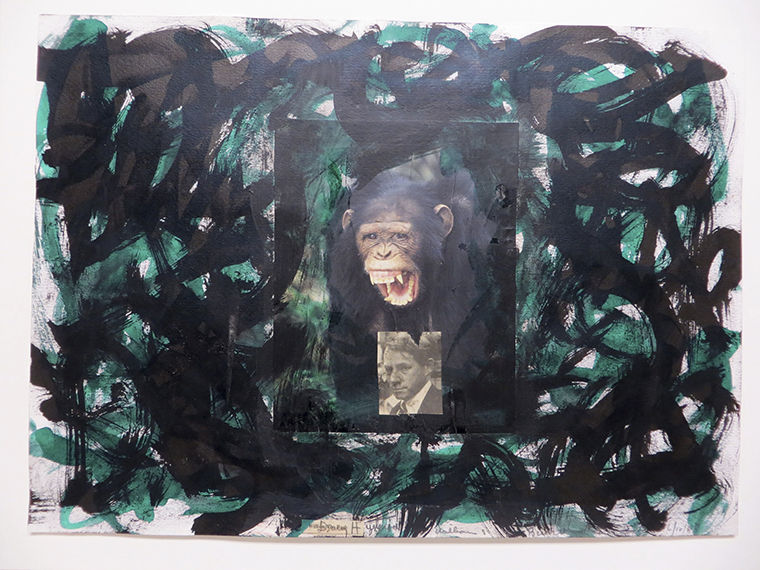 By Arts & Culture Editor
November 3, 2014
Chicago will join in the centennial commemoration of writer William S. Burroughs' birth with an exhibit of his artwork called "The Tickets That Exploded: The Art of William S. Burroughs" and a party at the Chicago Humanities Festival's "Interzone: A William S. Burroughs Birthday Bash." 
Burroughs is known to the world for his works of Beat Generation literature, which include "Junkie," "The Yage Letters" and "Naked Lunch," but some also know him for his work in visual media such as film and painting. The exhibit is running through Nov. 9 in the Sonnenschein Gallery in the Durand Art Institute at Lake Forest College, 555 N. Sheridan Road, in Lake Forest, Illinois.
Being responsible for popularizing the cut-up method with artist Brion Gysin as well as influencing future Beat writers Allen Ginsberg and Jack Kerouac in the late 1940s, Burroughs also developed many works of art using spray paint, shotguns and stencils during the latter years of his life in Lawrence, Kansas. This year would have been the counterculture icon's 100th year if still alive, and many fans worldwide are commemorating his life and work with events and celebrations.
Corrina Lesser, associate director of Programming and Education at the Chicago Humanities Festival, said "Interzone: A William S. Burroughs Birthday Bash" was a natural fit for the 2014 festival's  "Journeys" theme.
"Thinking about how controversial Burroughs' work was when he first started publishing and the fact that now institutions all over the world are celebrating his centenary, I thought that was a really important conversation for us to be having as a part of the festival," Lesser said.  
The event will feature performances from poets such as Anne Waldman, Eileen Myles and Tony Trigilio, director of the poetry program in the Creative Writing Department at Columbia, as well as musical performances from John Langford, Sasha Frere-Jones and Don Meyer.
"This program is a little wild and crazy in all the best ways," Lesser said. "We are going to be moving back and forth between poetry, song and then some collaboration."
Davis Schneiderman, a Burroughs scholar as well as associate dean of faculty and professor of English at Lake Forest College, helped bring the birthday celebration to the Chicago Humanities Festival along with the exhibit at the college.
"I became interested in the other events happening around the country and around the world, and I recognized that Chicago needs something," Schneiderman said. "Burroughs is important for Chicago. He lived in Chicago, he covered the 1968 Democratic Convention and we needed to do something."
Schneiderman said Burroughs is a very important figure in American literature and, although it was never his intention to become part of the mainstream, Burroughs deserves just as much respect as other American authors.
"Burroughs was someone who was such a literary and aesthetic chameleon, who was a cipher, really, for the age because he used factors of randomness in his work," Schneiderman said. "He was interested in allowing collaborative experiences in to inform what he makes. He's the anti-Hemingway because Hemingway was sort of a conservative figure, whereas Burroughs is not. The reason for this is in part because the work is so varied that it never allows itself to be pigeonholed, which also is what stops people from understanding it."
Yuri Zupancic, the art director for William S. Burroughs Communications and curator of the exhibit, said not all of the work in the gallery will be the shotgun art that is typically associated with the writer.
"We are going to have some of [Burroughs'] shotgun art," Zupancic said. "It's the first things you see when you walk into the gallery. A lot of works use spray paint and stencils he created. We're even going to exhibit the stencils that he used, which is a really interesting progression of his work. He was always looking for things in daily life to channel into his work, and after he began painting with spray paint, he found that you can take any object from life and create a shadow of it."
Trigilio will read his Burroughs inspired work titled "White Noise" at Interzone and said he is happy to be participate in the celebrations. 
"I don't think that Burroughs will ever be one of our favorite mainstream writers because he never sought that type of audience," Trigilio said. "But his audience is so loyal, you think of all of the writers and punk musicians who made pilgrimages to him in Lawrence. His appeal just cuts across many artistic [mediums]. He's always going to have that, but I think these commemorations will intensify it a bit."