'Extremely Online' virtual panel discusses diversity, equity and inclusion in video games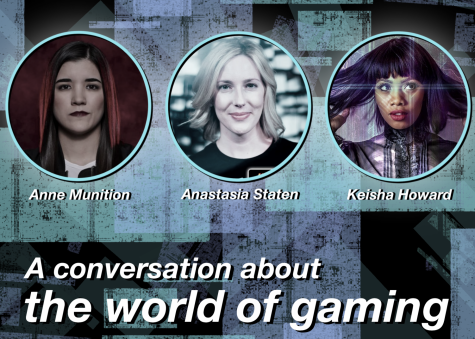 The video game industry is like a giant sandbox where imagination is as endless as grains of sand. Behind every great sandcastle, there is a need for the right tools to bridge the gap between a person's imagination and making it a reality.
Chicago Ideas, a nonprofit organization focusing on inspiring action through accessible content, collaborated with Red Bull in the virtual panel "ExtremelyOnline: A Conversation About the World of Gaming" on Nov. 19 that touched on topics including careers in the industry and issues of diversity and inclusion.
The panel was moderated by Keisha Howard, founder of Sugar Gamers, a Chicago technology advocacy organization. Howard was joined by Twitch livestreamer and Red Bull esports athlete Anne Munition and Anastasia Staten, the executive director of Entertainment Software Association Foundation—an organization focused on educating and building opportunities for future video game creators.
In 2014, Munition quit her day job as a graphic designer to begin her livestreaming career. Although it was easy for her to get started, she said making a career out of livestreaming is not "a quick rocket to success."
"It's like photography; everyone has a phone that has a camera but that doesn't make you a professional photographer," Munition said during the panel. "You can't just do that and now you're a National Geographic photographer. It has to be a labor of love, and it is a marathon."
Streaming utilizes fundamental skills, such as understanding new forms of technology, building relationships with companies and multitasking between gameplay and interacting with the chat, she said.
Munition said there are misconceptions about the longevity of and skills developed from livestreaming because the career's mainstream exposure on talk shows make it look like a hobby rather than a serious profession.
"It's not like streaming is my only skill now, and after I decide to stop streaming, I just become a puddle on the ground," she said.
Although a career path in gaming has become more accessible, unethical practices of sexual misconduct and game development crunch—when people are expected to work extra hours to meet a video game's launch deadline—have influenced the culture of video games, as reported by Bloomberg on July 21 and Sept. 30, 2020.
Howard said it is important for companies who aim to be sustainable and authentic to also be held accountable for ethical industry practices.
"[Companies] know that these consumers are diverse," Howard said. "So have that reflected in every aspect of their internal company culture."
In the panel, Staten said the biggest change she has seen in video games is the demand for more immersive entertainment from an expanding demographic of gamers—a demand she said has been reinforced by the pandemic.
"By giving voice, access and opportunity to the underrepresented, provide pathways for [creators] to push back against narratives that undermine fairness and essentially disrupt inequity," she said.
Staten said a positive side effect of the pandemic was being able to introduce new audiences to gaming.
This expanding demographic of gamers of various ages, with differing modes and mediums of play, will further increase the population's desire for more immersive entertainment, according to the 2020 Essential Facts About the Video Game Industry.
In turn, this then creates jobs for the Entertainment Software Association Foundation's more than 400 alums and 26 scholars who will soon enter the field to officially make those games, she said.
Staten said video games can play a big role in raising awareness, creating paths of understanding and reconciliation and presenting solutions to issues of equity and systemic racism.
An example of this can be seen in Link from "The Legend of Zelda: Breath of the Wild" and Ellie from "The Last of Us Part II," she said, by representing androgynous and lesbian main characters in popular games.
"It's a long road that requires us to all be a part of the solution and dedicated to making that road as short as possible," Staten said. "We all need to see others in the path ahead of us as a way of creating our own power and in our own voice."