Exhibit explores century of Black literature at the American Writer's Museum in Chicago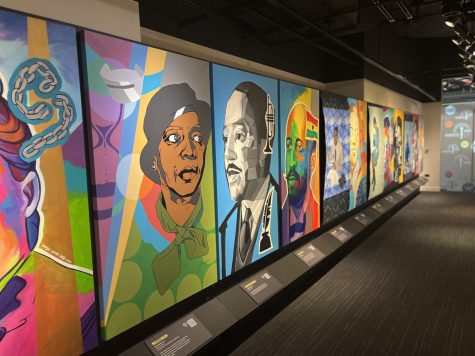 "Dark Testament: A Century of Black Writers on Justice" is an exhibit currently on display at the American Writers Museum. The exhibit features 16 portraits of Black writers accompanied by interactive elements to explore the history of Black literature in America.
The collection is currently being held in the Meijer Gallery and Roberta Rubin Writers Room at the museum and will be there until Sept. 17.
Bernard Williams, who is known for creating outdoor murals and sculptures throughout Chicago, was the lead artist of the exhibit. Williams was responsible for assigning other artists the writer they would portray.
"The exhibition organizers thought it would be a good idea to include some visual elements in addition to their survey of Black writers, so they decided to have a group of four artists create painted portraits of a select group of Black writers as part of their exhibition," Williams said.
Damon Reed, Dorian Sylvain and Dorothy Irene Burge were the artists chosen by Williams due to their individual approaches to portraiture.
"Each artists presents a very distinct painting style, so there's some things to discover among the different the different ways that the writers are portrayed in the paintings."
The author portraits featured in the exhibit include many renowned Black writers such as Zora Neale Hurston, James Baldwin, Ralph Ellison, Malcolm X and Maya Angelou.
Ari Bachechi, the assistant director of Operations and Exhibits at the American Writers Museum, worked alongside a group of content experts to narrow down the exhibit's theme of racial injustice.
Bachechi said the group did a lot of research in order to make sure everything was being done respectfully.
"We wanted to make sure that we hired only Black people to work on it as much as possible," Bachechi said. "We made sure that we hired a Black graphic designer to do the logo and used a font that was developed by a Black designer."
Bachechi said with the portraits it was intended for each artist to have a distinct style and be able to connect in some personal way to the writers that they were painting.
"Dorothy [Irene] Berge created the quilts … one of the reasons she ended up being chosen was that we talked a lot about how quilting has been a part of the African American tradition for hundreds of years and that quilts were used as waymarkers on the Underground Railroad," Bachechi said.
Dorian Sylvain, who collaborated with her son, Kari Black, on her four paintings, said her main goal was to use color to incorporate symbolism in terms of what each of these authors brought to their writings.
"It wasn't until that opening night where I could just see how beautiful our colors, our styles, even how beautiful the quilting just wove together," Sylvain said.
Growing up in the 1960s, Sylvain witnessed shifts in civil rights firsthand and said that she looks at the exhibit as an opportunity to showcase the audacity of these authors to celebrate their culture at a time when being Black was not celebrated.
"The exhibition underlines the value of these writers that even in turbulent times, we're still using their art to emphasize the value and the importance of Black culture, of Black people," Sylvain said.
Tickets to the American Writers Museum are available for students for $9 with a valid student ID.