Everyone can 'moose-y' down Wabash Arts Corridor with new street art tours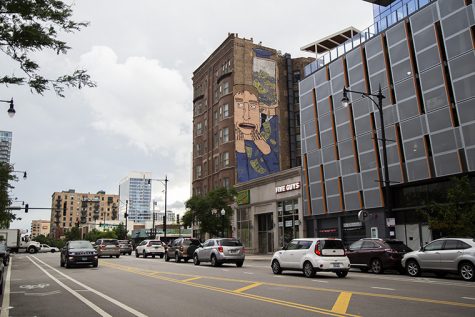 For the first time since the Wabash Arts Corridor's creation, Chicagoans and visitors alike will be able to take guided tours of the street art, from the bubblegum-popping moose to the pastel flowers decorating some of Columbia's buildings.
Neysa Page-Lieberman, executive director of the Department of Exhibitions and Performance Spaces, said the college has been giving small-scale tours of the corridor, but there was never a formal program until now.
The Wabash Arts Corridor is a public art project launched in 2013 by the college, along with partners across the city, with the vision of making the South Loop a cultural destination. While it is most widely known for its large murals, the corridor also has performances, parades, music and media projects.
All corridor tour guides are unpaid volunteers and retired professional tour guides who do not work at or attend the college.
"A lot of these people … want to do something to give back to their community," Page-Lieberman said. "They are really passionate … and interested in learning more about public art and street art, too, and enjoy the experience of opening this up to public audiences and educating people [who] are enthusiastic about it."
As a pilot program, the public tours are given every other Saturday and one Thursday a month. If the tours do well, Page-Lieberman said they will add more dates and possibly even continue the tours through the end of October.
The tours are 90 minutes long and feature some of the corridor's most famous murals accompanied by background on how each was created. Tickets cost $18 for adults, $12 for students and seniors and children under the age of five are free.
Tours in the past were only for people who requested them. Since January, however, the college has been planning a new program that includes a formal script, in-person training for tour guides and collaboration with a number of departments at the college to develop formal policies and rules.
Page-Lieberman was giving a tour last year when Jessica Williams, a local tour guide, approached her and suggested opening up tours for profit in order to support the corridor.
Williams was taking a course on public art offered by the University of Chicago Graham School, and one of the classes was a presentation by Page-Lieberman about the history of the corridor.
After visiting, Williams started thinking about whether or not people knew about the corridor and if there were any tours being given to bring in money for the college.
"This kind of art is important and fun; it is accessible to everybody, and it … bridges the gap between fine art [seen] in a museum and street art," Williams said.
Williams described the corridor as a living canvas that is always changing, with Wabash Avenue having its own special character.
"I attempt to create work that is optimistically not ephemeral. The longer it can last, the more impact it can hopefully have," said Justus Roe, a 2008 alumni of the Interdisciplinary Arts and Media graduate program. He created the mural "Standing Wave" for the WAC project "Big Walls" in 2016 and said he is grateful to be among the other artists featured in the corridor.
"My biggest thrill is creating paintings that become part of the landscape, and then watching that environment evolve and transform over time," Roe said. He added the city is fortunate to have a world-class public gallery of artwork. "Standing Wave" is an abstraction of metropolitan landscapes and experiences created through an improvisational style.
Roe said his paintings are based off his very personal experience of growing up in Chicago. He improvised the whole piece in 10 days with exterior acrylic paints. He said that he strives to create work that can visually impact public spaces in a positive way.
"All my pieces are a combination of being inspired by the location, the audience and my own aesthetic style and progression," Roe said.
He hopes the public tours project a "slight glimmer of visual simulation during an otherwise monotonous commute." His goal is for people to get a similar feeling of excitement from his paintings as he had growing up commuting and seeing large-scale graffiti pieces.
"The Wabash Arts Corridor brings an innovative vitality to the whole South Loop," Roe said. "It is definitely an outward expression of what is happening at Columbia. For the city as a whole, it is legitimizing and highlighting some amazing Chicago artists and the work that they have been putting in for decades."
While Page-Lieberman believes the corridor already has a great amount of visibility in the city, she said it could always be better. She said the tour program will help bring in new audiences from Chicago.
"Sometimes we are better at exploring other cities … outside of where we live," Page-Lieberman said. "I feel like our primary audience is going to be Chicagoans who had no idea this was here."