Erin McCarthy announced as interim chair of the Communication Department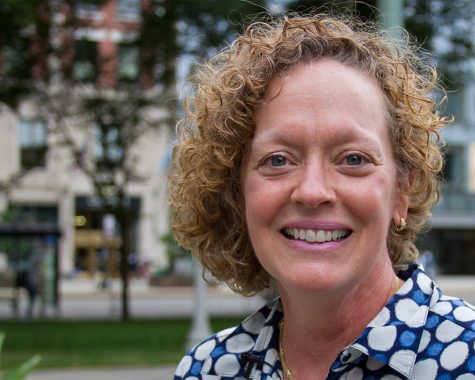 Following the college's announcement that Suzanne McBride, current chair of the Communication Department, would become the new dean of the School of Graduate Studies, it was announced that Erin McCarthy will be taking over as interim chair of the Communication Department.
Eric Freedman, dean of the School of Media Arts, made the announcement Wednesday morning in an email to Communication Department faculty and staff.
"Erin has the administrative acumen and experience to step into the role quickly, and as one of the key authors of both the BA Communication and the MA Civic Media, she has the working knowledge of the department to move its programs forward," Freedman said in the email.
Freedman noted he had consulted with Marcella David, senior vice president and provost, before making the decision. McCarthy will take over as chair on June 1, when McBride officially starts as dean.
"I am confident Erin will be a faithful steward and advocate for the department, and will help us strategize for the future," Freedman said in the email.
McCarthy, an associate professor in the Humanities, History and Social Sciences Department, started at Columbia in 1990 as an adjunct faculty member. McCarthy received her B.A. in history from the University of Illinois, Champaign-Urbana, and her M.A. and Ph.D. in history from Loyola University Chicago, according to her Columbia biography.
McCarthy has previous experience working with the Communication Department. McCarthy said she helped design the undergraduate communications major and the master of arts in civic media program. She has also taught "Oral Traditions" for three years and "Impact Research" in the civic media graduate program last summer, as well as a J-term course in Ireland.
McCarthy said as interim chair she wants to continue the work of McBride.
"I think the department is really is a strong department," McCarthy said. "[The Communication Department has] a deep commitment to the student experience and their programs reflect that. I want to continue that commitment [of] really keeping consideration of students' opportunity and experience forefront."
McCarthy said Communication Department students can expect her to have an "open door," and they will be welcome to reach out to her for any reason.
"I want to hear from [students on] where we can improve and what we're doing well," McCarthy said.
McCarthy said she is looking forward to getting to know the Communication Department faculty.
"I need to make sure that we've got a solid foundation so [faculty] know me and I know them and what their goals are, what their needs are [and] what their concerns are," McCarthy said.
One of McCarthy's primary long–term goals is to focus on recruiting Columbia undergraduate students for the graduate programs within the Communication Department as well as growing enrollment and retention for undergraduate Communication students.
As an associate professor originally from the Humanities, History and Social Sciences Department, McCarthy said she still has a lot to learn.
"I think that's a good thing," McCarthy said. "And maybe I can bring some fresh perspectives and ideas and hopefully be able to facilitate in helping the Communication faculty to find ways to work together and collaborate within the department and within the school."