Elaine Glusac on being a travel journalist during a global pandemic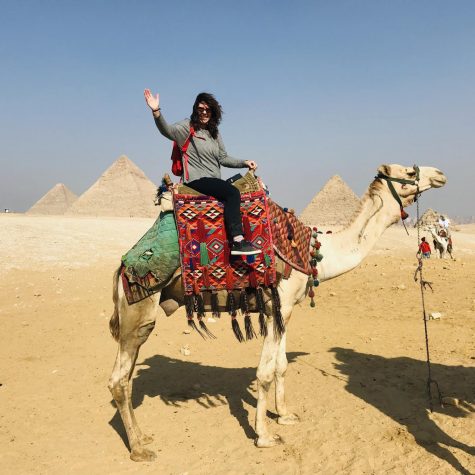 In early March before statewide lockdowns, discounted flights, cruises and vacation packages were almost too good to pass up. Seizing the opportunity, Elaine Glusac, a full-time freelance travel writer, booked a $97 round-trip flight from Chicago to Denver for a story on a backcountry skiing excursion.
"I made all the arrangements and then, quickly, door after door started shutting," Glusac said in an interview with the Chronicle. "The likelihood of [the trip] being canceled eventually was pretty strong. There was no reason for me to put myself at risk."
Restrictions and bans related to the coronavirus, or COVID-19, pandemic have disrupted travel worldwide. Glusac explored her decision not to travel in her column Frugal Traveler, published in The New York Times.
"As friends gathered at a brewery and stood drinking several feet apart, many declared they would continue with upcoming spring breaks," Glusac wrote in the March 21 article. "But I began to wonder if travel was ethical any longer. Would I—as a healthy person under 60 with no underlying health conditions—do harm by traveling?"
Normally, Glusac jets off every few weeks to some exotic locale—Egypt, from the pyramids to the coast; extreme sports and zen spas in New Zealand; or island hopping in the Caribbean. But despite popular belief, she said travel journalists don't go to far-off destinations for every story.
"There's a lot to cover in the travel world right from my desk," she said. "That was true before COVID[-19]; that remains definitely true now, and it will remain that way afterward."
Lately, from her home on Chicago's North Side, Glusac has been writing about everything from how travel insurance impacted those whose trips were cut short due to the coronavirus to what travel may look like after shelter-in-place orders end.
Glusac said she is also thinking about how the coronavirus will impact the travel industry. Tourism, she said, comprises 10% of the global gross domestic product. A lot of this work is seasonal, and many guides and business owners are missing out on income that carries them through the rest of the year.

For those looking to help, Glusac said some hotels are offering deals where guests can pay $100 now for a $150 voucher in the future. Tour companies have also made their experiences available online for a small fee.
"You might take a cooking class with a chef in Argentina and pay $25 for it," Glusac said. "It's really a way for them to help get money to these people who otherwise don't have any money coming in."
Still, Glusac said travel will be relatively cheap in the near future, and many travelers will be eager to get back out into the world when restrictions are lifted. Her advice is to plan future trips with caution. Make sure the deal is reliable, she said, and read the fine print to make sure a trip can be canceled and refunded before booking.
"Everyone is experiencing COVID-19 through their own prism," Glusac said, "but it's certainly had a huge impact on the travel world."
Glusac has been named Lowell Thomas Travel Journalist of the Year 2019 for her work in dozens of publications, from Bon Appetit to Travel & Leisure. She discussed this and more via Zoom in Columbia's "Communication Essentials" class, instructed by Anne Marie Mitchell, an associate professor in the Communication Department, on Tuesday, April 21.