World premiere treatment
By Thomas Pardee
September 29, 2008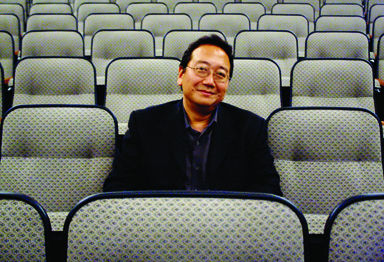 Just minutes before the premiere of his new film, Columbia alumnus Michael Goi could be found in the projection booth of the Film Row Cinema in the 1104 Center, 1104 S. Wabash Ave., loading the 35mm film reel that contained the culmination of three years of work.
He watched the frames of his first directorial effort, Megan is Missing, unwind from the platter into the projector. Later that night, he said this experience reminded him why he wanted to be a filmmaker in the first place.
"There's something about film that was always just magical to me," said Goi, who graduated as the valedictorian from Columbia's film program in 1980 and has since shot dozens of films as a cinematographer. "And it still is. There's a part of me that feels like I'm still making movies in my parents' backyard."
Goi, now vice president of American Society of Cinematographers, said after finishing Megan is Missing earlier this year, he wanted to give the film its world premiere at Columbia while awaiting acceptance into several international film festivals. It screened on Sept. 22 and was followed by a panel discussion with Goi, the film's producers and its lead actors.
The film, which also features a performance by Columbia freshman Rudy Galvan, tells the brutal story of two teen girls who are abducted by an Internet predator. It includes scenes of intense violence and sexual assault, but no nudity.
Goi said he thinks the film has educational value, both to the viewing public and to students studying filmmaking, because its simplistic approach still produces an incredibly emotional response from audiences.
"I wanted to show people you don't need a whole lot of stuff in order to create what you want," said Goi, who made Megan is Missing for a little more than $35,000. Galvan, a theater major who Goi said beat out 30 other actors for his relatively small part, said he was excited that the film was being screened at his school.
"I invited a bunch of people to come see it," Galvan said. "I love this school already, and it was really awesome seeing it on the big screen here."
He said the film raises important questions about how people process news of kidnappings and abductions.
"People do not just disappear. There is always something that happens, and it is never good."
Brian Morgan, a freshman film major who attended the screening, said the film was relatable for him because he's had problems with Internet predators in the past.
"It opened my eyes even more," Morgan said. "But it helped me after seeing the whole movie, to see the actresses right here. I was worried for them. It felt so real."
Rachel Quinn, 19, who portrayed the title character Megan, said she thinks the cautionary message of the film is a complicated one.
"Megan and Amy aren't just stupid girls. They were using judgment. They thought they were safe," said Quinn, of Hollywood, Calif. "That's the mindset of so many teenagers today-that it won't happen to them. But it can."
Amber Perkins, 19, whose scenes as Megan's best friend Amy were particularly graphic, said Goi didn't pressure her, but instead allowed her to challenge herself.
"[Goi] made it such a safe environment," said Perkins, also a Hollywood native. "We filmed scenes in long takes, which made it easier to get in the moment."
Goi said he hopes to screen his film at the American Film Institute's festival in November, as well as the Sundance Film Festival in 2009. He said though he's cautiously optimistic about securing the film a theatrical distribution, he hopes it finds some way through which to reach people.
"I think the movie just generates too much attention to be ignored," he said.