Editor's Note: To document history as it happens, journalists must find time for their mental health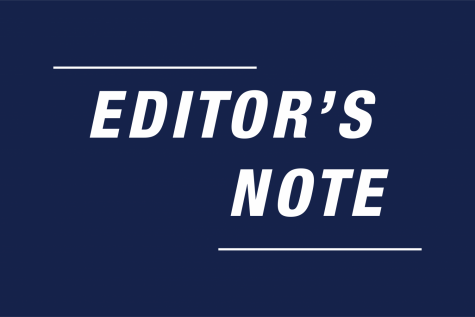 Something most people can agree on is the last year has been a lot. It has been more than 365 days since COVID-19 was declared a global pandemic, and the stress of living in it seems to increase with each passing day.
Around 525,000 people in the U.S. have died due to COVID-19, and millions more have lost their jobs, experienced food insecurity and been unable to pay rent or see family for extended periods of time.
On top of this stress, mass protests over systemic racism and police brutality, along with extreme weather such as wildfires, hurricanes and snowstorms have pushed many people to the breaking point.
As journalists, we have our own sources of daily stress. For me, this comes in the form of juggling work for classes and internships, running a newsroom, motivating myself to get out of bed and eat during depressive episodes, worrying about family members who have tested positive for COVID-19 and, more recently, realizing that I missed payments for six months' worth of electric bills.
Journalists also often accumulate anxiety from reporting on serious, monumental topics on a daily basis with no break or sense of relief.
We listen to sources in tears over the phone and on Zoom, describing how COVID-19 stole their final moments—and in some cases, weeks—with a loved one. We speak with those who don't know what they will do to put food on the table and those who contracted COVID-19 and will physically never be the same. We hear from those who have lost their businesses and livelihoods due to the pandemic.
We do this because it is our job and these stories are too important to go untold. We do it because we care, and we hope that telling these stories will inspire those in power to take action and help. But over time, it takes a toll.
According to preliminary results from a 2020 survey by the Reuters Institute for the Study of Journalism and the University of Toronto, 70% of international journalists surveyed indicated they suffer from psychological distress as a result of reporting during the pandemic.
Within that group, 26% had clinically significant anxiety and symptoms that align with generalized anxiety disorder. Another 11% of respondents reported symptoms of post-traumatic stress disorder due to traumatic COVID-19-related events.
Even if we aren't actively working on a story, constantly immersing ourselves in daily news that features few positive stories can magnify the inescapable gloom and doom.
Student and professional journalists I have talked to frequently share the wear-and-tear of this career on their mental health, especially during a time like this. The general sentiment is usually that we have to just push through it because "the news never stops."
But if journalists burn themselves out in the long haul, then what? Who will be left to report on these issues? We need to take care of ourselves in the short term and allow ourselves to take breaks, rather than spiraling out of control. This may mean investing in therapy, finding a relaxing outlet for our stress or putting a limit on the amount of work we do weekly.
Welcomed vaccinations aside, this pandemic isn't ending any time soon, and we won't last if we keep sprinting through this marathon.
As journalist Al Tompkin wrote in July 2020 for the daily Poynter briefing "Covering COVID-19," reporters are affected by current events just like the general population and experience many of the same hardships.
"Stories about racial tension, economic instability and a pandemic are not just stories you are covering about other people; they are your own stories as well," Tompkin wrote.
It is difficult to balance the demands of our jobs with our own needs, but we have to do it, so we can continue to provide important information and hold those in power accountable. Just like doctors, nurses and all frontline workers, it is imperative that journalists take care of themselves so they are able to serve the public