Editor's Note: Beginning to unpack the Chronicle's 2021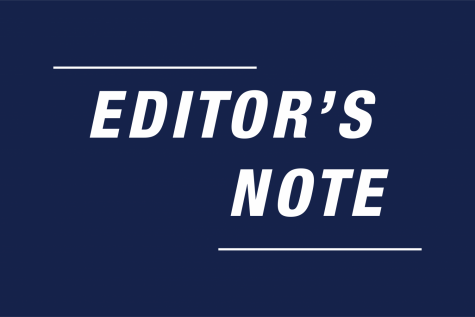 As the calendar turns to the final month of the year, we begin to unpack 2021. Where do we start?
I feel as though in history, 2020 will be the year thrown around the most, and 2021 will be the younger sibling desperate for the attention it deserves. 
2020 was a year of isolation and deprivation to the world around us. And while some of that carried over to 2021, innovation and hope is what ultimately prevailed this year.
It may feel as though we are still in the same place we were at the end of the year in 2020. It's easy to feel frustrated or hopeless. But let me assure you, we are in a different place than we were a year ago. 
I, for one, hadn't been on campus for nine months until this fall. This time last year, the Chronicle was still fully remote, and many of us had never met in person.
It's truly remarkable to think about how much the Chronicle has evolved in one semester. When Camryn Cutinello and I took over as co-editors-in-chief in May, neither of us had even set foot in the Chronicle office, aside from tours before enrolling at Columbia. 
Navigating a safe, hybrid return to the Chronicle office was at the forefront of our minds at the start of the semester. During this time, the Chronicle was welcoming 18 new staffers, more than any recent semester, doubling our staff size from the summer. And while that was incredibly exciting, it took considerable time and effort to make sure everyone was ready to hit the ground running, all while navigating a completely new environment.
I'm very proud of the management team for the work we've done in this area to really make the team, a team. It always warms my heart to see the friendships built between seasoned Chronicle veterans and staffers now finishing their first semester.
Once training was complete and it was full systems go, one of our main priorities was to have as much campus coverage as possible. Every event on campus was a story to us because it never would have happened just months earlier. 
This resulted in an influx of campus coverage for the Chronicle that we hope to continue in future semesters. We have built more relationships with members of the Columbia community, and we hope to build more. 
We also began to rethink how we approach multimedia. In the beginning of 2021, Frequency TV partnered with the Chronicle often, especially to produce the Media Hub Minute. Now, with Frequency TV on an "indefinite hiatus," we've learned how to produce the Media Hub Minute and all video content internally. We have also placed a larger focus on shortform videos — an area we hope to build even further in the near future, expanding our social media footprint.
Overall, we look back at this semester as a new beginning. While we have some members of the Chronicle staff graduating this December, we have a relatively young group that we truly believe can carry the Chronicle to new heights.
We may still have some of the existing challenges that persisted in 2020, such as only seeing the top halves of everyone's masked faces, but progress is being made. Even during Zoom meetings, there is now laughter and banter from those gathered together in the office.
Now, I have a hard time imagining how I used to work without the office. The Chronicle is working in the physical presence of people again. We're taking on new stories like never before, and people are coming to terms with the fact that I'm shorter than the average guy, contrary to what Zoom had them believing. Progress.