Editor's Note: Back to school with our best foot forward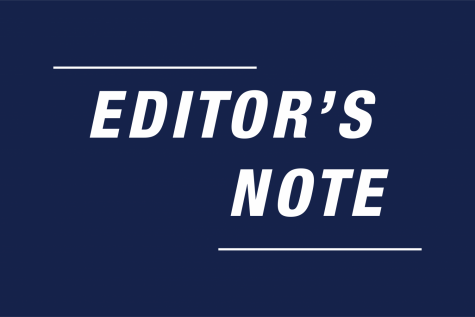 The fall time of year never fails to invoke a sense of change – new classes, new faces, and for us at the Chronicle, new staff members and new stories to share.
Change is something the Chronicle not only embraces, being that it is the nature of our industry, but it's also something we embody by writing stories, making images, graphics, videos and podcasts about the evolving community we ourselves are a part of.
While this fall is bittersweet for me, as it's my last semester here at Columbia, I am thrilled to be the new co-editor-in-chief alongside Noah Jennings and co-lead such a passionate team of talented creators.
In this edition, we wanted to showcase Columbia's unique sparkle that returns to the South Loop every fall, reminding Chicago of our brightly colored murals on campus buildings, the different art showcased through campus gallery windows and the lively bustle of students going to and from classes.
We also wanted to highlight Columbia's sense of passion to create change that is equitable, accessible and about our students who have historically been on the cutting edge of standing up for what they believe is right.
Throughout these pages, we feature stories about the different safety and disability services for students on campus, which we hope can be a resource to new and returning students alike.
On page 6, we take a deep dive into Columbia's library archives, revealing the college's pro-abortion rights curriculum nearly 50 years ago when women in the U.S. had more body autonomy than they do today.
On page 7, we investigate the school's below-average student retention rates and the steps the college is taking to rectify this issue.
And with the school announcing over the summer its intention to improve its human resources and Title IX processes, see the article on page 3 to learn about the new leadership in the Office of Equity Issues and how the college plans to implement changes.
Since the Chronicle's last print issue in May, The Creatives, we have continued to see harmful legislation pass across the country, threatening LGBTQ+ rights, voting rights, abortion rights and more.
As a result of these threats, our publication is constantly working to tell the stories that our community is impacted by, but we feel it's also important to showcase how students, faculty and staff at Columbia are making a difference and creating solutions to issues.
As election season gears up, many of us have the opportunity to vote in November and can utilize the campus' nonpartisan voter registration and education resource, Columbia Votes, to participate in the midterm elections.
And as the semester gets into full swing, the Chronicle is determined to maintain itself as an informative, hyper-local news source for our readers by publishing daily digital content because we understand now, more than ever, the importance of local news and hope we can inspire you to make change in your communities.
Back to school means back in the Loop, back to the drawing board and back for a new beginning with new things to learn. We aimed to capture this essence on campus highlighting you, the students, who make Columbia what it is now and what it will become in the future as you carry your college experience with you through life.
So as we return back to school with our best foot forward, we encourage you to embrace the change in the air.