Editorial: The president must understand the ethical implications of brushing the coronavirus under the rug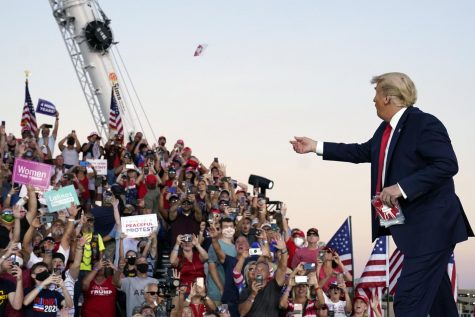 With rallies across the country and hopes to ramp them up to five per day, President Donald Trump has been putting thousands of masked and unmasked supporters at risk by brushing off the severity of the coronavirus.
Still unmasked during these rallies despite his recent tussle with COVID-19, Trump has downplayed the coronavirus since the beginning of the pandemic and is now stating that having had the virus has made him stronger.
The president's diagnosis has shone a light on possible ethical implications. He needs to learn from them.
Trump has held four rallies since Wednesday, Oct. 14 despite the Centers for Disease Control and Prevention's warnings that gatherings with high numbers of people and prolonged interactions increase the risk of contracting the coronavirus. He also continues to mock reporters and his political opponent, Democratic presidential candidate Joe Biden, for wearing masks.
But this dismissal of the severity of the disease has been ongoing for months.
In a March 19 interview with journalist Bob Woodward, Trump said he downplayed the threat of the pandemic to protect the public.
Trump's past statements have resulted in CNN's fact-checking page being loaded with statements from Trump. The site reported that Trump recently made 66 false statements over three days.
Trump's falsehoods include Trump's claim that the U.S. has a high number of coronavirus cases due to an increase in testing, and more recently, during his first speech after returning from the hospital, that the coronavirus is disappearing, despite 10 states setting records for the amount of new daily positive cases at the time.
On Oct. 2, the day he was put on oxygen at the Walter Reed National Military Medical Center, Trump tweeted a video in which he said "I think I'm doing very well." And on Sunday, Oct. 11, Twitter flagged one of his tweets that claimed he was immune to the virus, for "misleading and potentially harmful information."
But every action has an equal opposite reaction, and as the American people consume Trump's positive posts about a deadly disease, that deadly disease may consume the American people.
Without a nationally mandated shutdown, more than 220,000 Americans have died from the coronavirus. And while a stay-at-home order to stem the tide of cases may warrant protests or dissatisfaction, it would put the country under one set of agreed-upon rules, rather than forcing states to fight over border restrictions.
Trump's offhand remarks about how the world should not "be afraid of COVID" embolden protesters of stay-at-home orders and remote learning to ignore its dangers.
Nobody wants to be responsible for closing thousands of schools, but no one wants students to die either.
In Illinois alone, there were 585 cases when Gov. JB Pritzker announced his March 20 statewide stay-at-home order. While the shutdowns have caused financial hardships for businesses, the Chicago Public Department of Health estimates the lockdown saved approximately 1,700 lives between March 14 and April 9. Since Illinois' May 29 reopening, there have been more than 4,000 deaths in the state.
Extrapolating this estimate to a national scale, thousands of lives could have been saved if there had been a countrywide stay-at-home order, especially in BIPOC communities where health inequities exacerbated the effects of the pandemic.
In contrast, Italy's March 10 national shutdown led to a downward slope in new cases within nearly two weeks.
The irony of the situation is glaring: A president who, for months, touted hydroxychloroquine as a treatment of the coronavirus—despite its ineffectiveness and danger of heart rhythm complications—and who mocked people for wearing masks, contracted the disease he was effectively spreading by way of misinformation.
The president's diagnosis could potentially be attributed to his refusal to wear a mask in certain settings. Respiratory droplets are a main source for spreading the disease the virus, and masks help both to significantly limit the droplets that go out into the air and to catch those that a person would breathe in.
Despite Dr. Anthony Fauci's decades of experience having directed the National Institute of Allergy and Infectious Diseases since 1984, Trump continues to belittle his efforts to quell the coronavirus. In May, he said Fauci's advice to delay reopening the country was "not an acceptable answer," and just this week, he referred to people hearing about the coronavirus from Fauci as a "disaster," and called other infectious disease experts, "idiots."
We had hoped the time spent with a severe illness has sparked a new level of understanding in him for the pain of families and their communities who have lost loved ones.
President Trump must learn the gravity of this disease and pay attention to those struggling due to the pandemic.