Documentary brings political tolerance to the table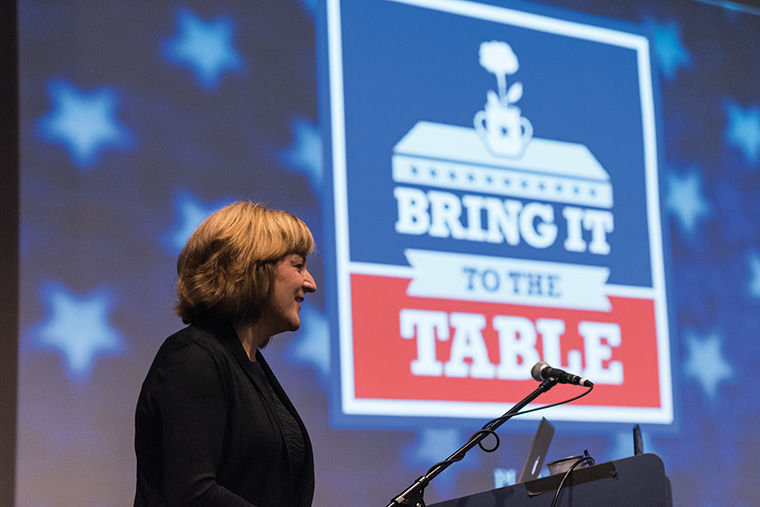 The 2016 Presidential election features ongoing struggles between traditional political views and extreme ideologies, issues that may seem irreconcilable.
However, Columbia students learned about a political tolerance ideology in an Oct. 31 screening of the documentary "Bring it to the Table," which focuses on reconciling different political views and the importance of tolerance in any profession.
"The political climate right now is so divisive, it often shows itself in the form of frustration, anger and hate speech," said Kimberly Soenen, a documentary creative consultant who helped create the film. "People are sad this is the state of affairs. They are sad that they are seeing breakups, family rifts and divisiveness over politics."
Soenen presented the film at Stage Two auditorium in the 618 S. Michigan Ave. Building during an event sponsored by the Business & Entrepreneurship Department. Soenen, who has worked with businesses such as National Public Radio and The Chicago Tribune, spoke to a graduate business class after the film about political disputes among friends and family.
The documentary's director and producer Julie Winokur traveled across the country, stopping everywhere from democratic conventions to small town ice cream shops, hoping to understand how people's political beliefs are developed, and how opposing views could find a middle ground, she said.
She said the documentary allows people to express their different political views.
"['Bring it to the Table'] is really my attempt to reclaim our rightful place in a democracy, having a healthy space where we can all express and explore our belief systems and learn to understand other belief systems," Winokur said.
Soenen said the people she's met who want to connect with others who think differently have inspired her. She added that she sees a yearning in people to want to reach out to others, they just don't know how.
Jason Stephens, lecturer in the Business & Entrepreneurship Department and event organizer, said he invited Soenen to the college to explain to his "Entrepreneurship and New Business" graduate class the social impact business projects can have on the general population.
"I had a couple of students in this class that specifically had business ideas and projects they wanted to go around and do—[projects like] social impact workshops at schools," Stephens said. "I thought this was a great idea for them to be inspired by someone who is actually doing that with her own project."
Tyler Bradley, a second year graduate student in the class said the lecture taught her that listening to people with different views can allow her to adjust her business to those people's needs.
"If you are trying to market yourself, you have to listen, know what people need and apply yourself to that," Bradley said.
As some of her parting advice for students, Soenen encouraged students to participate in their own personal "table talks" by speaking with people who may have opposing views about political issues, such as gun carrying laws.
The exercise creates listening skills, one of the most important tools professionals need, she added.
"Whatever you're practicing—law, engineering, politics, art, dance—it doesn't matter," Soenen said. "You'll need that skill. You'll need to listen to people who are not like you and work with people who are not like you throughout your life. It's a skill that is learned, cultivated, developed and nurtured."