Rock Against Rape concert educates through music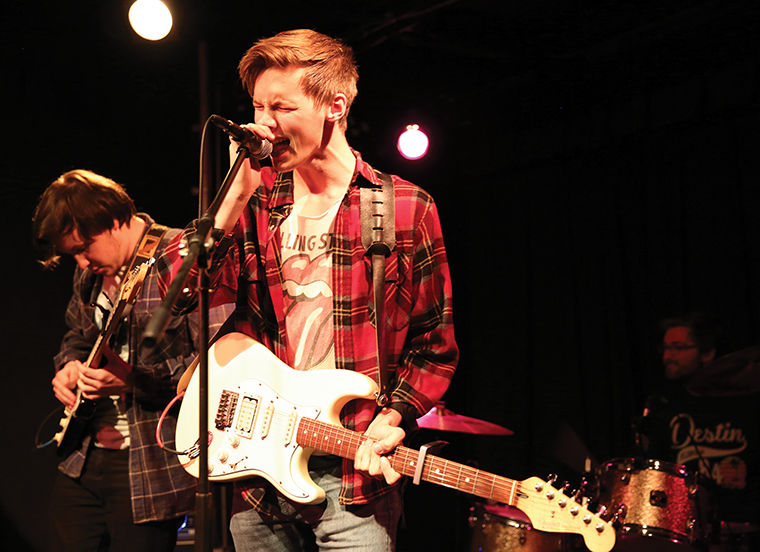 In an ongoing effort to raise awareness about sexual assault on campus, the office of Student Activities and Leadership hosted its second Rock Against Rape concert Oct. 8 at the Quincy Wong Center in the 623 S. Wabash Ave. Building.
More than 180 people filled the venue for the concert where four student acts performed, including Friday Pilot's Club; two solo student performers, Rebecca Brunner and J. Harmony; and XCEND, the college's show choir. The theme of the event was "Stand Up. Speak Out." It promotes making sexual assault part of everyday conversation to help raise awareness and combat the issue, said Rachel Anderson, coordinator of Student Activities and Leadership.
Rock Against Rape began last April during Sexual Assault Awareness Month. According to Anderson, there are more than 237,000 sexual assaults on college campuses across the country per year and 80 percent of victims are younger than 30.
Anderson said she brought back Rock Against Rape this fall because of its success last April.
"[Rock Against Rape] is part of a larger programming series that Columbia has created this year," Anderson said.
A sexual assault awareness committee is developing different programs each month, Anderson said.
Although the concert was not  intended to raise money or act as a benefit, Anderson said the concert brought awareness to victims of sexual assault and served as a conversation starter for students.
"We don't downplay the seriousness of the topic at all, so it's a way for people to get together to celebrate what they've [personally] been through in their lives and/or celebrate the survivors," Anderson said. "This keeps everything a little lighter."
Friday Pilot's Club performed at the concert for the second time. The band consists of vocalist Caleb Hiltunen, a sophomore audio arts & acoustics major; guitarists Ian Valiente, a sophomore business & entrepreneurship major; Mike Fornari, a freshman cinema art + science major; bassist Spencer Rydholm, a junior audio arts & acoustics major; and drummer Ethan Mole, a sophomore theatre major. The five bandmates said they jumped at the opportunity to play the event again and even saw an increase in attendance this time around.
"We played last [school] year so [Anderson] asked us to do it again," Hiltunen said. "Last year was awesome [and it's a great cause]. This is such a cool thing to do."
As far as raising awareness of sexual assault, Fornari said it is important to play at an event like this to help bring awareness of the issue to college campuses.
"[Sexual assault] is something that's really s–tty in our society, and it needs to be spoken about," Fornari said. "It's great that we [are able to] play at events like this. It's fun, and it's a good cause."
Hiltunen said being able to combine the band's passion for music  and performing along with starting conversations about the issue of sexual assault on college campuses encouraged the band to perform at the Rock Against Rape concert again.
"[Sexual assault] gets brushed under the bed a lot," Hiltunen said. "People laugh and make jokes, but it's a very serious thing that affects people's lives. It's cool to be part of something like this and to do what we love.