College hires new CFO after national search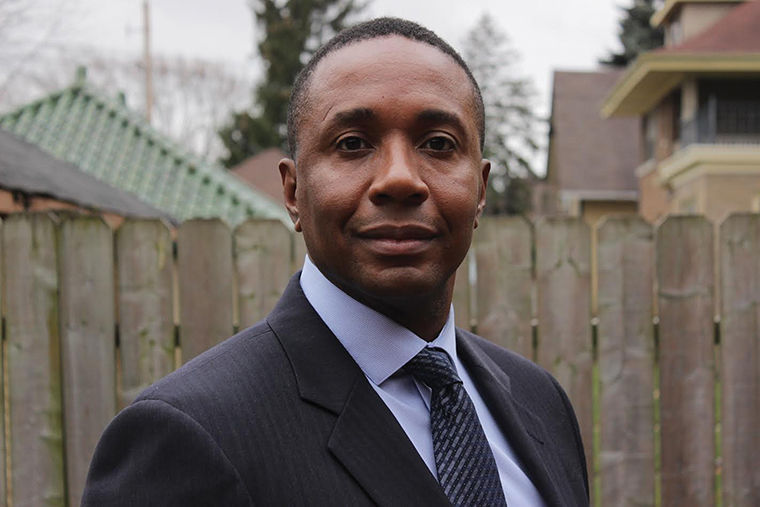 Following a series of short-term chief financial officers and a nearly eight-month national search, President and CEO Kwang-Wu Kim announced in a Dec. 6 email that Jerry Tarrer is the new senior vice president of Business Affairs and CFO.
Tarrer is currently the associate vice chancellor for Business and Financial Services and CFO at the University of Wisconsin-Milwaukee.
Originally from Chicago, Tarrer has experience managing finances at his previous institution. He also has investment and financial markets and budget analysis experience and is scheduled to start his new position Jan. 17, 2017, according to the Dec. 6 email.
"To our college's senior management team, Jerry brings a proven ability to distill complex financial matters, strong business acumen and a collaborative management style," Kim stated in the email. "I look forward to having him as a partner in the work of moving the college to greater financial strength and sustainability."
At UWM, Tarrer led the university under financial constraints, worked to develop new budget models and administered its financial portfolio, according to Kim's email.
Kim declined an interview with The Chronicle as of press time.
Tarrer will be replacing Richard Dowsek, interim vice president of Business Affairs and CFO, who took the position after Michelle Gates left the college during the Spring 2016 Semester, less than two years after she assumed the position in June 2014, as reported Feb. 29 by The Chronicle.
Tarrer said he is excited about coming to Columbia because of how it aligns with his professional and personal experience.
"I see this as a wonderful opportunity for myself to come into Columbia and contribute to what I believe has a very strong mission," Tarrer said.
Tarrer has a master's degree in finance from the University of Chicago and a bachelor's degree in mathematics from the University of Illinois at Chicago. Tarrer's wife, Gloria Tarrer, is a 1995 alumna, according to Kim's email.
The new administrator has experience with dealing with colleges "rationalizing facilities" that have large faculty and staff and undergone enrollment declines, according to Bill Wolf, chairman of the board of trustees who assisted Kim in choosing from the available candidates.
"We want to do that intelligently, and he led a process like that in University of Wisconsin at Milwaukee," Wolf said. "We're very excited about having him to help us do that."
Dowsek said he would like Tarrer to continue to evaluate the financial decisions being made based on the Strategic Plan's implementation and manage the college's finances while considering the completion of the plan.
"He's going to have to try to make the budget each year even more strategic than the year [before]," Dowsek said. "That will be challenging for him."
Wolf, who said the college is in "great" shape and not having financial struggles, added that Tarrer will help the college optimize its financial resources.
"He's coming into a situation where he can help us optimize things and help us think through where we can get even better at managing resources," Wolf said. "He's not coming into a situation where there's any kind of problem or crisis that needs to be solved."
Tarrer said Columbia is not the only institution facing enrollment decline and that he considers the Strategic Plan an opportunity to address this challenge.
"It will be a challenge, but it's one that was positioned to me," Tarrer said. "I'm willing to roll up my sleeves and get involved in any way possible to ensure that Columbia is around for years to come."
Dowsek, who will help Tarrer during his transition, said he expects Tarrer to continue his budget model—one that focuses on meeting with school deans and other administrators to determine the funds allocated for each area of the college—as opposed to the budget model Gates used.
"[Tarrer] would be more like me." Dowsek said. "Not about mandate [but] more about participating."
Tarrer said he will continue with Dowsek's collaborative budget model in order to strengthen the institution.
"In my mind that's the only way to go," Tarrer said "It has to be a collaborative effort."
Dowsek said although Tarrer has experience dealing with public institutions, he will have to get used to Columbia, an institution that is not as highly regulated as public institutions.
"He's going to figure out what works and doesn't work and it's going to be different for him," Dowsek said. "When I came to Columbia for the first time, I could not believe how bureaucratic everything was."
Dowsek said he hopes Tarrer will stay in his position long-term and support the college community during his time here, citing the number of financial officers Kim has worked with during his three-year presidency.
"I hope Jerry stays for as long as Dr. Kim stays and maybe longer," Dowsek said.