Students aid fire-ravaged city in Chile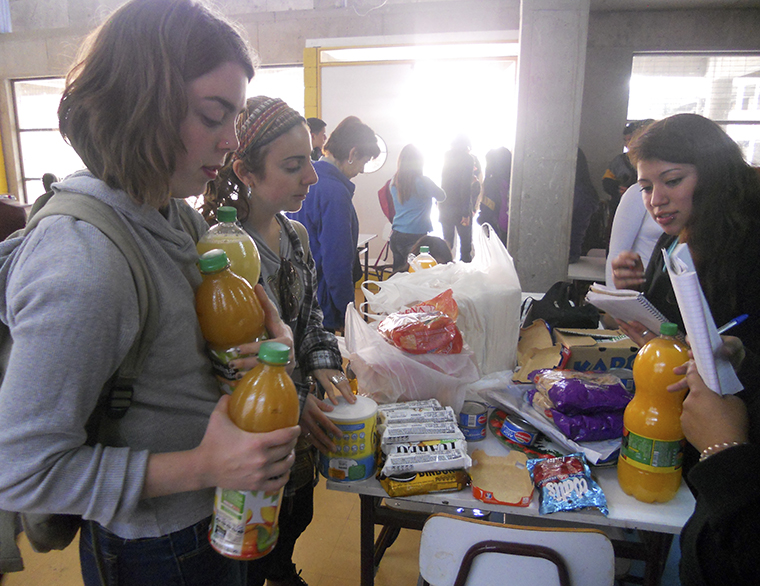 Thick smoke blackened the sky as a wildfire spread through Valparaiso, Chile, forcing more than 10,000 residents to evacuate their homes. After firefighters extinguished the flames, Lauren Keeling, a junior art + design major at Columbia, and Ameena Igram, a junior communications major at DePaul University, took the initiative to help displaced locals rebuild their lives.
The April 12 wildfire in the hills of Valparaiso killed 15 Chileans, according to reports from BBC News. The blaze persisted until firefighters contained it early the next morning.
Keeling and Igram are taking courses at Pontifical Catholic University of Valparaiso through the International Studies Abroad program, which matches college students with international colleges and universities. When the fire spread, Igram said she had to gather her valuables and evacuate her home.
"You could see the flames from my door … [and] you could hear and see the houses exploding," Igram said. "The whole sky was black from smoke. There were people—it was one of the hardest things I've ever seen—running around with babies in their arms and masks on their faces because it was difficult to breathe."
Igram set up a fundraiser called Through Fire and Flames: VIVA CHILE with YouCaring.com, a free online fundraising site that allows users to collect donations. The campaign raised $5,000 in its first 10 days and a total of $5,775 for displaced Chileans as of press time.
The money will go to two local elementary schools to provide students with school supplies, clothing and other necessities, Igram said. Igram and Keeling are also looking into buying more expensive home supplies for residents, she added.
"If we have enough money, we'd like to construct a home in the [hills]," Igram said. "We talked about buying pots and pans and kitchen supplies for these people because they want to be able to cook for themselves and do everything."
With the city covered in soot, Keeling said she and Igram began donating necessities such as clothing, feminine products, toiletries and baby food.
Within a few days, the community was able to rebuild their homes with charred wood and other materials left behind by the fire and turn local schools into donation centers, Keeling said.
"You feel so helpless when your city is on fire and you don't know what to do," Keeling said. "I signed up to volunteer … and it was still devastating to see people trying to contain and put out the fires at their plot of land where their house burned down."
Catrina DeBord, associate director of International Programs, said though the fire was unfortunate, she is glad to see students helping victims. She said it is an opportunity for them to learn about and experience another culture.
DeBord said the ISA keeps in close contact with the students in case of a crisis and Columbia has a 24-hour hotline for traveling students to call if they need help.
"[ISA has] been sending updates to us about the safety and well-being of all the students," DeBord said. "Unexpected things happen everywhere, not just abroad but in the U.S. too, so it's a great opportunity and a growing experience in how to respond in a situation like this."
 Johanna Alvarado, site specialist for the ISA, said students' host families were contacted to ensure their safety. The on-site staff makes sure all the staff and students are accounted for when crises occur.
After the fire, which was considered one of the worst in the city's history, Alvarado said Pontifica Catholic University canceled classes for the week.
"Our students have just been so amazing," Alvarado said. "It truly is phenomenal seeing them all
come together."
In spite of the destroyed homes and lost lives, the community quickly worked together to reconstruct the area, Keeling said, adding that after completing their courses in Chile, she and Igram plan to study abroad in Peru and Ecuador.
"[Helping the community is] the most rewarding feeling in the world," Igram said. "I finally have a purpose for something. Since I've been here … everything that happened was terrible, but [the experience] has helped me find [myself]."