Winter storms weather streets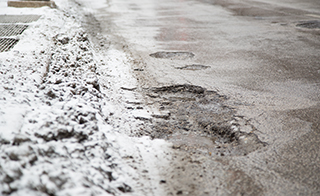 Weeks after the polar vortex swept through Chicago, snow and ice continue to plague city streets, forming huge potholes and forcing drivers to travel in unsafe conditions.
During the first week of January, the city experienced its largest snowstorm in three years, followed by record cold temperatures, according to the Chicago Weather Center. More than a foot of snow caused businesses and schools to close, as well as flight cancellations and delays in U.S. Postal Service deliveries. Although the storm passed, the aftermath still causes problems for Chicagoans, with many potholes still needing to be sealed.
As snow melts, water enters the ground under the pavement and freezes. As the water freezes, it expands, taking up more space beneath the pavement, causing it to crack and create a pothole.
Potholes now cover bustling streets, such as Lake Shore Drive, causing accidents and damaging cars. Deanna Woods, an Englewood resident, said her muffler fell off when she drove over a pothole.
"The potholes are so bad," Woods said. "All up and down the South and East sides, there are nothing but potholes. I have to dodge them and I almost run into other cars."
Since the start of 2014, the Chicago Department of Transportation has filled more than 50,000 potholes and repair crews will be working seven days a week through April to continue filling potholes, according to a Jan. 10 mayoral press release.
"There has been a higher number of potholes this season," said Bill Higgins, program analyst and coordinator for the 47th Ward. "We have seen a good response from CDOT in getting them repaired. There were some big [potholes] that we reported and within 48 hours they were filled."
The city's increased efforts to eliminate potholes include the Jan. 17 launch of a pothole tracker that allows Chicagoans to track repairs from their computer or smartphone.
Alderman Leslie Hairston (5th Ward) said the road conditions are still a hindrance to drivers. She has received complaints from people within her ward.
Woods said she has never seen so many potholes in Englewood.
"Potholes are tearing up people's cars," Woods said. "I have had to change tires three times. They were filling some potholes on Ashland [Avenue] and 80th [Street], but they didn't come down any farther. They really are neglecting the South and East sides."
Potholes are not the only thing posing a hazard to Chicago drivers. Snow build-up and ice remain on side streets, making for dangerous driving conditions.
The way people dig their cars out of the snow can contribute to excess snow build-up, according to Molly Poppe, spokeswoman for the Department of Streets and Sanitation. She said snow should be shoveled into grass areas on sidewalks instead of being shifted to the middle of the street, so plows can remove more snow and also make road conditions safer for drivers.
Main streets are more of a priority than side streets for snow removal because they are frequently used by drivers and will be better plowed, Poppe said.
"Any time we are doing a snow removal operation on a side street, it is to make the street passable,"
Poppe said. "The goal is not going to be all the way down to cement like you see on Lake Shore Drive."
The city has more than 1,000 sensory cameras and 60 pavement sensors assessing road conditions, and depending on the severity of snowfall, it can deploy up to 287 snow fighting trucks or 26 small snow plows, according to the Streets and Sanitation Department.
Of the $20.3 million budget for snow removal in 2014, $11.2 million has been spent on salt for icy roads, according to the Department of Streets and Sanitation.
Hairston said she tells people in her ward to report potholes and drive safely when road conditions become hazardous.
"This is something that happens this time every year," Hairston said. "We are going to continue to fix it."