Students prepare for annual gaming conference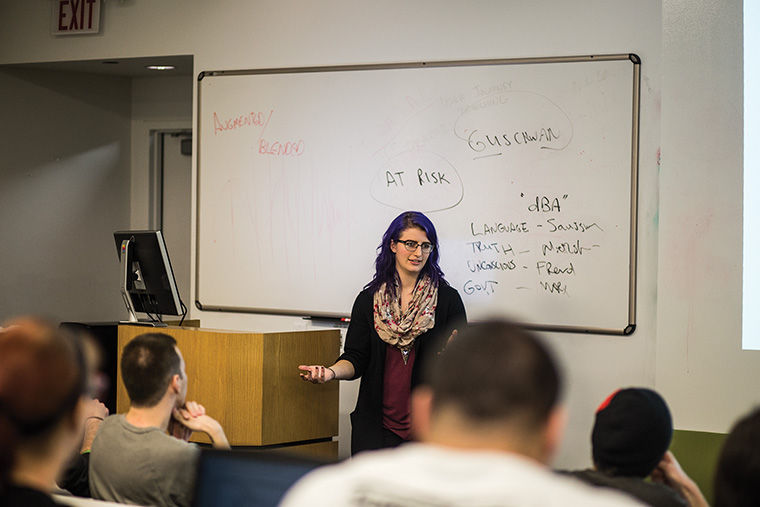 Interactive arts & media students got the opportunity to learn about the world's largest professional game industry event and how they can make the best of their experience at a Nov. 3 student discussion hosted by senior interactive arts & media major Becca Hallstedt.
The Game Developers Conference website states that it attracts more than 27,000 attendees each year and is an event for professionals to network and share ideas and new technology, but it is also a place for students to showcase their work and gain knowledge of the industry. The conference will be held Feb. 27– March 3, 2017, in San Fransisco.
Hallstedt went to GDC for the first time in February and hosted the event to inform students who are attending for the first time or need guidance about the conference, she said.
"The biggest thing is that you get to be exposed to the industry and that you get to talk to people that do what you want to do," Hallstedt said.
During the discussion, Hallstedt addressed many topics to help students benefit from their experience at GDC, including what to bring, how to budget and the Do's and Don'ts of attending.
Regarding what students should bring to the conference, Hallstedt suggested a resume, business cards, a tablet or laptop as well as a link to a website or portfolio.
While experiencing GDC is beneficial, Hallstedt mentioned that admission costs could create difficulties for students looking to attend.
According to GDC's website, the price of admission varies depending on access to certain events. The GDC All Access passes, for instance, range from $1,599 to $2,399. The cheapest option, the Student Expo pass, is $79.
Hallstedt said students should budget for the event and buy plane tickets in advance to manage and reduce attending costs. She added that scholarships are available on GDC's website for students to apply for to help pay for expenses.
During the conference, Hallstedt said it is beneficial to reach out to industry  professionals and not be intimidated by interacting with new people.
"You are going to be talking to people you don't know a lot. You want to spend time in your comfort zone, but you have to let yourself get out of it or else you are not going to get much out of this conference," Hallstedt said.
Jacob Kryca, a sophomore interactive arts & media major, said he did not know much about GDC previously, but now sees it as an important opportunity.
Kryca said the most helpful information was what students should and should not do while attending and to not be intimidated.
"The Do's and the Don'ts part of it, and [to] just relax—everyone is there for the same thing and going over the important things to do and not to do was very helpful," Kryca said.
Tom Dowd, associate chair of the Interactive Arts & Media Department, said he was happy to hear about Hallstedt wanting to hold a discussion, and that the department was also supportive of the idea.
"This is another great example of the student-lead initiatives in the department," Dowd said. "[Students are] really committed to their craft and they're extremely committed to helping each other get better."
According to Dowd, Columbia has its own booth at the conference and pays to bring typically six or seven students to the conference to showcase their work.
"A lot of times when our students get to show off their games at Manifest or Wabash Art Crawl, it's a general audience," Dowd said. "In this case, these are people who know what they're looking at, [and the students] get real criticism in a good way."
Dowd said Columbia students leave a very positive impression on the professionals attending the conference.
"The student work is what speaks. There are other schools that go and they spend a lot of time and money making themselves look fancy, and we just go there and we show them our work," Dowd said. "We don't need to do much else."