Columbia addresses sexual assault on campus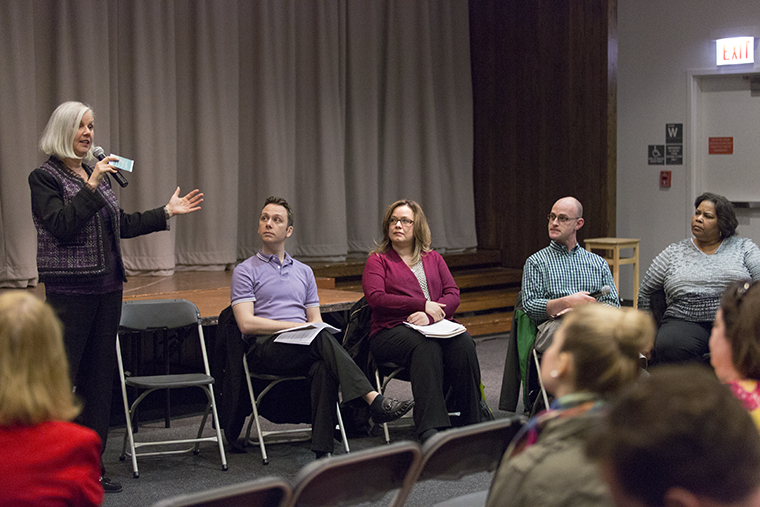 More than two months after a Feb. 28 collegewide email touted enhancements to Columbia's sexual assault policies, the campus community received more specific information on what those enhancements entail.
Policy updates, including a new Title IX coordinator, an oversight task force and updated reporting procedures, were announced during the Sexual Assault Resource Panel April 30 at Stage Two in the 618 S. Michigan Ave. Building.
Staff and administrators from the offices of Student Relations, Human Resources, Campus Safety & Security, Counseling Services and Residence Life further specified how sexual assault cases are handled and the resources available to victims.
"The college is reviewing its sexual assault policies very aggressively," said Beverly Anderson, assistant dean of Student Health & Support. "Many colleges across the nation are grappling with this issue of sexual assault [and] each institution has drafted its own policy."
Lauren Hansen, a sophomore public relations major, said the panel was informative but she would have liked it to be more student-focused.
In an effort to make students more aware of sexual assault cases on and off campus, Lauren said the college should consider incorporating sexual assault awareness into its First Year Seminar courses.
Hansen said there should have been more time devoted to the Q-and-A portion of the hour-long presentation, and that she felt the panelists' answers to the audience's questions, particularly her question regarding victim blaming in sexual assault cases, were vague.
 "I feel like we should have had more straightforward answers [and] it definitely should have gone on longer than an hour," Hansen said. "I'm glad that they had the panel available … I appreciated the amount of time dedicated to Q-and-A, but the problem is people can answer questions however they'd like."
Anderson announced during the panel that she will replace Patricia Olalde, director of Human Resources, as Columbia's Title IX officer starting in the fall. The Title IX duties will also move from Human Resources to Student Affairs, she said. To ensure the sexual assault proceedings adhere to Title IX guidelines, the college will form an oversight task force of representatives from the offices of Academic Affairs, Student Affairs and General Counsel, Anderson said.
In addition to updating its policies, Columbia will also create a student education committee tasked with informing students on sexual assault policies and procedures, Anderson said. The committee will be composed of faculty, representatives from the Student Government Association and Student Affairs, Anderson said.
The new policies will require faculty and staff—except for the counseling staff—who learn of a student being sexually assaulted to report the incident to the Title IX coordinator. The college posts the previous year's Annual Crime Statistics & Fire Safety report online, which details the number of incidents of sexual assault that occur on campus as well as other crime statistics. To keep students informed, the college community can request updated statistics from the Office of Campus Safety & Security at any time, said Martha Meegan, director of Campus Safety & Security.
Information on Title IX will also be available on the Human Resources website, and in the event that the Title IX coordinator is on vacation, a deputy Title IX coordinator will be on duty, Anderson said.
The college has not selected a deputy Title IX coordinator, according to Anderson.
"Now what's available to you upon request … you could come to our office and say, I would like the latest crime for this year or maybe this month.' … We are obligated to provide you with that information," Meegan said.
After multiple requests for comment, Meegan and Olalde could not be reached after the panel discussion to provide the college's most updated sexual assault statistics. The college is currently compiling figures for the 2014 report, according to Patricia Rios, associate vice president of Human Resources.
According to the 2013 Annual Crime Statistics & Fire Safety report, five incidents of forcible sex offenses were reported in 2012.Robert Koverman, associate vice president of Campus Safety & Security, said the Office of Campus Safety & Security is committed to responding to sexual assault reports and that in the past, the college has educated students about sexual assault during orientation.
"I think [the panel] just reinforces to the community the college's commitment to the whole issue around sexual assault and the response [from various departments] with resources that may be available," Koverman said. "It reinforces our commitment to our community … It's also about education to the community to reinforce what's available to our students, staff and faculty."