Quidditch team flies toward its goals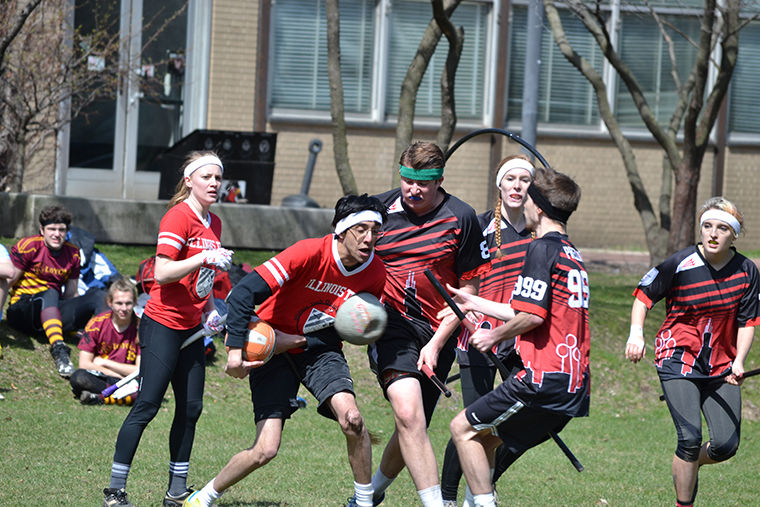 The "Harry Potter" homage sport Quidditch has continued to develop at Columbia into a more hard-hitting and competitive sports team.
Ben Dib, a junior cinema and television arts major and U.S. Quidditch coordinator, said the team has transformed from a student organization into a sports group since he joined in fall 2016.
"We're in this transition period where we're going from more of a club to more of a competitive team," Dib said.
Lena Aubrey, a junior theatre major and secretary of the team, said the group originally started under the Muggles Association of Columbia and moved to the Student Athletic Association in 2014 before transforming into its  own organization.
"We've grown so much that we've turned from just being intramural to having the competitive team and intramural," Aubrey said. "I've been with the team for two years, so to see that really grow has been a wonderful process."
According to Dib, there are two separate teams—intramural and USQ. Every member is automatically on the intramural team, while a select number play on the more competitive and time-committed USQ. There are about 20 USQ members and 32 players over all.
"USQ is its own organization schools and club teams play under," Dib said. "There are certain requirements and procedures you have to do. Our first year was really difficult figuring out and achieving those parameters or requirements."
Tryouts to join the Quidditch Team for the spring semester began Jan. 28 to bring more keepers, seekers, chasers and beaters aboard.
Aubrey said the team has extended tryouts for the next few weeks to encourage more participants to try the sport.
"Our system is more try-us-out, so anyone in the school is welcome to join us," Aubrey said. "If someone [thinks], 'Well, this is a little too much for me,' they are welcome to not come or choose whatever level is best for them."
Dib said there have not been any official additions to the team for this semester thus far.
"I would say, just give it a shot, and you might like it," Dib said.
Ben Peachey, a junior English and creative writing major and USQ coordinator, said the team's main goal for the semester is to keep growing in order to make it to nationals during the upcoming school year.
In order to first qualify for regionals, a USQ team has to play in at least three USQ games and one tournament. The top teams at regionals then are able to go to nationals, according to Dib.
Both Peachey and Dib said Quidditch has allowed them to build long-time friendships and a sense of community at the college.
"Quidditch attracts a very specific type of person," Dib said. "You can't take yourself too seriously, because you're running around with a PVC pole in between your legs."