SGA board gears up for spring semester
By Kaiti Deerberg
January 26, 2009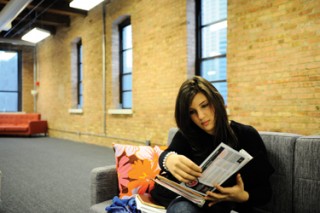 Executive members of the Student Government Association met on Jan. 21 in their new offices at the 916 Building, 916 S. Wabash Ave., to discuss their agenda for this semester.
Members agreed that SGA accomplished many of their goals last semester, but left a few loose ends they hope to tie up during the spring semester.
During the fall semester, SGA tackled important new issues on campus and spearheaded movements to make some big changes on campus. Metra discounts for Columbia students and a new bookstore were big subjects in the fall, but the debate and planning was not wrapped up at the last meeting on Dec. 9, 2008.
SGA worked with the Coalition of Chicago Colleges to draft a bill to present to the Illinois House of Representatives requesting discounted Metra fares for commuting college students. The bill is slated to be presented in early February.
"I am really excited to continue working on the Metra initiative," said John Trierweiler, vice president of communications. "I ride the Metra in every day and I am ready to get the ball rolling and get some answers."
In December, SGA held a forum to discuss the Metra initiative that included a letter writing campaign. SGA urged students to speak up and write letters to the Illinois House of Representatives requesting help for commuter college students. The event was considered a success, and SGA senators plan to hold a similar event early this semester.
Administration and SGA worked together on propositions for a new bookstore opening on campus. Due to the construction freeze put in place by Columbia President Warrick L. Carter, no official plans have been set. But committees are continuing to plan the project.
"I am interested to see how much progress we can make with the bookstore this semester," said Zach Dexter, SGA vice president. "We're just going to keep exploring options and working on plans."
SGA is still waiting to hear from Provost Steve Kapelke on the issue of course fees.
The possibility of eliminating course fees by fall 2009 was turned down by the board of trustees in October. Now, the board and administration are discussing transparency issues. SGA requested that detailed information about course fees be released to students so they are aware of where money is going. SGA has yet to hear a report from Kapelke but hope to hear from him early this semester.
Jessica Valerio, SGA president, also discussed plans to revamp SGA forums.
"We want to really work on our forums to make sure we are getting the most out of them this semester," Valerio said.
SGA's academic affairs committee drafted a letter to Louise Love, vice president of Academic Affairs, in December asking that a policy for grade posting be instated. Love responded positively, and said she could not create a policy, but would send a memo to faculty each semester reminding them the importance of grade posting and communication with students.
The biggest achievement came on the heels of Carter's recent memo stating that the college plans to increase scholarships by about 50 percent.
"We've been pushing scholarships and affordability," Valerio said. "It is great that administration heard our concerns and did something about it."