Why aren't students attending collegewide events?
By Connor Carynski, Campus Reporter
April 24, 2017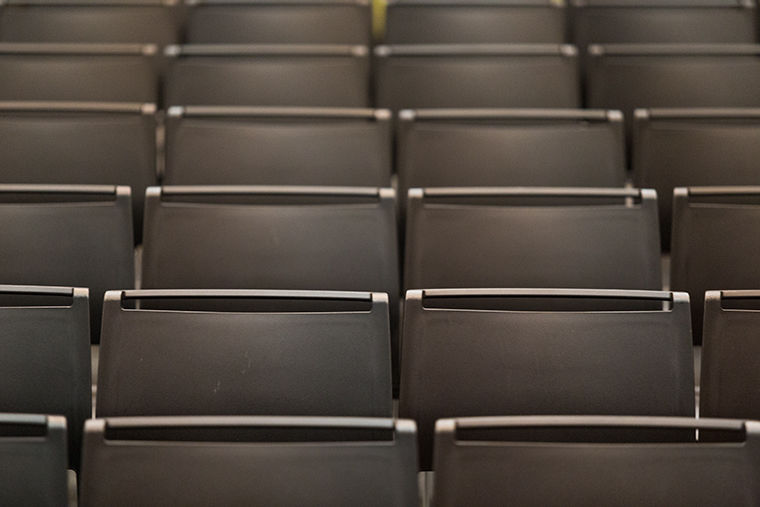 Columbia's wide selection of forums and assemblies offer opportunities for learning, building community and giving input to the administration about the college experience, but they often receive little student interest.
Students are the least represented group at college-sponsored assemblies, said Louis Silverstein, an associate professor in the Humanities, History and Social Sciences Department who has helped organize events as part of  the College Assembly.
Columbia had a very politically and socially active community when he joined the faculty in 1969, Silverstein said, noting that the low student involvement is because of the nonexistent sense of community.
"We would prefer that voices that represent the entire range of diversity be represented at the assemblies," Silverstein said. "A good number would be 100 or 200 students that would attend, but there are a whole bunch of reasons they don't."
Some examples of these events, often sponsored through the Office of the Provost and the College Assembly or through Student Affairs, include a feedback session on the new Core Curriculum at a recent meeting, which only had a handful of students attend and only one who voiced an opinion, as reported March 6 by The Chronicle. Similarly, during a Diversity, Equity and Inclusion Student Board Town Hall meeting, only seven students attended, despite email notification and posters displayed around campus, as reported Feb. 13 by The Chronicle in addition to DEI Series events about issues of diversity that also received only a few student audience members.
A Feb. 21 forum on potential mergers and changes in the School of Media Arts also had minimal student attendance, as reported Feb. 27 by The Chronicle. Most recently, the April 10 assembly, "Let's Talk About Sex" had few students who attended outside of their classroom obligations.
Freshman fashion studies major Jane Van Amberg said she attends about 20 events every week and has met people who encouraged her to try new experiences but finds it upsetting when she is the only student attending.
"I have been to events where the only people in the audience are the performers and me, so that's a little bit frustrating," she said.
Silverstein said students have less time to attend assemblies because an increasing number need to work part- or full-time jobs to support themselves while attending college.
Other reasons for diminished attendance include the increased focus on technology instead of social participation and the fear that student voices will not make a difference, Silverstein said.
Some students may stay away because they are apprehensive about meeting new people and would rather spend time with friends, according to Van Amberg. Increased attendance, however, would make administrators more responsive to student concerns, she added.
Incoming Student Government Association President Malik Wool-fork and current SGA President Kaela Ritter both declined comment. Spokesperson Anjali Julka also declined to comment on behalf of the administration and declined an interview with Senior Vice President and Provost Stan Wearden.
David Keys, coordinator of student leadership in the Dean of Students Office who assists student organizations like SGA in coordinating events and provides general support, said student organizations and clubs aim to build a sense of community on campus and ensure that students are connecting with each other outside of academic settings.
"I am a huge promoter of [attending] different events or programs on campus," Keys said. "You can feel like you are a part of a grander community. Studies show that students who are involved outside of the classroom do a lot better and actually graduate from college."
Although he thinks students are regularly engaging with the campus, Keys said there is always room for improvement and he would value student input on how the college could better engage with students.
In order to see improvements, Silverstein said Columbia needs to regain the sense of community it once had.
"The truth is, if enough students voice their opinion here, things would change," Silverstein said.