Alumni give students insight on how to achieve success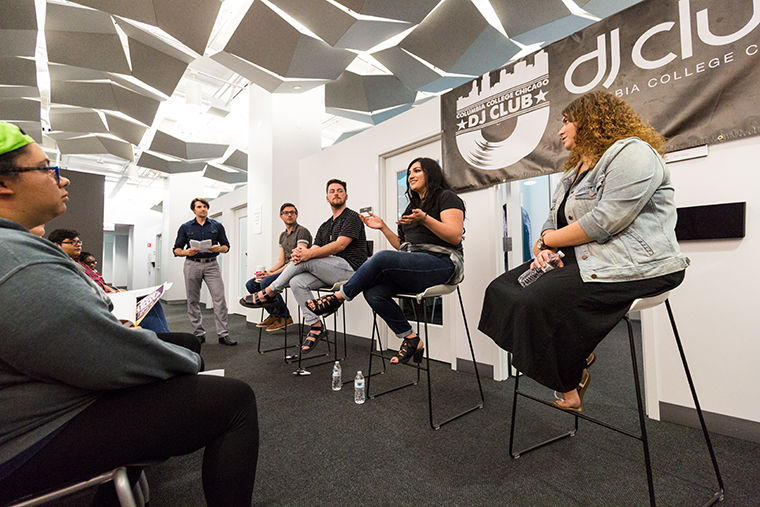 Achieving careers, balancing internships senior year and adjusting to the work-life after graduation were all part of the stories told by 2017 alumni at "Alumni Panel: Don't Worry, I Was in Your Shoes Last Year," a Q&A event hosted by the Career Center.
The panel, held Sept. 26 at 618 S. Michigan Ave., included speakers Jacob Wittich, reporter for the Sun-Times Wire and former managing editor at The Chronicle; Rachelle French, on-air talent at radio station Cumulus Chicago; Samantha Hoefs, executive assistant at MAB Capital Management; and Jared Sawdey, graphic designer at Uptake, a predictive analytics company.
Tom Joyce, internship and career adviser in the Career Center, said he organized the event to calm anxieties of the class of 2018 by showcasing recent successes of alumni.
"I'm bringing them back to speak with students and give them their insight, tips and tricks that might work for them in the future," Joyce said.
The panel included a Q&A session, with questions ranging from how they got a hold of their jobs to how they have acclimated to life after college. Questions were asked by Joyce and students attending the panel.
French said using the tools and equipment Columbia provided allowed her to perfect her skills and learn about the radio industry. Knowledge of those tools also helped her find a job at WLS-FM radio station after working there at her first internship in summer 2016, she added.
French said she has been promoted to a producer for The Loop, a Chicago radio station, and owes her growing success to networking. Her advice to future Columbia graduates was to talk to as many people as possible to make connections just as she has.
Senior communication major Naquesha Richardson said she came away from the event with hope for her future career post-graduation.
"It's good to see people who I'm gonna' be like in a couple of months," Richardson said. "It's like, 'Yeah, you can do this, you're freaking out now, but you can do this,'" she added.
Richardson said French's experiences resonated with her because she hopes to combine radio news with being an on-air personality, and said the panel gave her an idea of how to achieve that.
Discussing experiences as a designer, Sawdey said Columbia's biggest resource is the faculty.
Sawdey said he now works for the CEO at Uptake, doing exactly what he wanted to do post-graduation. He suggested that students reach out to people outside the college also, as a networking tool.
Panelists like Sawdey and others represent Columbia, Joyce said, because of their numerous on-campus jobs and internships, as well as their different areas of success.
"I thought it was nice to bring the four of them together, and this way we appeal to the whole school," Joyce said.