Dream Chicago: Keeping Chicagoans' heads in the clouds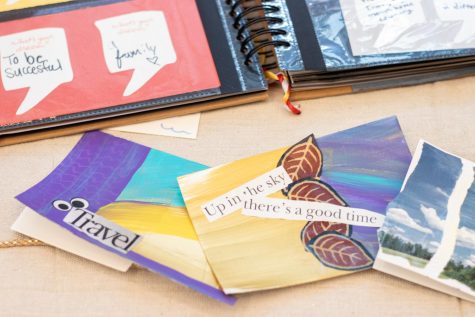 At the Columbia Student Center, students were asked to write postcards to themselves or a friend, encouraging them to follow their dream.
This activity is part of Dream Chicago's most recent initiative called "Feed Your Dreams," which founder and Executive Director Heather Treadway created because of the stress from the pandemic.
Dream Chicago is a non-profit organization that connects aspiring dreamers with people who are living those dreams. Through connection building and community arts events and initiatives like "Feed Your Dreams," Dream Chicago delivers the message that every dream is achievable.
"'Feed Your Dreams' came from me feeling so starved because it's a pandemic, not being able to do anything, knowing a lot of people are hurting," Treadway said. "A lot of people really need to process so much before we can just jump out of this and start making art again."
As the organization embraces and embodies its motto, "three million hearts, awake and dreaming," "Feed Your Dreams" is just one example of the community pop-up experiences the organization initiates around the city, in which they ask people to dig deep regarding their dreams and lead them to their next steps.
Treadway said when she worked as the development coordinator for the Chicago Department of Cultural Affairs, she was constantly looking at maps of Chicago and what resources each neighborhood needed. She began to think about the impact dreaming can have on a community and the way shared dreams connect people.
Through Dream Chicago's community dream assessment and self-discovery activities, people's dreams are collected, added to a dream book and uploaded to the dream map of each neighborhood in Chicago.
"It's about how can we nourish and catalyze what's already in your heart and already in your community, come alongside that, and then you get to own it," Treadway said.
Treadway said at Columbia, their goal is to extend community to young adults pursuing the arts and encourage them to express their dreams.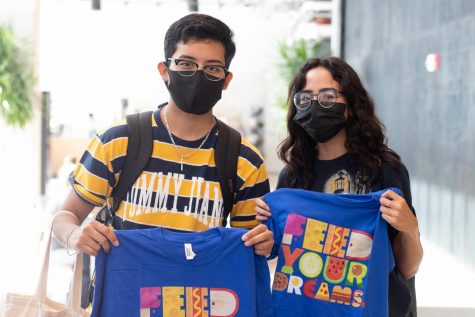 Members of Dream Chicago had a table at Columbia's New Student Convocation in September and have visited the Student Center, 754 S. Wabash Ave., three times this semester, asking students about their dreams for the future and how they could get there.
The organization has an ongoing partnership with the Wellness Center, where Lev Handmaker, a senior acting major, works as the liaison with Dream Chicago, coordinating their events held at the Student Center.
Handmaker said the Wellness Center's partnership with Dream Chicago began this summer.
"We're trying to bring back volunteering and altruistic acts to help out the community and help more people through kindness, because that's one way we can achieve happiness in our hearts and help others, … so working with Dream Chicago is one way to do that," Handmaker said.
Handmaker was first connected to the organization for a project in his "Oral Expression" course during the Fall 2020 semester and said through Dream Chicago, Columbia students can engage in their communities and inspire other artists.
"We are so fortunate here that we have a whole school dedicated to the arts," Handmaker said. "It just seems like the right thing to do would be to share that with people who maybe don't have as much access, and I feel like that's really what Dream Chicago brings."
Handmaker said the Wellness Center and Dream Chicago are in the process of planning future events at the Student Center, such as a pop-up art event and installing a "dream deposit box" for students to write their dreams into existence.
Treadway said she started the organization in 2012, beginning with spontaneous community pop-up events and ultimately growing community partnerships around the city and some suburbs.
Dream Chicago partners with Chicago schools, churches, libraries and art centers, as well as social programs, like America Scores Chicago and Aunt Martha's.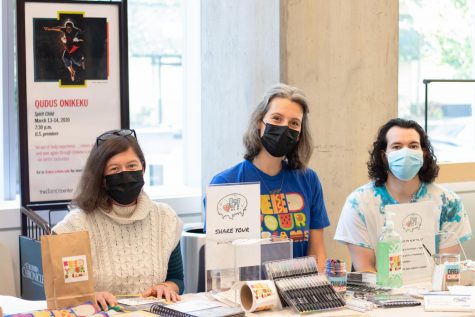 The organization also has an artist-in-residence program to highlight artists' voices and offers stipends for their art projects.
Jay Fancher, a volunteer at Dream Chicago and 1995 Columbia alum in the Fashion and ASL departments, has been with the organization since it began. Her background is in mural painting.
Fancher recalled her many interests as a college student at Columbia, saying she was able to reach many of her creative dreams there.
"[Columbia] fulfilled a lot of these boxes that I've always wanted to check in my life, like this bucket list," Fancher said.
Fancher said Dream Chicago helps her remember the things on her dream bucket list.
"I think that's the way Dream Chicago is trying to push people," Fancher said. "No matter how old you are, no matter where you are in life, you can always dream for bigger and better things for yourself. And it just helps you to open up that door again."
Treadway said it is important for people to keep dreaming with their heads in the clouds.
"There's no bad dreams, that's one thing we say to people—there's no dream that's too big, too small," Treadway said. "We talk about all the different categories: dreams for yourself, your community or your world."
You can follow Dream Chicago on Instagram and volunteer through their website.