Drag March for Change addresses intersectionality of race, sexuality, gender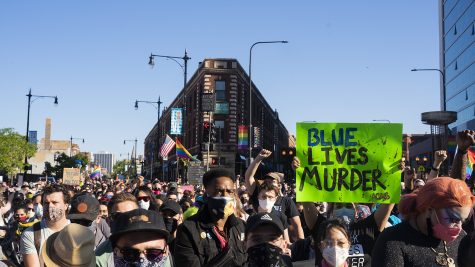 Led by local Chicago drag queens and kings, thousands marched across Boystown in full drag with glamorous makeup, voluminous wigs and sky-high platform heels—but it was not part of the neighborhood's annual Pride Month festivities.
"This is a protest, not a parade," said Joe Lewis, a Chicago drag queen, activist and bartender who performs under the name Jo MaMa and organized the Drag March for Change. "We're not here to entertain you. We're here to make you listen and learn. And to make you open your purse."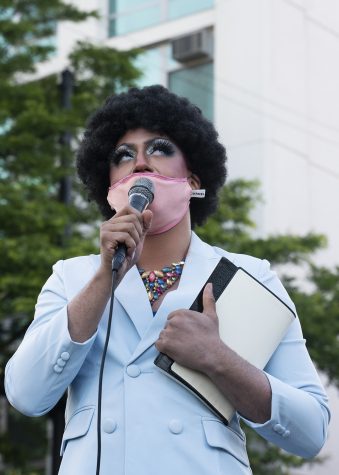 Marchers demanded justice for the multiple black people who have died due to police brutality, focusing on those who are a part of the LGBTQ+ community like Tony McDade, a black trans man who was killed May 27 by a police officer in Tallahassee, Florida.
The march kicked off at the heart of Boystown on Belmont Avenue and Halsted Street, Sunday, June 14, before concluding on North Broadway and North Halsted Street to allow 12 black speakers to share their experiences.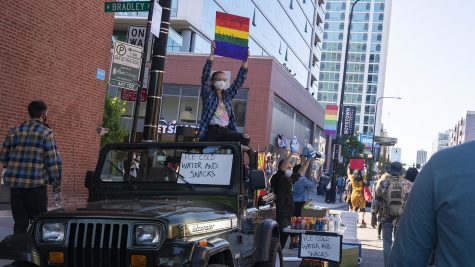 Various speakers demanded violence against trans people be considered a hate crime. Many urged the crowd to pressure their alderperson to pass the proposed Civilian Police Accountability Council ordinance that would allow civilian oversight of the Chicago Police Department. Speakers also called for the defunding of the police department and for the reallocation of money to non-police organizations that provide social or housing services.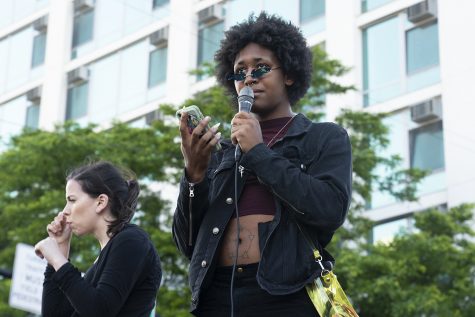 While commenting on national systemic issues, various speakers mentioned racist incidents in Boystown bars and nightclubs like Progress Bar, Hydrate Nightclub, Roscoe's Tavern and Berlin Nightclub.
Black DJs have been asked not to play rap music, black drag queens and trans women have been blacklisted and some bars enforce "oppressive dress codes" that ban baggy pants, short-sleeve hoodies and certain brands of sneakers like Jordans, among other articles of clothing, said Jae Rice, the program coordinator for Brave Space Alliance, a black and transgender-led LGBTQ+ center that provides resources and services for LGBTQ+ people on the South and West Sides.
Rice also said racist microaggressions expand beyond the issue of police brutality.
"Boystown is one of the most oppressive neighborhoods toward black LGBTQ folks," Rice said. "You're able to hide under a mask of queerness and queer oppression while simultaneously perpetuating white supremacy and anti-blackness."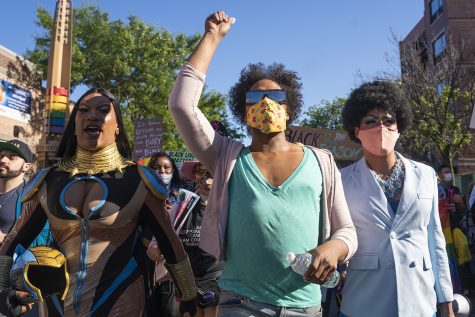 Another speaker who condemned the racism seen in Boystown was The Vixen, a Chicago-based drag queen who credits her success to her days as a student at Columbia College Chicago.
When she was younger, she said she was excited to meet other gay people who also wanted to go to gay bars. But when she finally went to bars on the North Side, she was faced with racism.
"We just wanted to be by a bar and see gay people be gay," said The Vixen, who was on season 10 of RuPaul's Drag Race. "When we finally worked up the nerve and came to Pride and got moved around 100 times by police officers and got crazy looks from people, I realized, 'Oh, I'm not welcome here either.'"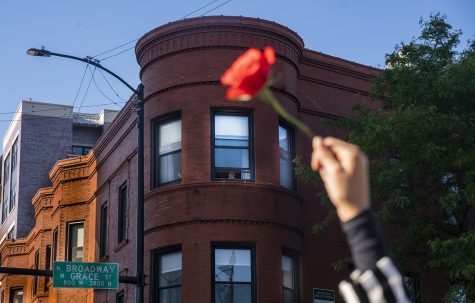 Rice said more action is needed to end black oppression, beyond posting a black square on Instagram or attending one protest. They said this can include donating to Brave Space Alliance and other organizations actively working to help the black LGBTQ+ community.
"Not only do black lives matter, but all black lives matter. That's trans black lives, lesbian black lives, gay black lives," they said.
Dida Ritz, Chicago based drag queen who was on season 4 of RuPaul's Drag Race, said the black drag community is tired of being overlooked while her "white counterparts are praised for their mediocre talent."
"A change needs to happen," Ritz said. "We are sick and tired of being looked at as less than, when we know we are worth more. We are the culture. We are the trend. We are the music. We are the language. We are the newest dance challenge."