DIY jobs: Pandemic fails to stop students' drive to create side hustles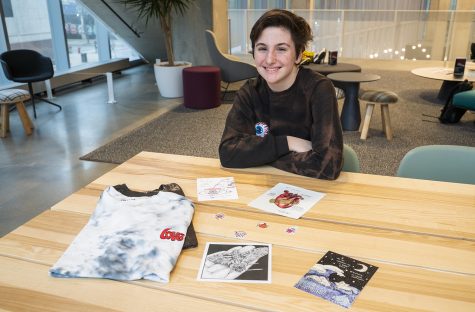 When Giovanna Martin's father spilled bleach on her black T-shirt, her mother's first thought was to throw the shirt away. But Martin had other plans. With a spray bottle of bleach in hand, she headed to her backyard and gave the shirt a new design.
Martin, a freshman illustration major, is one of many students at Columbia developing their art while making extra money and gaining a larger following. From designing jewelry to selling artwork, students have been creating specialized jobs that capitalize on their skills outside of the classroom. While some of the innovations may not be directly linked to their majors, students are still gaining insight on how to run a business.
Columbia students have always had a hustle mentality, but that's even more so now as the coronavirus pandemic has turned the economy upside down in recent weeks. Side businesses that previously operated out of dorm rooms, are now operating out of cramped apartments or bedrooms back at home.
Susan Van Veen, an adjunct faculty member in the Business and Entrepreneurship Department, said students often create their own businesses because they see a need in the market.
"It depends on their passion, their willingness to fail, how reality-based they are and how willing they are to listen," Van Veen said.
A student's business is dependent on if they are willing to take a risk, Van Veen said, and it gives them an edge.
In a time like this, when unemployment benefits will run out and people will have to find ways to sustain themselves, a hustle mentality is more important than ever, Van Veen said.
"Even though companies are going to get bailed out, people will lose their jobs," she said. "Entrepreneurs will go into business for themselves. This has always been true for minorities and women."
Martin said being back at home in the suburbs reminds her of when she was younger.
"I usually create alone," Martin said. "It is a little difficult to be home again because I have to stop and run errands or help my parents … [but] the virus has allowed [my boyfriend and I] to be creative together."
By the age of 16, Martin knew she wanted to be an artist and began going to local craft fairs before later creating an Etsy shop in 2019 to sell her work and gain a following.
"It is important for me to start building a following and really engaging with the people at Columbia because that is how I will make my connections," Martin said.
To keep building her following even though it's uncertain when life will return to normal at Columbia, Martin is staying active on social media.
"I am attempting to reconnect with Columbia students by following other artists and students from the college to see what other people are creating," Martin said. Martin's commissions for pieces are currently open and she encourages people interested in her work to message her on social media or by email.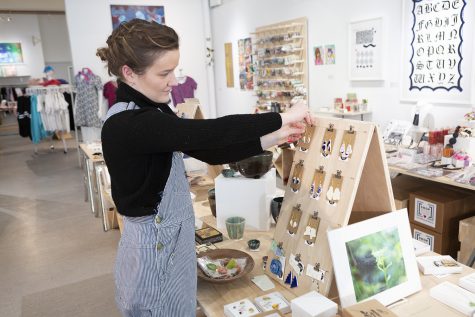 Freshman arts management major Emma Ivy grew up in a musical family and released an album, "Aphid," on Spotify earlier this year.
Even with taking 18 course credits this semester, Ivy found time to make music, work at Shop Columbia and create her own earring business.
She started Emma Ivy Co. from her dorm room after feeling anxious and "not knowing what to do with herself."
"I sat myself down at my desk and I actually started out making claymations with Play-Doh," Ivy said. "'This would be awesome if I started making jewelry,' I thought."
Chamille Weddington, an associate professor in the Business and Entrepreneurship Department, said students often find creating material goods is a more manageable entry into entrepreneurship than creating a business based on service.
"I encourage students to begin to ponder the creation of tangible goods," Weddington said. "And we can do that with these artistic products that we sell at Columbia—whether it is fashion or music."
Ivy's clay earring business serves customers in both Chicago and her home state of Maine. Initially, Ivy sold her products in Chicago through the Shop Columbia store, and would also send some back to Portland, Maine, to be sold at local stores.
While her earring business is on the rise, the coronavirus has forced Ivy to pull back on her music projects. She cannot play any live shows and had to cancel an opportunity to perform in Portland over spring break.
"We are in a time now, where entrepreneurship is going to be so incredibly important," Van Veen said, referencing the challenges brought by the coronavirus. "Running your own businesses is necessity based. And I think our economy is going to be even pushing that more and more now because jobs are not going to be there with companies. You are going to be working for yourself."
With all of her work, Ivy sometimes has to plan out when she can sleep and how to alternate her focus on music or jewelry.
"For my future, I do not want to just pick one [career]," Ivy said. "I want to learn a lot of different skills and try everything out."
Much like Ivy, Martin loves the work she does, even when it gets tedious. From paintings about breakups and "ripping that bandage off" to concern about animal abuse, Martin's inspiration is personal, coming from social commentaries and her experiences.
Depending on the medium she is commissioned for, Martin may use bubble wrap, googly eyes, newspaper or bleach on her shirts and in her art, all of which she finds in dollar stores or thrift stores.
"I have watched people in my community get more engaged with my art," Martin said. "It makes me really, really happy and fulfilled to see that my hard work is paying off."