Director Don Roy King on the day he became a jerk and the legacy of SNL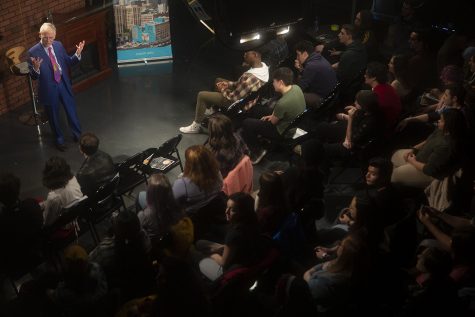 At the age of 26 Don Roy King received his first Emmy for directing the Mike Douglas Show in 1976, which would become the first of nine in his career—so far.
"The very next day, I became a jerk," he said. If King became a bit arrogant after winning an Emmy, that attitude did not last long, as he said in an interview with the Chronicle.
Donned in a blue suit with a neon pink tie depicting a cartoon yellow rabbit holding a broadcast camera while marking its twenty-third take, paired with cuff links in the shape of his daughter's face, King visited Columbia's Studio A, 600 S. Michigan Ave., to give out career advice for aspiring directing and comedy students and, additionally, toured Columbia's facilities with FrequencyTV and the Chronicle.
On his career
King, director of Saturday Night Live, said being awarded for the Mike Douglas Show had nothing to do with the directing—a "relatively bright parrot could have directed the show," he said to the Chronicle. 

Though awarded for his work, King said he quickly realized after his first Emmy that the system that praised him was not only flawed but also flimsy. While trying to stay awake during the weekend he served on the blue ribbon panels that screen and select Emmy award winners, King said he found himself struggling to find something that was "decent to watch."
"I thought 'Wait a minute!' I wonder if that's what happened the year I won," he said. King said he realized that his Emmy had more to do with the personalities of Fred Astaire and Gene Kelly on the Mike Douglas Show than his directing skills.
"Since then, I've realized that winning a statue is not really a sign of excellence," King said. "It's a sign of the show's entertainment value."
As the director of SNL since 2006, King said the show has not changed direction since it first started in 1975. Rather, the target audience of people watching it has changed. As the audience aged, they grew away from the type of controversial comedy SNL is famous for. Because of this, the show has gained a number of fans and critics, King said.
"I can understand how people go away from [SNL], but people grow into it, too," he said.
On Lorne Michaels
With 45 years of television under his belt, King said he is always trying to keep the show fresh, which is due, in part, to the work of Lorne Michaels, creator and executive director.
King said Michaels refuses to let SNL become a "nostalgia show" where the cast coasts on sketches they have done before.
Though King said Michaels can be a tough boss, it's all a part of his practice of demanding excellence.
"Every single week he feels that it's got to be as good as it can be. He is nasty and demanding and sarcastic and difficult to work with because some things don't please him," King said.
Michaels has been known to push back against network bosses and even to watch people leave if he thinks its in the production's best interest.
"He knows that writers and cast members burn out, and he will push them out or at least let them go to search [for] new people," King said.
On diversity and inclusion
Over the years, King said Michaels has adapted to the needs of diversity and inclusion among the cast, but for King, it is a tougher situation behind the scenes.
On-stage, turnover is fast-paced and allows for regular changes in the cast, but backstage turnover is "smaller" because there are people that have been backstage "forever."
King said when there is turnover of this kind, there needs to be a conscious effort in diversity and inclusion. For him, SNL is more important now than ever because it not only allows a chance to make people laugh but to assist in healing.
"We've held some people accountable and made some commentary about the social and political state of this nation that is worth hearing," King said. "I'm more proud of it and more proud of myself being a part of it."