Democrats deliver last pitch to Iowans before first-in-nation caucus
DES MOINES, IOWA—One day before the Iowa caucuses, the first time nationwide that Democrats will publicly express their choice for the candidate to challenge President Donald Trump, many Iowans remain undecided on whom they will vote for.
Residents from across the country—from a California father-and-son duo to a Columbia College Chicago alumna—descended on the Hawkeye State—to rally support for their candidates, with special attention given to those still undecided.
A CBS News/YouGov poll released recently placed Sen. Bernie Sanders (I-Vt.) and former Vice President Joe Biden in the lead with 25%, followed by former Mayor Pete Buttigieg at 21%.
The Monday, Feb. 3 Iowa caucus is the first time Democrats publicly show support for candidates.
Instead of casting ballots, Iowans gather in churches and high school gymnasiums across the state, then divide into groups based on who they want to support. If a group does not reach the 15% threshold in the precinct by a certain time, they must choose a different candidate, which is why voters' second choices are crucial.
Those whose candidates have met the threshold try to woo supporters of candidates who fell below the mark. Once the groups have achieved the 15% threshold, the results are calculated using a formula to decide how many state delegates each candidate receives. However, this year, Iowa will also be announcing how many people voted for each candidate at every stage in the process in an effort to increase transparency, which could also muddle the clarity of the results.
In 2016, Sanders' supporters claimed votes were miscounted after Hillary Clinton won by two delegates, prompting the change this year.
"The outcome of the caucuses depends on who voters' second choices are and the canvasser's enthusiasm," said Dick Simpson, a political science professor at the University of Illinois at Chicago and former Chicago alderperson.
BERNIE SANDERS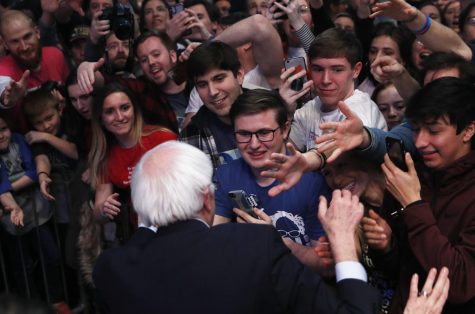 After drawing approximately 3,000 people for a Saturday, Feb. 1 rally in Cedar Rapids where Vampire Weekend performed, Sanders' Sunday events were a majority of low-key meet-and-greets or Super Bowl watch party drop-ins.
At the Saturday rally, Sanders emphasized the importance of simply showing up.
"If the voter turnout is low, we are going to lose," he said. "If people across this state are prepared to come out, not just to defeat Trump but to transform this country. If working people and young people and all people who believe in justice—if they come out in large numbers, we're going to win this caucus."
JOE BIDEN
During a Sunday, Feb. 2 rally, Biden emphasized his electability and criticized President Donald Trump's actions amid an ongoing impeachment trial in Washington, D.C., in which the president and his supporters often attacked Biden's credibility related to his son's work for a Ukrainian energy company.
Prior to the event, Biden canvassers such as father-and-son duo Conway and Luke Collis took to the side streets of Clive County to get the word out about the Iowa caucuses and sway undecideds to Biden.
Conway, who is the president and CEO of California-based non-profit GRACE (Gather, Respect, Advocate, Change, Engage), said he supports Biden, but believes this race is about more than which candidate someone may favor.
"I'm focused on how critical it is to take back the White House and take back some sanity," Conway said. "It's all about winning."
Luke, a retired Arena Football League quarterback who went viral on social media as "Debate Daddy" following PBS' Democratic debate in December, said he is more left in policy than Biden but believes every Democrat should support whomever is the nominee.
"Everyone wants Trump out, but they're all over the place," Luke said. "Canvassing is the most effective way to be political. It may not be the best, but definitely the most personal."
ELIZABETH WARREN
Sen. Elizabeth Warren's campaign is hoping the large number of undecided voters plays to her advantage.
"[The candidates] may have had some different ideas, we may have had different ways of going about it, but in the end we all have one goal, and we better come together to meet that goal—we are going to beat Donald Trump," Warren said during her Sunday, Feb. 2 rally in Indianola. More than 1,100 people packed into the Simpson College hall to hear her final pitch of party unity.
Indianola Precinct Captain Nick Mahlstadt said he plans to use the Massachusetts senator's "big plans" for "structural change" to persuade caucus-goers to support her. However, Mahlstadt himself has no second-choice candidate—he is all in on Warren.
"With [her] more progressive views, I think it'll be easy to bring people who lean one way or another but aren't 100% committed over to our corner that night," Mahlstadt said.
Beth Palmer, a marketing consultant and journalism alumna of Columbia College Chicago, volunteers as a canvasser for the Warren campaign in Iowa and Illinois. Canvassers knock on voters' doors or make calls to secure votes for a candidate.
Palmer said she is shocked by how many Iowans are still undecided, largely due to the 11 candidates still running.
"[Warren] is undeniable if a person starts looking into her plans," Palmer said. "When I look at Warren, she is the best candidate regardless of her gender. But having a woman president would change people's lives … to empower women all over the world and make a tidal wave of change."
Simpson said these endorsements will strengthen Warren's chances in Iowa, where he said she could come out as a "real contender" in first or second place, helping her in the primary states that follow. However, if she lags behind, it could jeopardize her campaign, he said.
PETE BUTTIGIEG
Buttigieg spent most of the past few weeks leap-frogging across Iowa to campaign as Warren, Sanders, Klobuchar and Sen. Michael Bennet were required to attend the impeachment trial in the Senate.
"You wouldn't be here in this room right now if some hope didn't bring you here" Buttigieg told the crowd of more than 2,000 at Lincoln High School in Des Moines.
However, his time in Iowa will be defined by a polling incident.
The Register's much-anticipated final poll before the caucuses was canceled after Buttigieg's campaign complained about a surveying blunder that left his name off at least one questionnaire. In an interview with KCCI-8 Des Moines, Buttigieg said it was a good thing the poll was not published due to the "technical problem."
"At a time when you're hearing a lot of attacks on the media, it's also striking to see they would go to that length to make sure the integrity and the accuracy of what they're putting out was protected, because it does sound like there was an issue there," Buttigieg said.
AMY KLOBUCHAR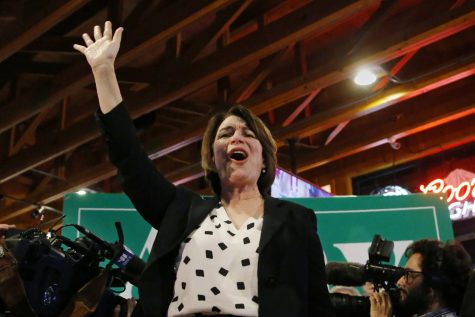 Packed into a small junior high school gymnasium, Sen. Amy Klobuchar supporters showed up in droves decked out in everything from green "Amy" earrings to T-shirts that read "Amy Klobuchar will beat Donald Trump."
Klobuchar stopped at Franklin Jr. High, 4801 Franklin Ave., Saturday, Feb. 1 to encourage supporters to caucus for her.
"Do not mess this up," Klobuchar said at the rally.
From her home state of Minnesota all the way to California, canvassers from across the nation came to support her.
"[My wife and I] think she is progressive and rational," said Stephen Schatz. "She would be moving the country in the right direction."
Schatz and his wife are Californians who have been following Klobuchar's campaign for months. They said she will be able to pull in progressives and independents who do not want to vote for Trump.
"The Midwest is not flyover country to me," Klobuchar said. "Those farmers and workers in the middle of the country are not poker chips in my casino."